La vita è fortunatamente allietata dalla presenza di tante Serie Tv, che voi, come me, amate. Però tutti sappiamo che c'è un mondo fuori che spesso si inserisce prepotentemente nella nostra quotidianità portando notizie che forse avremmo preferito non ricevere. Tanti, troppi, gli episodi spiacevoli con cui siamo costretti a confrontarci ogni giorno. Nonostante ciò cerchiamo di essere resilienti e immuni dalla negatività.
Le cattiverie e le ingiustizie sono all'ordine del giorno e, tragicamente, sempre più spesso vengono accolte con un sospiro di tristezza e un commento sulla brutta deriva che sta prendendo il mondo.
Non si tratta di cattiveria o superficialità. L'essere umano non è un mostro insensibile, ma – per fortuna o per una maledizione – è dotato di un filtro. Non tutto lo tocca allo stesso modo. La sensibilità di ognuno di noi è scatenata da determinati avvenimenti che possono colpirci più o meno di altri, e questo è lecito.
Ora vi chiederete: ma cosa c'entra tutto questo con le Serie Tv? In realtà c'entra eccome.
Dal momento che giorno dopo giorno siamo bombardati da notizie per il novanta per cento negative – vogliamo parlare dell'ossessione per il macabro della tv italiana? – a un certo punto è anche normale che ci abituiamo ad assorbire passivamente un certo tipo di realtà. La prima tragedia può far piangere, può far pensare a quanto la vita sia difficile. La notizia dell'improvviso impoverimento di tante famiglia a causa di una banda specializzata in rapine ti fa posare la forchetta nel piatto e ascoltare la notizia, ti fa chiedere quando cose del genere finiranno. Poi, a un certo punto, l'orecchio diventa sordo a tanta negatività, che si trasforma in rumore di sottofondo. Ormai è parte integrante delle nostre giornate.
Quando ogni giorno vediamo le nostre Serie Tv preferite che parlano di intrighi, bande di malavitosi che si fanno la guerra o anche semplici family drama (che contengono sempre una tragedia o due), noi continuiamo a sottoporci a una scarica di emozioni che rischia di renderci insensibili agli stimoli reali.
Vedere Game of Thrones, che è nota per aver ucciso un episodio sì e uno no personaggi molto amati, ci abitua alla morte? Ammetto che arrivata alla terza stagione ormai avevo imparato a non affezionarmi più a nessuno. Come se avessi imparato a prendere la dipartita di un personaggio amato con filosofia. Lo stesso si può dire di The Walking Dead che mi ha fatto patire come non mai, ma che a un certo punto mi ha stufato. Quando si usano le morti per creare pathos anche la morte stessa, che è la sorte peggiore per un personaggio delle Serie Tv, perde di significato.
A volte mi domando: guardare le Serie Tv mi ha reso forse insensibile?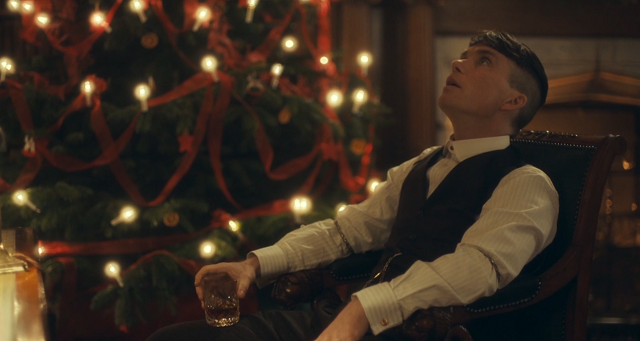 Vedere sullo schermo esecuzioni, omicidi, atti efferati mi ha abituato a un certo tipo di violenza tanto da non farmi più sconvolgere? Ma anche senza parlare di morti e uccisioni, anche pensando semplicemente ad atti di cattiveria il discorso non cambia. La mia capacità di empatizzare con gli altri diminuisce nel momento in cui guardo Peaky Blinders e sono contenta che Tommy Shelby pur di salvaguardare i suoi interessi metta nei guai e mandi in carcere il cognato? Come posso perdere di vista così a cuor leggero la situazione di Freddie, che viene torturato e allontanato dal figlioletto (per di più per un motivo che oggi non starebbe né in cielo né in terra: essere comunista)?
D'altra parte, però, il dolore di Thomas quando si sveglia da un incubo è il mio. La sua preoccupazione per la famiglia mi pesa sul cuore. Le crisi di Arthur Shelby più di una volta mi hanno portato alle lacrime. A volte è impossibile conciliare serenamente due aspetti così diversi di un personaggio problematico. Thomas manda in carcere Freddie ma poi lo fa scappare. Arthur è un assassino senza scrupoli ma con PTSD. Benvenuti nei dilemmi morali da un amante dei personaggi grigi (che so che moltissimi vivete in prima persona).
Le Serie Tv, quindi, ci insegnano l'empatia o ce ne allontanano? Vi deludo molto se rispondo che non lo so?
Da una parte, come ho largamente detto, il rischio della sovraesposizione a immagini forti e shockanti può anestetizzare lo spettatore che si abitua a queste scene. Non è difficile fingere che anche le immagini di guerra che vediamo in Tv siano finzione, anche quando dentro di noi sappiamo bene che non è così. Però è più facile per la nostra coscienza. Spesso quando non si è direttamente coinvolti in una tragedia si sente un certo disagio, dettato dal fatto di non sentirsi particolarmente tristi. Addirittura ci si sente in colpa nel pensare: anche questa volta non è successo a me o ai miei cari. Sarebbe ipocrita negarlo, non possiamo piangere per tutti mali del mondo.
Dall'altra parte però guardare una Serie Tv può anche aiutare ad aprire gli occhi su situazioni che ci erano sempre state estranee. Quante volte abbiamo imparato a comprendere il punto di vista di un determinato personaggio fino ad arrivare a capire i suoi comportamenti, addirittura a giustificarli? E non parlo semplicemente della tendenza sempre più diffusa ad amare i cattivi dal passato traumatico. Sembra quasi di dire una banalità ma anche guardare Serie Tv che mettono al centro una minoranza rende più sensibili rispetto al problema di quel gruppo stesso. E questo è ovvio.
Solo la conoscenza permette di sviluppare dei sentimenti riguardo ad altre persone che hanno delle difficoltà.
Per fare un esempio triviale io non ho mai conosciuto una persona affetta dalla sindrome di Asperger. Per quanto le Serie Tv non siano corsi di formazione o specchio della realtà al cento per cento, vedere Atypical o Parenthood mi ha reso molto più sensibile riguardo all'argomento. Queste Serie mi hanno informato di una realtà che mi era sconosciuta, e l'hanno resa più vicina a me almeno dal punto di vista emotivo.
Diceva saggiamente Aristotele: la virtù sta nel mezzo, tra due estremi che sono ugualmente da evitare. Sembra quasi che voglia scaricare sul filosofo la risposta al nostro quesito, ma in realtà è proprio così che stanno le cose. Non si può essere capaci di provare empatia per tutti, questo è ovvio. Però essere empatici è uno sforzo che deve essere fatto giorno dopo giorno. Non dobbiamo inaridirci e bisogna essere consapevoli che dalla comprensione degli altri deriva sempre un arricchimento. Non si deve perdere l'abitudine a condividere le sofferenze e le gioie altrui, a volte cosa ancora più difficile.
Usando il cervello, e il nostro spirito critico, ogni Serie Tv può aiutarci ad affinare le nostre capacità di risuonare con gli altri.
Dobbiamo opporre una strenua resistenza a una realtà che vuole inibire le nostre funzioni emotive, che vuole renderci come dei robot privi di qualsiasi sentimento. Come dice Beau Taplin: ci vuole coraggio per rimanere delicati in un mondo crudele.  E noi, che abbiamo il coraggio di Jon Snow, Emma Swan e tutti gli altri eroi delle Serie Tv, siamo sicuramente i più adatti a portare avanti l'importante lotta a favore delle emozioni.