Esiste una differenza precisa tra cliffhanger e twist moment che forse non tutti conoscono. Il cliffhanger è un espediente narrativo, che solitamente si trova a conclusione di un arco, e corrisponde al cosiddetto colpo di scena. Il twist moment può trovarsi anche a metà della narrazione e non è necessariamente legato a un'interruzione brusca ma più a una rivelazione, a un'epifania magari, che condiziona il resto della storia da lì in avanti. Entrambi sono molto presenti in letteratura, al cinema e ovviamente nelle Serie Tv ed è bene tenere presente la distinzione tra questi due elementi.
Se un cliffhanger televisivo è spesso associato a un season finale o addirittura a un series finale, un twist moment può avvenire in qualsiasi momento lungo il percorso. Entrambi però sono legati a un sentimento crescente di suspense che precede il momento rivelatorio, un climax che trova la sua conclusione all'apice della sequenza o dell'arco narrativo creatosi.
Consapevoli di questa distinzione, oggi vi proponiamo alcuni tra i twist più angoscianti e travagliati delle Serie Tv. Siamo sicuri che ce ne siano molti altri lì fuori ma per ora vi parleremo di questi otto tra i più famosi e sorprendenti.
Inutile dirvi che l'articolo è ad alto tasso SPOILER!
1) LOST –  5×07 The Life and the Dead of Jeremy Bentham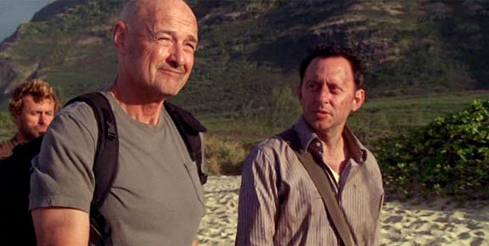 Nel settimo episodio della quinta stagione assistiamo a uno dei twist più importanti e sorprendenti della Serie Tv. Lost è un calderone fumante di cliffhanger e colpi di scena, si ha davvero l'imbarazzo della scelta e non è stato facile selezionare un singolo evento tra i numerosi momenti in cui la Serie Tv ci ha lasciati senza parole. Eliminando i vari finali di stagione, la rivelazione del "risorto" Locke è di sicuro uno di cui momenti che non dimenticheremo. John Locke è morto, lo sappiamo da tempo ormai, eppure quando il volo Ajira 316 atterra sull'Isola, in mezzo agli altri sopravvissuti c'è proprio lui, vivo e vegeto. Ad essere sconvolti da questo inatteso evento non ci siamo solo noi ma soprattutto Ben, e il motivo è abbastanza ovvio.
Solo più avanti verrà rivelato che in effetti il John Locke redivivo non è affatto John Locke.