Prima di procedere con l'articolo, avvisiamo il lettore che, data la natura del tema trattato, questo articolo presenterà immagini forti che potrebbero risultare disturbanti. Si avvisa anche della presenza di spoiler immediati e potenzialmente significativi le seguenti Serie Tv:
Game of Thrones (4° stagione ), a pagina 2
The Walking Dead (5° stagione), a pagina 3
Sons of Anarchy (5° stagione), a pagina 4
The Leftovers a pagina 10
Vi ricordate quei tempi felici in cui il culmine dell'orrore e del raccapriccio era vedere una ragazzina posseduta vomitare a raffica quello che possiamo solo concepire come purea di Slimer di Ghostbusters? (perdonateci l'anacronismo)
Bei tempi quelli. E L'Esorcista è ancora un capolavoro.
Le Serie Tv hanno dovuto lottare un po' più a lungo per riuscire a proporci immagini particolarmente disturbanti quotidianamente. Ma ormai non bisogna più andare a scovare disperatamente Serie Tv coraggiose i cui produttori non vogliano imporre solo visioni rosee della vita. Forse è che per superare il trauma indotto da alcune scene siamo automaticamente portati a cercare di vedere come si svilupperanno le scene più avanti. Forse c'è qualcosa che causa intrinsecamente dipendenza nelle immagini disturbanti. Spiegherebbe senz'altro tanti binge-watching di Serie Tv che si sono specializzate nel genere. Come che sia, scene raccapriccianti abbondano nel mondo delle Serie Tv di questi tempi.
In questo articolo, vogliamo cercare di condividere con voi i nostri grandissimi traumi personali. Ecco dunque 15 scene delle Serie Tv che secondo noi hanno assolutamente vinto il premio come "scena più raccapricciante della storia". Fra smembramenti, critica sociale e discutibili posizioni sessuali, ce n'è per tutti i gusti!
Dal momento che le Serie Tv hanno ottenuto maggiori libertà su quanto sia concesso mostrare al pubblico, siamo consapevoli che alcune Serie presentano tante scene forti che meriterebbero un posto d'onore su questa lista. Per cercare di dare a tutte una possibilità, per le Serie più violente ed eclatanti abbiamo cercato di eleggere una scena particolarmente raccapricciante. Non temete, alcune di queste le rivedrete menzionate più avanti!
1. Hannibal: Celloman!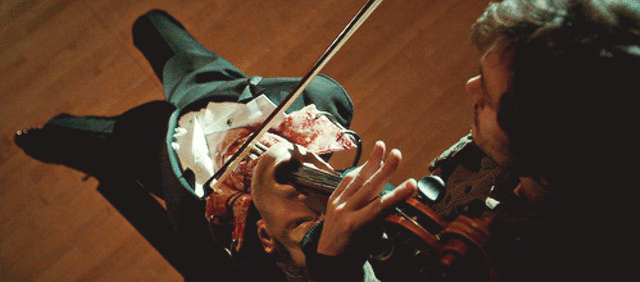 Iniziamo con un vero e proprio chef-d'œuvre del raccapriccio!
Serie Tv come Hannibal dimostrano ampiamente quanto siano cambiati i tempi e quanto scioccanti possano essere le immagini proposte. Hannibal è proprio una di quelle Serie per le quali è stato più difficile scegliere il culmine del raccapriccio. In questo articolo potrete trovare 10 scene che ci hanno traumatizzato senza possibilità di recupero. Non possiamo negare che avrebbe potuto sbaragliare la concorrenza. E se ogni episodio di Hannibal ci regala grandissimi momenti che costantemente fluttuano fra l'orrore, il grottesco e il raccapricciante, un posto d'onore se lo assicura sicuramente "l'uomo cello"!
C'è qualcosa di quasi artistico in tutte le immagini terrificanti proposte da Hannibal. Sarà, tuttavia, che non abbiamo mai superato lo shock di Arancia Meccanica, o l'orrore di Schindler's List, ma l'associazione fra musica classica e violenza estrema ci fa sempre scorrere un forte brivido di disturbo attraverso il corpo.
Trasformare una gola in uno strumento a corde utilizzando le corde vocali sa quasi di colpo di genio, di trovata assolutamente impensabile nella sua perversità e ciò non fa che aumentare il raccapriccio.
Guardate questa gif e diteci se non vi si accappona la pelle e se non sentite che vi si raggrinziscono i neuroni solo a guardarla!