Le Serie Tv sono la nuova frontiera dell'intrattenimento, accessibili a tutti e fruibili ormai non solo sul piccolo schermo. I prodotti seriali hanno conquistato un pubblico sempre più ampio, aggiungendo nelle proprie file anche coloro che inizialmente snobbavano il prodotto, ritenuto inferiore al più nobile cinema.
Oggi, invece, grazie a trame elaborate e ben scritte, personaggi in 3D e una grande cura per la fotografia ed i dettagli, le Serie Tv non sono solo apprezzate ma ambite da tanti attori e registi. Perché questa premessa vi starete chiedendo? Perché è importante capire da dove si parte per comprendere dove si arriva. Negli ultimi tempi la Tv, come si è detto, si è molto perfezionata e ai personaggi bidimensionali, un po' lontani dal vero essere umano, presenti nei vari medical e crime dei tempi passati, si sono sostituiti personaggi complessi e dalle mille sfaccettature.
È in questa categoria che rientra il cinico, ovvero colui che "ostenta disprezzo o indifferenza nei confronti dei valori umani comunemente accettati dalla società in cui vive". Questo inteso in senso dispregiativo perché, forse, non tutti sanno che in realtà il cinismo è una scuola filosofica greca che tendeva all'autonomia spirituale e all'abbandono di qualsiasi desiderio o esigenza fisica.
Nell'articolo di oggi parliamo quindi delle 10 Serie Tv più ciniche di sempre, consapevoli di questo doppio significato. 
1) THE TICK OF IT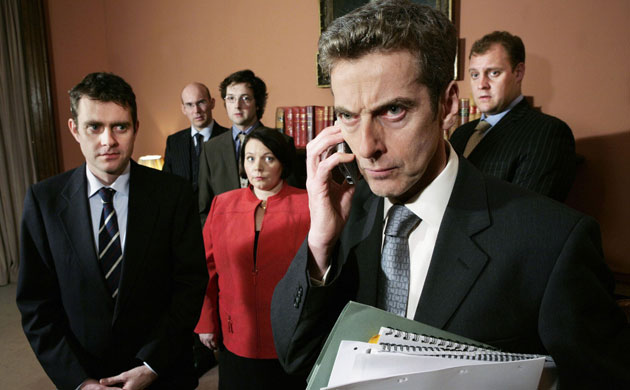 In onda su BBC dal 2005, The Thick of It è una creazione dell'italo-scozzese Armando Iannucci e racconta le storie grottesche di un pugno di funzionari inglesi. Tutti i personaggi sono dei semplici dipendenti pubblici che cercano di sopravvivere e non finire nei guai, privi di valori o spirito di squadra, insomma privi di quelle eroiche caratteristiche che in tante altre Serie Tv, poco verosimili, gli stessi personaggi avrebbero. Persone del tutto inadatte ai ruoli che ricoprono: che siano ministri o consulenti, giornalisti o impiegati, il profilo è sempre lo stesso. Tranne in un caso e quel caso si chiama Malcolm Tucker.
Interpretato da un grandissimo Peter Capaldi, Malcolm Tucker è uno dei personaggi più divertenti e geniali delle Serie Tv degli ultimi anni. Una sorta di dottor House che diventa qui un irriverente diagnosta per la soddisfazione del network e degli ascolti. Malcolm Tucker non ha filtri, è un personaggio che ha come unica funzione quella di insultare chi lo circonda, infilando cinque fuck ogni tre parole e coniando minacce creative.