# #
In questo primo periodo autunnale tornano quasi tutte le serie tv, tranne una: "Game of Thrones". Gli amanti della serie prodotta da Hbo dovranno aspettare Aprile 2016 per vedere la sesta stagione( anche se secondo le ultime news potrebbe slittare a Maggio). Per rendere meno difficile l'attesa sul web iniziano ad esserci i primi spoiler e le possibili teorie sulla trama dei nuovi episodi.
# #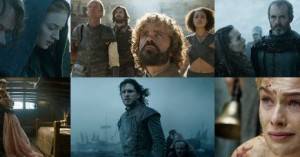 La questione che più mette in ansia i "throners" è certamente quella che riguarda Jon Snow. Il bastardo di Casa Stark nell'ultimo episodio andato in onda è stato brutalmente ferito durante un agguato organizzato dai guardiani della notte, e la scena si chiude con il bel Jon "nonsainiente" Snow agonizzante a terra gettando nella disperazione i numerosi fan. Ma c'è una notizia che potrebbe tranquillizzare i fans del telefilm: a quanto pare, Kit Harington è stato avvistato sul set di Game of Thrones a Belfast nelle vesti di Jon Snow, che quindi nonostante le numerose coltellate potrebbe essere vivo. Probabilmente, anzi al momento è la spiegazione più accreditata, per salvargli la vita potrebbe intervenire la donna Rossa Melisandre che compiendo questo salvataggio potrebbe aumentare il numero di suoi fans, decisamente calato dopo aver fatto bruciare la piccola Shireen (ancora piango) .
Ma questa del guardiano della notte è solo uno dei tanti punti interrogativi di Game of Thrones, l'altro riguarda i due sfigati Sansa Stark e Theon Greyjoy.
I due, dopo averne passate di cotte e di crude decidono di prendere in mano la situazione e si buttano da un'altezza considerevole per liberarsi dalle grinfie di Ramsay Bolton. Riusciranno a salvarsi dopo la caduta e ad avere finalmente un po' di pace nella sesta stagione? I libri non danno informazioni in questo senso, nella saga letteraria infatti la storyline di Sansa e quello di Theo non si incrocia, è Jeyne la ragazza prigioniera di Ramsay ed è proprio lei a scappare con il giovane Greyjoy ed entrambi riescono a salvarsi, mentre Sansa nel telefilm di Game of Thrones sostituisce proprio Jeyne.
# #
Nella sesta stagione gli autori s'incentreranno anche sulle vicende della piccola di casa Stark, Arya. Anche per lei la quinta stagione si è conclusa in maniera negativa come per i suoi fratelli. Infatti, dopo aver raggiunto la casa del Bianco e del Nero per dimenticare se stessa ha iniziato un duro addestramento. Addestramento che non è servito a placare la sua sete di vendetta sfogata su Meryn Trant, colpito in maniera violenta fino ad ucciderlo. La punizione che Arya ha dovuto pagare è stata la cecità e il pubblico è curioso di vedere come si evolverà la situazione. Nemmeno in questo caso è possibile avere qualche anticipazione dai libri che si discostano ormai dalla serie. Addirittura la cecità nei libri porta Arya a sviluppare nuove abilità, accadrà la stessa cosa in tv? Ma molti dubbi riguardano anche tantissimi altri personaggi: Daenerys Targareen, Tyrion Lannister, Stannis Baratheon, Brienne, Cersei.
Le domande a cui gli autori dovranno rispondere sono tante, dopo una quinta stagione abbastanza deludente. Mancano sei mesi al ritorno di Game of Thrones, il countdown è già iniziato.
Un saluto agli amici di Team Sansa, Game of Thrones ITALIA, L'immane disgusto di Varys nei confronti dell'umanità, Game of thrones – Italian fans, Game of Thrones fans page -ITA- e Game of Thrones ITALIA