Pronti per abbandonare la realtà ed entrare nel mondo delle fiabe?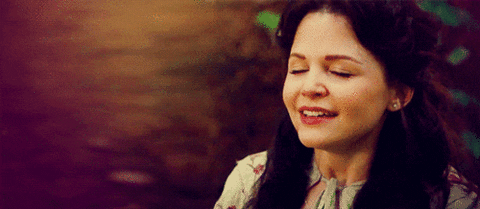 Il primo episodio di Once Upon A Time è stato qualcosa di eccezionale, ha dato modo a tutti noi (ad oggi fan di lunga data), di poter iniziare una Serie che ci ha portato fino a qui, fino alla quinta stagione
…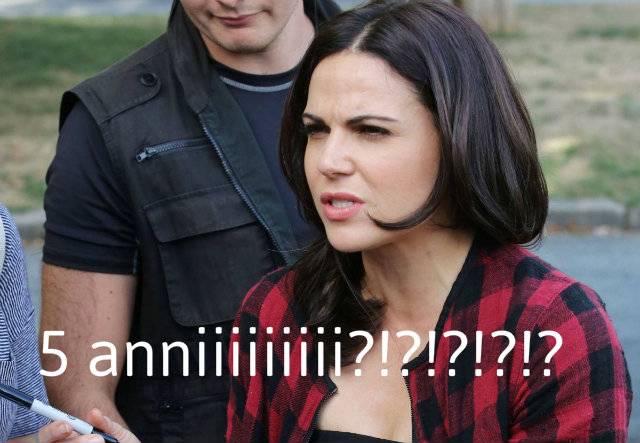 Naturalmente, per la maggior parte di noi ci sono stati alti e bassi, ma le migliori storie d'amore sono così, e quella con Once Upon A Time non è certo da meno.
Ci ha incantato, stregato, ossessionato. Ha cambiato costantemente le carte in tavola, stravolgendo, almeno nelle stagioni iniziali, tutto quello in cui credevamo sulle favole e sugli esseri umani sin da bambini, tanto da farci innamorare dei villains più che degli eroi…
Va beh ma come si fa a non innamorarsi di Lana Parrilla scusate?!?!
E ho preso un villain a caso…
avessi preso in considerazione un altro cattivo sarebbe stata la stessa cosa.
Ma bando alle ciance e cerchiamo di analizzare con accuratezza ciò che il primo episodio ha suscitato in noi in quel lontano 23 Ottobre 2011 (o nei giorni/mesi/anni dopo)…
#1. L'introduzione!
L'inizio è promettente!
Che ansia però questa introduzione, così buia, così misteriosa.
STOP!
Stop! Stop! Stop! Metti la puntata in pausaaa!
Manca qualcosa!
Pop corn e coperta… celo!
Computer… celo!
Porta chiusa a chiave per evitare noiose distrazioni… celo!
Avrei dovuto studiare 20 pagine del libro di chimica…
…
manca!
Ah ecco cosa manca!
Va beh non è un problema recupero questa notte!
Inventario fatto, adesso ripartiamo con il primo episodio di
Once Upon A Time!
#2. L'indescrivibile fascino del Principe
Mmmmm carino quello lì…
[pensando con il senno di poi a quanto fascino e quanta bellezza aveva nelle prime stagioni ed in questo episodio e comparandoli con l'uomo che è adesso (marito, padre, nonno, casalingo… manca solo la sedia a dondolo e i ferri e possiamo dichiarare deceduti i nostri ormoni), possiamo solo dire che speriamo in una sua rivalsa (anche se, non fraintendetemi, è carino comunque!)]
ed è anche single…
ah! Non più single!
Eh niente, le nostre speranze se ne sono andate con il risveglio di questa simpatica ragazza.
Nuova ship in arrivo?!
#3. 10 minuti di puntata is the new 10 anni
Ma cos…?! Si sono ritrovati solo adesso e già si sposano?!
INCREDIBILE!
Capisco che si tratta di una Serie Tv, ma bruciare le tappe in questo modo… non si può!! Adesso manca solo che la simpatica ragazza rimanga in cinta nei prossimi 5 minuti.
#4. L'apparizione
Ah nooo, vengono interrotti!
Finalmente forse è qualcuno che ha un po' di sale in zucca che gli dirà che stanno facendo tutto troppo velocemente! 
Odeeeeeeo la Reginaaaa!
Come è graziosa, splendente, affascinante. E quel ghigno sublime…
Ma no, non dobbiamo farci ammaliare dal fascino dei cattivi, dobbiamo tifare per la simpatica ragazza e per quel bellissimo Principe che ha affianco (ma forse anche solo per lui)!
#5. Ok, i vestiti e la location si possono anche accettare, ma i capelli
i capelliii…
Ma come è pettinata la simpatica ragazza?
Saranno stati ubriachi i nani quando le hanno acconciato i capelli. Quasi oscura la bellezza del principe, ma non siamo qui per giudicare, non lei almeno.
#6. Emma
Emma?
Chi è Emma?
Mi sto quasi perdendo…
Adesso siamo a Boston, ok, prima dove eravamo?!
#7. EMMA BADASS!
Emma BADAAAAAAAAAASS.
EMMA BADASS!
Questa ragazza ci piace, ci piace più della simpatica ragazza… e poi è pettinata meglio.
Questione di capelli…
#8. Da Emma badass a Emma madre?!
Qui le cose cominciano a complicarsi.
C'è da stare attenti, potremmo quasi strozzarci con i pop corn in questi istanti.
#9. 15 minuti di puntata is the new (pt.2) 15 minuti per fare un figlio (nel mentre lei è resuscitata, si sono sposati e hanno allegramente chiacchierato con la Regina, ripeto, in 15 minuti!)
Ecco appunto!
Praticamente neanche il tempo di pensare di fare un figlio che la simpatica ragazza è già pronta a sfornare.
Attenzione potrebbe partorire in qualsiasi istante, abbiamo già constatato che bastano pochissimi secondi per fare qualsiasi cosa in
Questi due però rimangono sempre uguali, giovani, bellissimi e con le stesse acconciature di inizio primo episodio.
#10. Il bambino e il libro
Questo bambino è un tantino fuori di testa (ma lo siamo anche noi, non a caso siamo Addicted).
Stiamo a vedere, potrebbe riservarci delle belle sorprese.
#11. Tremotino e la sua risata
UUUUUUUUUUUUUUUH TREMOTINOOO!
Che creatura misteriosa e intrigante, un po' viscidina, ma intrigante!
#12. Il Grillo Parlante è uno psicologo…
Un tantino ironico, ma interessante. L'espressione di Emma dice già tutto!
#13. Noooooooooo!
Ha fatto tanto per resuscitare la simpatica ragazza, sposarsi con lei, chiacchierare con la Regina, fare una figlia e chiuderla in un albero (e in tutto ciò ha mantenuto la sua infinita bellezza) e lo infilzate?!
Non hanno nessuna pietà!
Hanno trafitto il personaggio che fino ad ora aveva più senso. E' finita, per tutti noi.
Spengo il pc, basta!
…
No, non ce la faccio, possibile che resusciti anche lui!
#14. …
Maaa, ma… è lui!
E' vivo!
E' vivo!
Non potevano far morire così quest'uomo, tanto eroico, tanto carino!
In tutto ciò però, la simpatica ragazza si è tagliata i capelli, si è vestita meglio e porta fiori al nostro caro eroe che, ricordiamo, si è immolato per chiudere sua figlia in un albero. A proposito: chissà dove si trova la bambina?
#15. L'orologio di Londra Storybrooke
L'orologio funge! Grazie a Emma!
Adesso rimane da capire
cosa c'entra il bambino in tutto ciò,
perché ha bisogno di un Grillo Parlante come psicologo (ma forse quello lo abbiamo già capito),
come si evolverà il rapporto tra le sue mamme (Emma e Regina),
come hanno fatto i personaggi delle fiabe a finire a Storybrooke,
ma soprattutto,
dove sono i nani, DOOVE?!
Forse si sono (giustamente) vergognati del lavoro che hanno fatto sui capelli della simpatica ragazza!
VENITE FUORI!
Non resta che aspettare la prossima puntata… non sto nella pelle…
Sono in ansia…
Ho bisogno della seconda puntata, ora!