Una Shondata che, a quanto pare, non ha funzionato. Ecco cos'è The Family, serie della ABC, creata e scritta da una delle protette di Shonda Rhimes, Jenna Bans, che con il suo Maestro scrive Grey's Anatomy e Scandal. Ma quando ha provato a camminare con le proprie gambe – anche se sempre sostenuta da Shonda, che le ha prodotto lo show – ha fallito.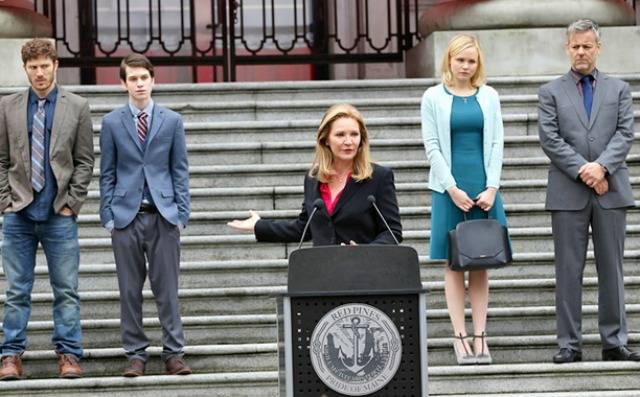 Il perché di questo fallimento non mi è molto chiaro. La serie, infatti, aveva decisamente del potenziale: buona scrittura (forse non divina, ma comunque migliore rispetto a tante altre serie), trama articolata, ottimi attori… Nomi come Joan Alley (Pleasantville, Room), Rupert Graves (Sherlock BBC, Maurice) e Allison Pill (The newsroom, Midnight in Paris), per intenderci.
Forse il problema può essere stato la poca empatia: difficilmente ci si poteva immedesimare in questi personaggi, al contrario di quanto avvenuto con Quantico che, sia pur qualitativamente molto, molto inferiore, ha spopolato proprio per l'affetto che i personaggi sono riusciti a conquistare. Invece, i personaggi di The Family sono troppo complessati, fragili, emotivamente instabili per piacere. Forse perché troppo simili a persone reali, con tutte le luci e le ombre che abbiamo tutti.
Un esempio? Hank Asher, il pedofilo accusato dell'omicidio di Adam, combatte per non essere quello che è, per non essere attratto dai bambini, per non far loro del male. Cerca di tenersene lontano, fa una cura ormonale.
Sì, è un pedofilo, ma non è "l'uomo nero", il cattivo, lo stupratore di bambini. È solo un uomo, che lotta per non essere ciò che è, per reprimere impulsi che sa perfettamente essere sbagliati. È un mostro che non vuole essere un mostro. E questo, forse, fa ancora più paura.
Ma partiamo dall'inizio. Cos'è The Family? Il titolo lascia poco spazio a dubbi: è una serie sulla famiglia. Ma, a differenza dei vari Parenthood, Shamless e compagnia bella, le relazioni familiari sono soffocanti, disturbanti, alienanti. Il tutto prende inizio quando, durante la campagna elettorale di Claire Warren (Joan Allen) a sindaco della città in cui vivono, Adam, il figlio minore, affidato ai due fratelli, scompare. Questo innesca tutto un processo in cui autodistruzione e voglia di andare avanti si scontrano in ognuno dei componenti della famiglia. Nessuno di loro ha mai superato il dolore: il figlio maggiore, Danny (Zach Gilford) si assume la colpa – Adam era affidato a lui, ma non aveva voglia di occuparsene, perché preferiva baciare la fidanzatina – e beve come una spugna; Willa (Allison Pill), la sorella, si rifugia nella religione e nella campagna elettorale di sua madre, nascondendo la propria omosessualità e mentendo anche quando respira; John (Rupert Graves), il padre, ha una relazione con la detective che si è occupata del caso di suo figlio e non vuole più fingere; Claire, la madre, è tutta dedita alla propria campagna elettorale per diventare governatore.
Ma una sera, un ragazzo arriva alla stazione di polizia, sostenendo di essere Adam… E tutti gli equilibri cambiano, in maniera 'naturale' ma sconvolgente, perché niente è come sembra, perché ogni famiglia ha i propri segreti e i propri panni sporchi…
A livello stilistico, Jenna Bans ha scelto di confrontarsi con qualcosa in cui Shonda è Maestro: la continua alternanza tra flashback e flashfoward, cavalcando l'onda del successo di How To Get Away With Murder. Nonostante questa alternanza non si ridicola come in Quantico (un po' più di attenzione ai dettagli, ragazzi!), e anzi è strutturata piuttosto bene, in una trama complicata e angusta, che forse non è piaciuta troppo sia per la poca pubblicità fatta alla serie, sia per i toni cupi e disturbanti, molto più di quelli di HTGAWM.
Insomma, questa serie meritava una possibilità, specialmente per come è finita. Forse non sarà una serie originalissima, forse nemmeno la migliore che ci sia in circolazione, ma è decisamente ottima.
Un'ultima curiosità: ben 3 dei 12 episodi, sono diretti da nientemeno che Paul McGuigan, che ha già diretto Rupert Graves in alcuni episodi di Sherlock. Detto questo, buona visione!