Ammettiamolo: abbiamo tutti iniziato Legends of Tomorrow perché la prospettiva di vedere Rory Pond – scusate, Williams! Accidenti, mi confondo sempre!! – lasciare i panni del companion del Dottore e vestire quelli del Dottore di un TimeLord – ops! di un TimeMaster – era troppo allettante per essere ignorata.
Ma Legends of Tomorrow è molto più di una malfatta imitazione di Doctor Who, com'era stato ipotizzato all'inizio. Del resto chi ha copiato da chi? Sì, perché Rip Hunter – Time Master è una serie a fumetti della DC in 29 numeri pubblicata tra il 1961 e il 1965, anche se la prima comparsa di Rip avvenne nel fumetto Showcase (n. 20) un paio d'anni prima. Ora, come tutti sanno, Doctor Who è andato in onda per la prima volta nel 1963. Così, giusto per chiarire.
Ora, sia chiaro, non sto accusando Doctor Who di aver copiato la saga di Rip Hunter, assolutamente! Dico soltanto che sono due serie molto diversi tra loro uscite nello stesso periodo. Che ci siano state contaminazioni e spunti da ambo le parti è possibile, se non probabile.
Passiamo ora alla serie tv vera e propria, questa del 2016. Tralasciamo la bravura di Arthur Darvill perché davvero sulla sua interpretazione si potrebbero scrivere pagine intere e ancora non basterebbe. Il suo Rip Hunter è un personaggio ambiguo, profondamente ferito, deluso e amareggiato dalla vita, che ha un unico scopo: salvare la sua famiglia, uccisa dal tiranno immortale Vandal Savage. E per raggiungerlo è disposto a tutto, compreso a ingannare e tradire il suo equipaggio.
Non che i suoi compagni d'avventura siano gente 'facile' con cui avere a che fare: il professor Martin Stein (Victor Gaber) e Jax (Franz Drameh) sono Firestorm; Ray Palmer (Brandon Routh) è Atom, Sara Lance (Caity Lotz) è White Canary, Mick Rory (Dominic Purcell) è Heat Wave, mentre Leonard Snart (Wentworth Miller) è Capitan Cold. Infine ci sono Kendra (Ciara Renée) e Carter (Falk Hentschel), i due sfortunati amanti, da cui è iniziata la vendetta di Savage (Casper Crump).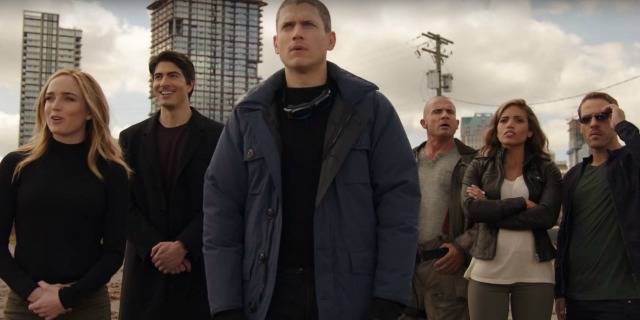 Insomma, un cast eccellente, che mescola sagacemente nuove promesse con attori ormai affermati.
La storia è ben strutturata e saggiamente distribuita nelle sedici puntate che compongono la serie. Ogni puntata è frenetica ma equilibrata e ci permette di conoscere un po' meglio i tanti personaggi che compongono la squadra, tanto che nessuno ne esce penalizzato: alla fine saranno tutti nostri amici e faremo il tifo per ognuno di loro sia come singoli che come squadra.
I personaggi sono quindi tridimensionali e nessuno di loro è profondamente buono o profondamente cattivo. Persino Vandal Savage ha, in fondo, una delle scusanti 'più nobili': l'amor respinto per la bellissima Kendra.
Pur nella fantascienza, questa serie tocca argomenti importanti e attuali come la tirannide, la lealtà, il sacrificio, lo spirito di gruppo, l'amicizia, l'amore, il tradimento. Il tutto affrontato con classe ed eleganza, che sono le qualità fondanti di questo prodotto, di questa serie di supereroi che lo sono loro malgrado e con palese fastidio, ma lo sono.
Insomma, avremo pure iniziato a guardarla per le motivazioni sbagliate, ma Legends of Tomorrow ci ha conquistati e ci ha fatto assolutamente innamorare. E ora, non ci resta che attendere con ansia la seconda stagione!