Il sacrificio eroico è uno dei trope più utilizzati dalla narrativa per toccare le corde emotive degli spettatori. L'intrattenimento seriale non rappresenta un'eccezione alla regola: da La casa di carta a Lost, passando per Buffy l'ammazzavampiri, sono tante le serie che hanno scelto di battere questa strada per regalare un'uscita di scena memorabile ad alcuni dei loro protagonisti.
Andiamo a scoprire quali.
Attenzione: l'articolo contiene spoiler in merito alle sorti dei personaggi citati.
1) Berlino (La casa di carta)
La rapina tenuta alla Zecca di Stato si conclude con un sacrificio in pompa magna.
L'artefice è Berlino, uno dei grandi protagonisti de La casa di carta.
L'episodio è quello originariamente progettato come finale della fortunata serie spagnola ideata da Álex Pina. La banda è in procinto di scappare con il bottino attraverso il tunnel scavato apposta per inscenare la fuga, ma ha la polizia alle calcagna. L'unico modo per frenarla è che qualcuno resti indietro a fronteggiarla. A farlo è Berlino, che ne contrasta l'avanzata con una scarica di proiettili per poi perire sotto i colpi degli agenti. Un'uscita di scena che un istrione come lui non poteva che preferire alla morte sofferta a cui la malattia lo avrebbe condotto nel giro di qualche anno.
2) Sabrina Spellman (Le terrificanti avventure di Sabrina)
In un finale che ha deluso le aspettative del pubblico abbiamo assistito al sacrificio estremo di Sabrina Spellman, protagonista della serie original Netflix ispirata all'iconica Sabrina vita da strega.
Dopo aver intrappolato le sue prime vittime, il Vuoto minaccia di divorare l'intero mondo.
Sabrina e i suoi compagni ideano un piano per fermarlo. L'iniziativa va a buon fine: il Vuoto torna nel vaso di Pandora e le persone inghiottite vengono liberate. Questa vittoria ha però un prezzo altissimo: la vita di Sabrina.
3) Hodor (Il Trono di Spade)
"Non tutti gli eroi indossano un mantello; alcuni reggono una porta."
È questo il motto imperversato sui social dopo la messa in onda del quinto episodio della sesta stagione di Game of Thrones, episodio in cui Hodor si sacrifica per permettere a Bran di essere portato in salvo.
Hodor usa il proprio corpo per tenere chiusa la porta con cui ha coperto l'ingresso della caverna presa d'assalto dagli Estranei. Il gigante di Grande Inverno resta lì a sorreggerla fino a quando l'onda d'urto non lo travolge, uccidendolo.
4) Castiel (Supernatural)
Castiel e Dean si ritrovano intrappolati sotto la minaccia incombente di Morte, prossima a fare irruzione nel luogo in cui i due si sono barricati per sfuggirle.
È a questo punto che Castiel sfodera l'asso che si ritrova nella manica da quando, ai tempi della dodicesima stagione, ha stipulato un patto al fine di ottenere la salvezza di Jack.
L'accordo prevedeva che quando avesse sperimentato una sensazione di felicità massima, il Vuoto sarebbe venuto a reclamarlo, strappandolo alla vita sulla Terra per relegarlo al nulla assoluto in cui finiscono angeli e demoni dopo la morte. Per propiziarne la venuta, Castiel confessa a Dean i suoi sentimenti, procurandosi quella gioia pura e totale di cui ha bisogno per attuare il suo piano. Il Vuoto appare e porta via con sé non soltanto Castiel, ma anche Morte, mettendo di fatto Dean al sicuro.
5) Leonard Snart (Legends of Tomorrow)
Quello di Berlino ne La casa di carta non è l'unico sacrificio compiuto per la salvezza della propria squadra.
In Destiny, penultimo episodio della prima stagione di Legends of Tomorrow, disfarsi dell'Oculus si rivela essere l'unico modo per battere i Signori del Tempo. Per farlo saltare in aria è necessario attivare manualmente il meccanismo di distruzione, iniziativa che risulterà fatale per chi la compirà. In una concitata successione di scambi Ray, il primo ad offrirsi, viene tramortito da un Mick deciso a prendere il suo posto, ma anche lui è messo fuori gioco da Leonard, che sarà colui il quale azionerà il congegno.
6) Spike (Buffy l'ammazzavampiri)
Entrato in scena come antagonista, finisce per diventare il tassello decisivo per la vittoria dei buoni nell'ultima, epocale battaglia contro il male.
Si tratta di Spike, a cui il pubblico di Buffy è stato costretto a dire addio nel finale di serie.
Quando il Primo sembra sul punto di vincere lo scontro, il medaglione che Buffy ha donato a Spike si attiva, sprigionando un fascio di luce che ne falcidia l'esercito e gli dà il colpo di grazia. L'energia del medaglione è talmente potente da innescare la distruzione della Bocca dell'Inferno e della stessa Sunnydale. Mentre gli altri cominciano a scappare per mettersi in salvo, Buffy prega Spike di unirsi alla fuga, ma il vampiro è intenzionato a portare a termine ciò che ha iniziato. L'ultima apocalisse è scongiurata dal suo sacrificio.
7) Opie Winston (Sons of Anarchy)
La sua è una delle morti che più ha fatto arrabbiare i fan di Sons of Anarchy.
Parliamo di Opie, protagonista di un altro sacrificio compiuto in favore dei propri compagni.
Siamo nel corso della quinta stagione. Jax stipula un patto con Pope affinché i Sons, finiti in prigione, siano rilasciati. La condizione alla base dell'accordo è la seguente: uno di loro dovrà morire in cambio della libertà degli altri. È Jax stesso a offrirsi come agnello sacrificale, ma Opie, l'amico di sempre, prende il suo posto e viene brutalmente ucciso.
8) Simon Asher (Quantico)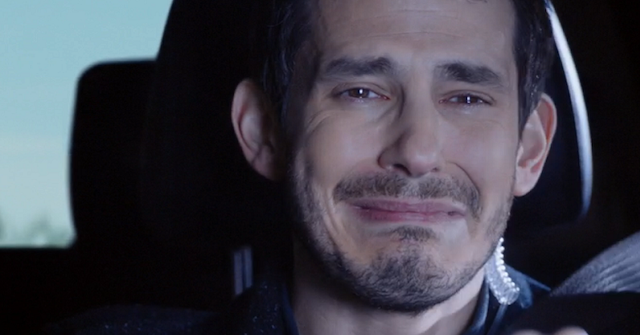 La prima stagione di Quantico, proprio come quella de La casa di carta, si chiude con un sacrificio.
A compierlo è Simon Asher, che capovolge le aspettative sul suo conto passando da principale indiziato delle indagini a salvatore. Per impedire che l'ultima delle bombe da disinnescare faccia danni irreparabili, Simon carica l'esplosivo sul suo furgone e si lancia a tutta velocità oltre il ponte di Quantico, in modo che lo scoppio avvenga in acqua e mieta una sola, singola vittima: lui.
9) Charlie Pace (Lost)
L'isola si è rivelata uno spartiacque per tutti quelli che ne hanno calcato il suolo, ma per Charlie, forse, lo è stata ancora di più.
Il suo sacrificio si pone nel punto di intersezione tra destino e libero arbitrio, due piani in contrasto che in Lost finiscono per coniugarsi.
Dopo essere sfuggito alla morte più volte, Charlie la affronta a viso aperto, salvando la sua amata Claire e il resto dei naufraghi in quella che è passata alla storia come una delle scene più iconiche dello show.
10) Klaus ed Elijah Mikaelson (The Originals)
Il finale di serie di The Originals mette in scena una doppia morte.
Parliamo di quella che ha come protagonisti i fratelli Mikaelson, Klaus ed Elijah.
Il motore della dipartita è, ancora una volta, un sacrificio. Nel finale dello spin-off di The Vampire Diaries, Klaus salva la vita a Hope, sua figlia, assorbendo dentro di sé l'Oscurità a lei destinata. Elijah decide di condividere con lui il peso di questa scelta, assimilando parte dell'Oscurità e morendo al suo fianco.
Scopri Hall of Series Plus, il nuovo sito gemello di Hall of Series in cui puoi trovare tanti contenuti premium a tema serie tv