Gran parte del successo che Netflix continua a riscuotere nel tempo è, senza dubbio, dettato dalla presenza di numerosissimi contenuti capaci di soddisfare un pubblico eterogeneo non solo per gusti ma anche per età anagrafica. Molte sono le serie presenti nel suo catalogo, come Glee, Sex Education e Skins, che interessano perlopiù un pubblico fatto di adolescenti e che rappresentano una gran fetta del mercato a cui Netflix si rivolge. Anche qui non manca però una diversificazione dei contenuti e dei generi proposti, si va dalle storie intrise di sentimentalismi alle avventure soprannaturali. Insomma, ce n'è per tutti!
Se siete alla ricerca di qualcosa da guardare (magari per rivivere a vivere le vostre nostalgiche esperienze adolescenziali), ecco una classifica delle 10 migliori Serie Tv teen presenti attualmente su Netflix:
10) The Umbrella Academy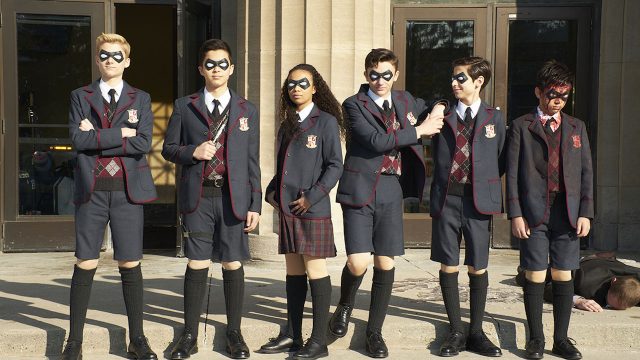 Partiamo con una delle serie che ha catturato l'attenzione dei più giovani (e non solo) in quest'ultimo periodo. Stiamo parlando di The Umbrella Academy, ideata da Steve Blackman e ispirata alla prima prima miniserie dell'omonimo fumetto di Gerard Way e Gabriel Bá. Tutto ha inizio il 1º ottobre 1989, quando 43 donne in tutto il mondo partoriscono contemporaneamente. 7 di questi nascituri vengono adottati dall'eccentrico miliardario Reginald Hargreeves (Colm Feore) che li addestra per mezzo della "The Umbrella Academy", formando così un team di supereroi pronti, con i propri poteri, a salvare il mondo. 30 anni dopo alla morte di Sir Reginald, solo sei di loro si ritroveranno. Luther, Diego, Allison, Klaus, Vanya e Number Five, nonostante le divergenze e i loro differenti temperamenti, cercheranno la verità attorno al mistero della morte di loro padre e, intanto, si ritroveranno a sventare un'imminente catastrofe che minaccia il mondo.
Netflix con The Umbrella Academy tenta di dar vita a un proprio universo di supereroi alternativi a quelli della Marvel e DC. In questo show i valori si ergono su ogni altro superpotere, la famiglia diventa il "luogo" supremo da preservare, come un ombrello sotto cui trovare riparo anche dalle intemperie più impetuose.