Viola Davis è una delle attrici afroamericane più apprezzate in assoluto. La sua carriera cinematografica vanta numerosi successi ed è spesso ricordata per il ruolo di Aibileen Clark nel film The Help dove interpreta una domestica al servizio di una famiglia del Mississippi nell'America razzista degli anni '60. Sempre più stimata per le capacità di recitazione, la Davis vince anche il Premio Oscar come Migliore attrice non protagonista grazie al film Barriere di Denzel Washington. Per lei tuttavia i ruoli non terminano certo qui. Ha recitato in serie tv di grande successo come How to Get Away with Murder interpretando la protagonista di Annalise Keating, ruolo che le ha portato la consacrazione definitiva e una caterva di premi. Viola Davis è un'attrice versatile, ha recitato nei panni di una domestica schiavizzata e di un potente avvocato, mantenendo una certa fierezza che le ha permesso di essere sempre stata all'altezza. Ci sono perciò diversi personaggi che avrebbe saputo estremamente valorizzare e che avrebbe caratterizzato con la sua forte personalità, ad esempio la Regina Charlotte in Bridgerton, oppure Beth in This Is Us.
Proviamo allora a immaginare serie tv come Bridgerton o Game of Thrones se i loro personaggi fossero stati interpretati da Viola Davis
1) The Handmaid's Tale – Zia Lydia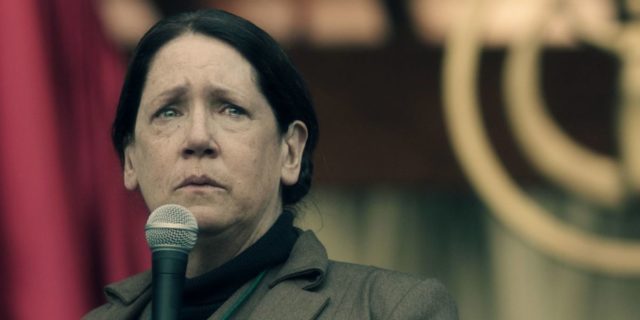 Zia Lydia è uno dei personaggi più amati e odiati allo stesso tempo di The Handmaid's Tale. Ciò che ci intriga di questo personaggio è la sua incomprensibilità, il suo essere diabolico e riuscire a nasconderlo davvero bene. Zia Lydia è infatti famosa per la ferocia che usa nel punire le Ancelle, è lei ad ordinare che a Janine venga strappato un occhio per la sua insubordinazione.
Zia Lydia potrebbe essere interpretata dalla Davis proprio perché così spietata. Viola è in grado di mostrare una grande freddezza nei suoi personaggi e questa è proprio una delle caratteristiche fondamentali di Zia Lydia. Il suo obiettivo è quello di occuparsi delle Ancelle e lo svolge con un rigore e un metodo che questa attrice saprebbe rendere senza dubbio in modo esemplare.
2) Bridgerton – Regina Charlotte
La Regina Charlotte di Bridgerton è stato uno degli elementi che ha destabilizzato di più il pubblico. Tuttavia Bridgerton ha avuto un successo tale che la discussione sulla sua autenticità è svanita presto e questo interessante personaggio è stato portato avanti in modo molto coerente. Charlotte è una regina sola, il marito è gravemente malato e non può più adempiere ai suoi compiti di sovrano. Perciò è lei ad avere il potere su ogni cosa ed è divisa tra i doveri di donna più importante d'Inghilterra e moglie al fianco di un uomo con una malattia degenerativa.
La Regina Charlotte è molto esigente e a volte anche spocchiosa e questo la rende estremamente divertente. Ama circondarsi di dame e cagnolini e di certo non si tira indietro quando si parla di gossip, e in Bridgerton non mancano di certo le occasioni. Viola Davis non ha spesso vestito i panni di personaggi frivoli e divertenti, nonostante ciò sarebbe stata perfetta per interpretare questa ambigua regnante.
3) Self-Made: la vita di Madam C.J. Walker – Madam
Dopo aver immaginato Viola Davis nel cast di Bridgerton, vediamola nei panni di Madam C.J. Walker. La protagonista della serie è stata interpretata da Octavia Spencer con cui la Davis aveva già collaborato nel film The Help, grazie al quale Octavia si era aggiudicata un Premio Oscar. Sono entrambe due ottime attrici e benché abbiano interpretato un ruolo simile non possono essere certo considerate interscambiabili. Lo stile dei personaggi interpretati da Octavia è decisamente più dolce.
Viola, d'altro canto, è estremamente forte e molto più malinconica. In ruoli potenzialmente simili alla sua collega, scambierebbe i sorrisi con le labbra serrate. Il suo punto di forza sono gli occhi da cui esprime tutto il suo dispiacere. Per interpretare Madam, Viola sarebbe stata perfetta perché non solo avrebbe interpretato perfettamente la prima parte della sua vita, in cui era una lavandaia sfruttata, ma perché una volta raggiunto il successo sarebbe stata capace di mostrarsi ancora più caparbia e orgogliosa dei traguardi raggiunti.
4) 3% – Aline
La serie tv brasiliana 3% è ambientata in un ipotetico mondo del futuro in cui il divario tra ricchi e poveri è ai massimi storici. Ogni anno il Processo seleziona il 3% degli abitanti tramite una difficile serie di test per ampliare il numero di residenti nell'Offshore. Aline viene inviata al Processo come supervisore, ma si scopre ben presto il suo secondo fine.
Aline è una manipolatrice, calcola bene ogni sua mossa e il suo passato è simile a quello dei partecipanti, anche lei arriva dall'Entroterra. Il suo obiettivo ora è uno e uno soltanto, diventare Capo del Processo. Viola Davis saprebbe dare moltissimo ad un personaggio del genere. Determinata e spietata, ha conosciuto la sofferenza e non si accontenta di esserne semplicemente uscita. Viola come attrice per il ruolo di Aline sarebbe stata una scelta semplicemente azzeccata.
5) Ratched – Mildred Ratched
L'infermiera Mildred Ratched è la protagonista dell'omonima serie tv uscita su Netflix pochi mesi fa. Mildred è un personaggio estremamente interessante che si impara a conoscere con il tempo nel corso degli episodi. Il desiderio di salvare il fratello, in attesa della sentenza che lo condannerà alla pena di morte, la porta compiere diversi raggiri e anche omicidi. I suoi punti di forza sono la freddezza e l'astuzia che Viola incarna spesso davvero bene.
Interpretata da una strepitosa Sarah Paulson, potrebbe essere degnamente sostituita da Viola Davis. La pacatezza dell'infermiera è ancora più inquietante quando viene mostrato cosa è disposta a fare pur di raggiungere il proprio obiettivo. Le sue azioni criminali, spesso caratterizzate da un'estrema eleganza ed educazione, sarebbero state ben nascoste dietro la maschera impenetrabile di Viola che avrebbe saputo ben interpretare un personaggio così intricato.
6) This Is Us – Beth Pearson
Immaginarsi Viola Davis nei panni di Beth Pearson non è affatto semplice. Beth è una donna che esprime più delicatezza che rigore. È molto amorevole con le sue figlie e ha un ottimo ruolo nel gioco di squadra con suo marito Randall. Se Viola Davis avesse interpretato questo personaggio, sicuramente tra le qualità di Beth sarebbero spiccate più di tutte la determinazione e la tenacia. Per sopportare le crisi del marito, per i problemi dei figli con i genitori e le difficoltà sul lavoro.
Viola come Beth saprebbe come sistemare ogni cosa in modo risoluto e questo la rende una candidata ideale ad interpretare il suo ruolo.
7) His Dark Materials – Marisa Coulter
Una caratteristica che è innegabile per Marisa Coulter è la sua perfidia. Nonostante ci siano alcuni momenti di tenerezza nella sua vita, è fondamentalmente una donna che non si tira indietro quando c'è da giocare sporco. Il suo rapporto con la figlia Lyra è anche un'ulteriore prova di quanto lei sia disposta a sacrificare pur di salvare la sua missione.
Viola nei suoi panni avrebbe recitato a meraviglia tutta la parte da stratega. I complotti e le manipolazioni intellettuali che Marisa usa per rivoltare ogni situazione a suo favore sarebbero stati enfatizzati ancora di più da questa attrice eccezionale.
8) Game of Thrones – Olenna Redwyne
Olenna Redwyne pare una vecchietta dolce e indifesa, ma sotto il viso angelico nasconde una bella dose di veleno. Olenna è famosa per esprimere sempre la propria opinione ed essere anche molto furba. Intuisce subito che sua nipote Margaery non sta per concludere un buon matrimonio. Dalla lingua tagliente e con uno spirito feroce, Olenna quando arriva il suo momento accetta la morte e beve con fierezza il liquido avvelenato.
Una donna del genere però merita un'uscita spettacolare e infatti rivela, poco prima di morire, di essere la mandante dell'omicidio di Joffrey Baratheon e il suo ultimo desiderio è che Cersei lo venga a scoprire. Temeraria e sprezzante fino all'ultimo, per interpretare un personaggio così accattivante la nostra Viola Davis sarebbe stata perfetta.
9) Good Girls – Beth Boland
Beth Boland è un personaggio che per definizione sarebbe stato perfetto per Viola Davis. Lei è una mamma e una casalinga che scopre oltre al tradimento del marito anche i suoi debiti finanziari. In questa situazione di grave crisi decide di mettersi all'opera e il modo in cui lo fa è estremamente interessante. Insieme alle sue due migliori amiche mette in piedi un giro di truffe e rapine che le permettono di fare molti soldi velocemente.
Viola, anche qui, sarebbe stata perfetta per un ruolo in cui il suo personaggio deve sacrificarsi ad azioni illegali impensabili per una mamma modello, ma nelle quali trova poi anche una sorta di gratificazione personale, sentendo il mondo nelle sue mani.
10) The Walking Dead – Michonne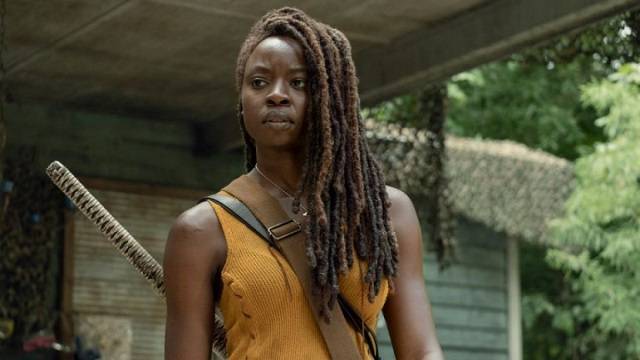 Forse una delle sovrapposizioni più azzardate di tutte: Viola nei panni di Michonne, tutto un altro paio di maniche rispetto alla Regina Charlotte di Bridgerton. Michonne è una donna estremamente forte, che non indietreggia di fronte a niente. Prima di unirsi al gruppo di Rick sopravvive da sola nascondendosi tra gli zombie grazie all'idea di portare al guinzaglio due di loro. Decisa e con un bel pelo sullo stomaco, Michonne è brava con la katana, la sua spada che usa come mezzo di combattimento, ed è estremamente astuta.
Viola per interpretare questo personaggio dovrebbe imparare qualche mossa di arti marziali, ma le sarebbe sufficiente anche la sua grinta e lo sguardo minaccioso che hanno reso Michonne una delle combattenti più forti dell'intero del cast di The Walking Dead.