Se si parla di Italia, per troppo tempo è mancata la forza di osare nelle serie tv. La regola che sembrava imperversare per la realizzazione era la continuità, la tradizione, la fiducia nel proprio bacino d'utenza consolidato. Una fiction con tematiche e/o regia e/o fotografia diverse dalla solita formula avrebbe potuto avere un effetto straniante per i telespettatori e non avrebbe avuto un successo sicuro. Negli ultimi anni, per fortuna, l'Italia ha avuto il coraggio di produrre prodotti televisivi più coraggiosi, meno scolastici; si è riacquisita la voglia di rischiare e di mettersi in gioco, di abbandonare le serie scritte e girate strizzando l'occhio al pubblico televisivo già esistente (over 50) e si è puntato maggiormente sui giovani e sulla sperimentazione. Si è cambiato il modo di raccontare, uscendo dall'appiattimento stilistico che andava per la maggiore nelle fiction degli anni '90 e inizio 2000. Boris è un esempio di sperimentazione eccezionale e come lei le altre serie di cui vi parleremo oggi.
Ecco a voi le 5 Serie tv italiane che sono state coraggiosamente sperimentali.
Boris
Iniziamo dalla "fuoriserie italiana": Boris, nata dalla mente geniale di Mattia Torre.
Lanciata nel 2007 su Fox, quando ancora erano in pochi ad avere un abbonamento satellitare, con una promozione non proprio capillare e con ascolti risibili, col tempo si è guadagnata un crescente successo col passaparola poi con l'avvento su Netflix.
Negli anni in cui è stata lanciata Boris, in Italia stavano arrivando alcune di quelle serie che negli Stati Uniti stavano inaugurando la cosiddetta golden age della serialità, prima su tutte Lost; le serie televisive iniziavano a essere attenzionate da un pubblico diverso da quello abituato alle solite fiction e stavano acquisendo sempre maggiore dignità stilistica.
Boris è una metaserie che racconta cosa c'è dietro la realizzazione di una fiction nazional popolare fatta un po' alla "c***o di cane" (per citare uno dei tormentoni da essa lanciati) attraverso una serie curata nei minimi dettagli, dalla luce alla fotografia, dalla scelta del cast alla sceneggiatura impertinente.
Boris ha lo scopo di destrutturare la tv italiana e per farlo abbandona il moralismo e la retorica tipici del linguaggio medio da fiction a favore di un realismo irriverente generato dalle menti brillanti dei suoi tre sceneggiatori: Torre, Vendruscolo, Ciarrapico; parlare dell'universo tv è un pretesto per parlare delle dinamiche del nostro paese, potremmo dire che c'è un po' di Boris in ognuno di noi: stagisti, raccomandati, sindacalisti.
Boris ha rotto la quarta parete, non si è incanalata nei binari della "commedia all'italiana" e si dimostrata un unicum addirittura in grado di predire il futuro; ci ha regalato tormentoni che utilizzammo nel gergo comune cambiando il linguaggio televisivo e ci ha fatto sperare in una nuova possibile televisione, anni prima che si iniziasse davvero a sperimentare anche in Italia.
La linea Verticale (Un altro splendido lavoro dell'autore di Boris)
La Linea Verticale (2018) è un gioiellino Rai di Mattia Torre ambientato in un ospedale ma che è ben altro rispetto ai medical drama a cui eravamo abituati.
Innanzitutto è innovativa per la scelta di un format diverso, molto ricercato in questo momento perché consente velocità e intensità narrativa: 8 episodi da poco più di 20 minuti ciascuno, inoltre è una mescolanza di generi: il medical, il dramma e la commedia che combinati insieme in modo nuovo danno un risultato molto potente.
Ulteriore elemento di innovazione è avere un protagonista che non è mai al centro delle vicende ma che racconta ciò che vede e vive, che diventa gli occhi del pubblico.
Per la direttrice di Rai fiction Andreatta "Il tono del racconto è tragicomico e tocca punte oniriche".
La linea Verticale non vuole essere un medical drama, nonostante i protagonisti siano un malato di cancro, il reparto in cui si trova e tutta la gerarchia verticale ospedaliera, ma molto di più, è un viaggio spirituale fatto di alti e bassi e di tanta verità, ha mille registri dal tragico al comico passando per il surreale ed è popolato da attori straordinari.
La serie di Torre è una perla rara e, almeno in Italia, non esistono prodotti simili.
Romolo + Giuly: La Guerra Mondiale Italiana
Romolo + Giuly: La Guerra Mondiale Italiana (2018) racconta l'amore di due giovani, nati ai poli opposti della città di Roma, che scatena una guerra che di estende anche al resto d'Italia dando vita, per giunta, a una insospettabile alleanza tra Milano (guidata da Giorgio Mastrota) e Napoli contro la Città Eterna.
La serie volutamente folle ed esagitata è un esperimento riuscito abbastanza bene; ha sperimentato il linguaggio del web (di autori esordienti) in tv e la comedy nasce proprio da un cortometraggio web che ha avuto una grande diffusione virale grazie al suo linguaggio innovativo e spiazzante ed esagerato.
"L'intuizione è stata capire innanzitutto che il web è un occasione non solo per gli autori in campo cinematografico e televisivo ma per tutti: nuovi mestieri nascono dalle connessioni con il web. E l'industria culturale italiana non può sperare di sopravvivere senza intercettare i gusti dei millennial, che non ne possono più dei cinepanettoni e vogliono anche tornare ai generi".
Romolo + Giuly: La Guerra Mondiale Italiana è una commedia Pop, brillante, visiva.
Le scelte di regia sono innovative: ogni luogo geografico ha una resa visiva e una regia a sé, in modo da far orientare lo spettatore nel racconto anche solo con la fotografia: Roma Sud, per esempio, ha una fotografia più calda rispetto alla fredda Roma Nord e la Napoli borbonica e aristocratica di Don Alfonso ha carrelli e inquadrature larghe volte a catturare la maestosità della villa del già citato Don Alfonso.

The Generi
In ambito serie tv sperimentali anche Maccio Capatonda ha dato un gran contributo con The Generi, una comedy in cui Maccio esplora i diversi generi cinematografici, dal western al noir, realizzando delle divertenti parodie.
Marcello Macchia, in un'epoca in cui per diventare famosi si doveva per forza passare dalla tv e non dal web, ha anticipato linguaggio e format degli youtuber.
In The Generi ogni genere cinematografico viene privato degli archetipi e viene arricchito da parodie specchio della società contemporanea.
Il protagonista della sitcom è costretto a lasciare la sua bolla fatta di delivery e streaming per catapultarsi in un universo parallelo dove la sua vita è dettata dai diversi generi cinematografici.
The Generi è innovativa a livello produttivo e realizzativo: ogni episodio presenta un'ambientazione diversa e per ogni genere cinematografico che viene proposto si scelgono regia e fotografie adeguate. Regia, fotografia e montaggio sono di alto profilo e di conseguenza questa serie rappresenta il progetto di Maccio Capatonda più sofisticato a livello tecnico.
The Generi ha delle pecche ma nel complesso è un prodotto che fa divertire lo spettatore ridendo con lui e di lui.
The Young Pope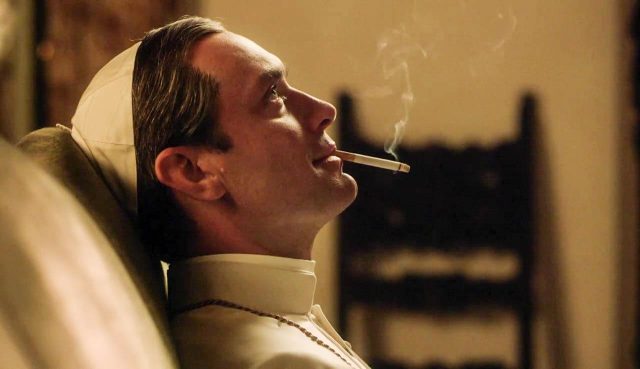 Concludiamo con The Young Pope, serie nata dalla mente di un'eccellenza italiana, Paolo Sorrentino, che, però, del modus operandi televisivo del Bel Paese ha ben poco, avendo un respiro internazionale (oltre a un cast con nomi importantissimi di Hollywood).
Già solo per l'averci regalato Jude Law nei panni del papà, Sorrentino meriterebbe la nostra devozione eterna.
The Young Pope non è semplicemente sperimentale, è un prodotto che non può essere eguagliato, è l'esempio della tv che usa il linguaggio del cinema e delle arti.
Sorrentino ha creato qualcosa di totalmente divergente da quanto siamo abituati a vedere, non solo in Italia.
La serie che ha come protagonista un pontefice che dubita della sua fede è un film lungo 10 ore, il regista è riuscito a far parlare alla tv la stessa lingua del cinema, sfuggendo a tutte le "regole delle serie tv" ( i cliffhanger , le informazioni centellinate…) usando una scrittura cinematografica che anche quando sembra che tutto sia fermo riesce a trovare variazioni di ritmo magnetiche.
La serie è inoltre un capolavoro di messa in scena, il regista insieme al suo fedelissimo direttore della fotografia, Luca Bigazzi , ci regalano qualità visiva e messa in scena impareggiabili: tutto è studiato nei minimi dettagli, anche il più sottile gioco di luci e i rimandi al mondo dell'arte sono numerosi: Bernini, Cattelan e tanti altri. Alcune inquadrature sono nate per rimanere fisse nella mente del telespettatore.
E non è solo l'arte a rendere The Young Pope una serie "stilosa", lo è anche la musica, di cui il premio Oscar è un appassionato, da musica pop a musica lirica, passando per X Factor, la serie unisce dentro di sé cultura pop ed elitaria anche con un pizzico di trash che la rende un vero e proprio cult.
C'è da aggiungere che The Young Pope dal punto di vista produttivo rappresenta una svolta nel pensiero e nelle pratiche dell'industria televisiva italiana: è stato venduto in oltre 110 paesi del mondo ed è costato 45milioni di euro ( per lo più capitali stranieri: HBO, Sky, Canal +).
The Young Pope rappresenta un modello ambizioso ed innovativo per la tv italiana.
Siamo così abituati a ritenere l'Italia inferiore agli altri paesi quando si parla di serie tv che spesso ci dimentichiamo di alcuni prodotti che meritano tutto il nostro rispetto e il nostro orgoglio.
Inoltre negli ultimi anni anche la tv di Stato sta sperimentando molto, quindi smettiamola di avere pregiudizi e ricordiamoci, con orgoglio, che in Italia sono state prodotte serie Tv come Boris o The Young Pope.