Non si può che amare Rick and Morty. È una di quelle serie tv che è sempre bello guardare, una garanzia. È divertente (qui trovate la classifica delle dieci migliori battute della serie), irriverente, unpolitically correct. Ma non solo. Sono tanti infatti gli show televisivi che ci conquistano per queste caratteristiche e sono quasi sempre serie animate. La lista è a dir poco infinita: I Simpson, I Griffin, American Dad, Adventure Time, BoJack Horseman.
Ma cos'ha Rick and Morty di tanto particolare?
L'esilarante show targato Netflix ha delle caratteristiche che lo rendono unico. Prima di tutto i due protagonisti: una coppia a dir poco improbabile di antieroi. Morty, infatti, è un ragazzino qualunque che viene trascinato dal geniale nonno in esaltanti avventure a spasso per l'Universo. Ed è questo che ci piace tanto di Rick and Morty: l'ambientazione fantascientifica. Ogni puntata è ambientata in qualche pianeta distopico disperso nella spazio. Ciascun episodio è un'avventura a sé stante, dove si mescolano elementi sci-fi e fantasy.
Rick and Morty ci fa galoppare con la fantasia.
Soprattutto perché il meraviglioso dell'avventura irrompe nel quotidiano di Morty e stravolge una vita altrimenti noiosa e priva di stimoli. Nonostante il ragazzino spesso si lamenti perché non vuole essere sradicato dalla tranquillità di casa sua, sotto sotto trova le mirabolanti avventure con il nonno estremamente eccitanti.
Ma una volta finito Rick and Morty cosa si fa? Dove possiamo trovare la stessa magia? Proprio per colmare il senso di vuoto che lascia questa avventurosa serie, abbiamo selezionato per voi cinque titoli da guardare nel caso in cui la nostalgia fosse troppa.
1) Love, Death and Robots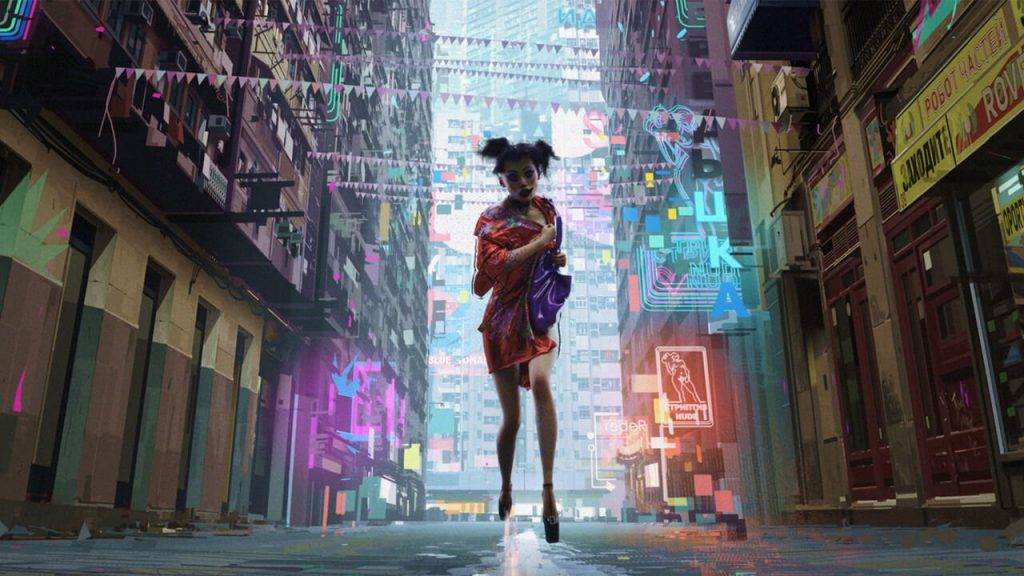 Questa bellissima miniserie targata Netflix è l'ideale per gli amanti della fantascienza e per il binge watching. Ogni episodio è una piccola perla ambientata in un universo distopico, dove domina la tecnologia, oppure dove robot e magia coesistono. Il titolo è didascalico: le storie raccontate parlano appunto di queste tre grandi tematiche. Amore, morte e robot. Magia, sci-fi e fantasy si intrecciano in una perfetta armonia dalle suggestioni cyberpunk.
Love, Death and Robots richiama molte delle atmosfere di Rick and Morty-
Ambientazioni futuribili, avventure adrenaliniche, il meraviglioso che irrompe nel quotidiano. I contenuti, poi, sono ancora più "estremi": le tematiche trattate sono molto forti e la violenza viene mostrata senza filtri. Se alcuni argomenti, inadatti a un pubblico di minori, in Rick and Morty sono solo accennati, o comunque trattati con la giuste dose di umorismo, in Love, Death and Robots non ci sono decisamente mezze misure.
2) The Midnight Gospel
Qui ci troviamo davanti a una creatura di Pendleton Ward, il brillante creatore di Adventure Time. Ward, In collaborazione con il comico Duncan Trussell, ha realizzato la serie basandosi sul podcast di quest'ultimo, The Duncan Trussell Family Hour. Il programma audio è costituito da varie interviste fatte a personaggi famosi che vengono interrogati sulla loro filosofia di vita e sul loro legame con la spiritualità. Questi temi così aleatori vengono riproposti, fra il serio e il faceto, in The Midnight Gospel.
Il protagonista, Clancy, è uno strano esserino dalla pelle rosa che viaggia nel multiverso, incontrando appunto la parodia dei personaggi presenti nel podcast e affrontando con loro diverse riflessioni sulla vita, l'anima e la meditazione. La serie presenta delle atmosfere psichedeliche, con colori vividi e un'estetica accattivante che richiama molto da vicino Rick and Morty. Così come la capacità di amalgamare argomenti leggeri e profondi in modo armonico e brillante.
The Midnight Gospel è disponibile su Netflix.
3) Final Space
Final Space è un'altra serie animata distribuita da Netflix che si presenta come un richiamo a vari film e show televisivi sci-fi. Fra questi, Futurama, I Guardiani della Galassia della Marvel, lo stesso Rick and Morty.
Il protagonista è Gary Goodspeed, un ragazzo ingenuo e un po' imbranato che, nel tentativo di fare colpo su Quinn, Guardia dell'Infinito, combina un disastro che gli costerà il carcere. Ed ecco che Gary si ritrova a bordo di un'astronave prigione insieme a Quinn, l'intelligenza artificiale HUE e il robot KVN. Ed è così che cominciano una serie di eccitanti avventure spaziali, che porteranno Gary a stringere amicizia con l'adorabile alieno Mooncake e a cercare di sventare la minaccia dei Titani, terribili creature provenienti dallo Spazio Finale, appunto.
Final Space si presenta quindi come un mix di diversi motivi ispiratori. Innanzitutto, le dinamiche fra Gary e Quinn ricordano molto da vicino quelle di Fry e Leela in Futurama. Il legame che si crea fra i vari membri dell'equipaggio è molto simile a quello de I Guardiani della Galassia e le atmosfere pop e psichedeliche sono un chiaro riferimento all'estetica di Rick and Morty. In comune con quest'ultimo, Final Space ha anche il concept di base: un ragazzo qualunque deve affrontare suo malgrado delle avventure folli nel multiverso, con dei compagni tutt'altro che rassicuranti.
Ma nonostante le molte somiglianze con altri show, Final Space riesce comunque ad avere una sua identità e a risultare interessante. Non sarà una serie particolarmente innovativa, ma certo è molto piacevole da guardare.
4) Electric Dreams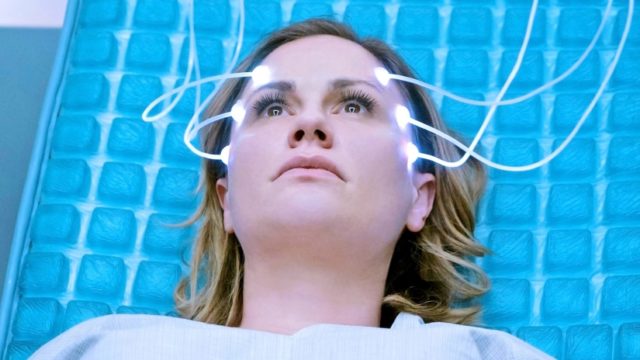 Questa magnifica serie distribuita da Amazon Prime Video è l'ideale per gli orfani di Rick and Morty che desiderano immergersi ancora di più nelle atmosfere fantascientifiche.
Electric Dreams (qui la recensione dell'episodio pilota) è una serie di episodi a sé stanti (in stile Black Mirror, per intenderci), tratti dai racconti di Philip K. Dick, il geniale autore del romanzo da cui è nato Blade Runner (per i più curiosi: il titolo originale è il folle Gli androidi sognano pecore elettriche?).
Come in Rick and Morty, ogni episodio è ambientato in un mondo distopico. Qui le suggestioni oniriche sono portate alle estreme conseguenze, al punto che talvolta è difficile distinguere realtà e finzione, sogno e quotidianità. La serie è una vera e propria perla che tratta tematiche profonde come la vita e la morte, il perdono e l'anima. Qui simili argomenti vengono raccontati senza le note umoristiche che potrebbe avere Rick and Morty, ma in maniera altrettanto efficace e decisamente più profonda. D'altronde, l'obiettivo primario di Electric Dreams non è l'intrattenimento, ma la riflessione. Non vi aspettate nulla di leggero, dunque. Ma se desiderate approfondire argomenti filosofici mantenendovi immersi nelle suggestioni fantascientifiche e psichedeliche che avete avuto modo di apprezzare in Rick and Morty, questa è la serie che fa per voi.
5) Tales From the Loop
Questa intrigante serie televisiva distribuita da Amazon Prime Video racconta le vicende di un paese di campagna sotto il quale sorge il Loop, un centro di ricerca dove si studia l'accelerazione delle particelle. Ed è proprio questo luogo misterioso la causa di strani fenomeni che avvengono nella cittadina.
Anche in questo caso, ogni puntata ha dei protagonisti diversi, anche se, a differenza di Electric Dreams, l'ambientazione rimane la stessa. Come in Rick and Morty ogni episodio è autoconclusivo. In comune con lo show Netflix, Tales From the Loop ha non solo le atmosfere fantascientifiche, ma anche l'idea dello straordinario che stravolge l'ordinario. I protagonisti sono persone qualunque che si ritrovano a vivere inquietanti avventure e affrontare pericoli e paradossi. Anche in questo caso, però, non vi aspettate la leggerezza. Questo show farà per voi solo se volete rivivere atmosfere sci-fi, ma senza l'umorismo e l'ironia di Rick and Morty.