The Big Bang Theory sembra che ultimamente si stia concentrando maggiormente sulla storyline di Raj e sulla sua evoluzione, il nerd più sfortunato del gruppo. Già nel quattordicesimo episodio della Serie Tv (leggete qui la nostra recensione), Raj aveva incontrato di nuovo le sue ex per capire cosa spingesse le ragazze a lasciarlo, ma non aveva tratto nulla di rilevante dall'esperienza.
Adesso però la situazione sembra essere diversa. Raj è davvero maturato nel nuovo episodio di The Big Bang Theory?
Piccola avvertenza: la recensione potrebbe contenere degli spoiler per chi non ha ancora visto il nuovo episodio. Quindi andate avanti a vostro rischio e pericolo!
Raj ha una discussione col padre durante una videochiamata. Il signor Koothrappali infatti, dopo aver appreso che il figlio è stato lasciato dall'ennesima ragazza, dice di aver rinunciato a combinargli un matrimonio e di aver capito che Raj semplicemente non piace alle donne. Il povero ragazzo ovviamente è molto scoraggiato dalle parole del padre e lo diventa ancor di più, quando il suo genitore comincia ad elencargli tutti i difetti che allontanano le donne da lui.
In particolare il signor Koothrappali accusa Raj di essere viziato e per nulla indipendente, per questa ragione – secondo lui – non riuscirebbe a sistemarsi. È davvero così? In realtà anche Howard dipendeva completamente da sua madre eppure ha trovato Bernadette.
Comunque Raj è davvero infuriato con suo padre: per questo va a fare un po' di shopping (con la carta di credito dei genitori ovviamente) e compra una graziosa quanto costosa mantella per la piccola Halley. Va poi dai suoi amici e riferisce loro la lite avuta col padre. E chiede se anche secondo il loro modesto parere lui sia viziato.
Leonard, Penny, Howard e Bernadette cercano di dire di no, ma è impossibile. Non possono evitare di ammettere la verità. Raj all'inizio lo nega, ma pian piano capisce che in effetti dipende troppo dalla sua ricca famiglia tanto da non sapere nemmeno quanto paghi d'affitto!
I suoi amici allora gli danno alcuni consigli per riuscire a mantenersi da solo e raggiungere finalmente la sua indipendenza. In fin dei conti può sempre contare sul suo stipendio all'università, no? Viene anche presa in considerazione l'idea che Raj venga ospitato da Howard o Leonard, ma i due amici non sono molto convinti. Però è Raj a rifiutare: non dovrà dipendere da nessuno.
Il giorno successivo Raj comunica a suo padre la sua decisione e lui ovviamente ne è entusiasta. Questa svolta è piuttosto interessante: il ragazzo dovrà cominciare a risparmiare, ma soprattutto dovrà intraprendere quel percorso di crescita che i suoi amici hanno già completato. Staccarsi dalla sua famiglia e diventare adulto non potrà che fargli bene.
Grazie a questo riuscirà ad avere una relazione stabile? Quanto durerà la sua decisione di essere indipendente dal padre? Sono tutte interessanti domande, a cui, temo, non avremo risposta dato che, conoscendo "The Big Bang Theory", questo argomento verrà archiviato e dimenticato nei prossimi episodi.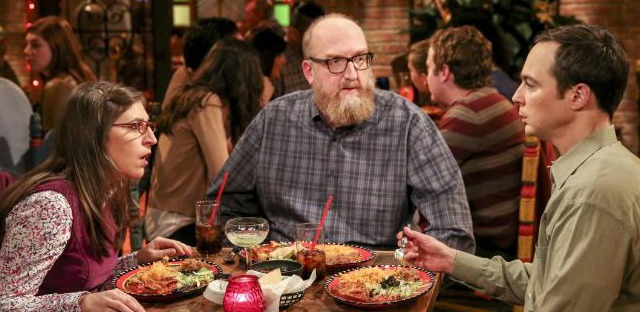 Ma nel frattempo cosa stavano facendo Sheldon ed Amy? I due fidanzati erano al ristorante per trascorrere una serata romantica. Mentre Sheldon mangia le patatine a forma di triangoli equilateri, Amy vede Bert, il geologo dell'Università, accanto al bancone.
Convince allora Sheldon ad alzarsi ed andare a salutarlo dato che la convenzione sociale lo impone. Bert racconta loro di avere un appuntamento con una ragazza conosciuta su un sito di incontri. La ragazza però non si presenta e Sheldon lo invita a sedersi con loro, mostrando di aver capito come funzionano i rapporti tra amici.
La conversazione a tavola verte sulla relazione tra Sheldon ed Amy. La ragazza racconta che ha conosciuto il suo fidanzato su un sito di incontri e che la prima volta lo ha incontrato in una caffetteria. Bert è molto colpito e dice che vorrebbe anche lui una relazione come la loro, ma con una vita sessuale più attiva. Bert quindi fa capire ad Amy e Sheldon di essere a conoscenza dei dettagli della loro vita intima.
Amy è sconvolta: come fa lui a sapere queste cose? La ragazza scopre in realtà tutti all'università lo sanno e che la loro relazione è diventata di dominio pubblico. Chi è il responsabile di questa fuga di notizie? L'ingenuo dottor Cooper che è andato a spifferare ai quattro venti dettagli molto privati della loro relazione.
Amy allora si infuria e litiga con Sheldon, che però proprio non riesce a capire la differenza tra il raccontare una confidenza ad un amico e farlo con la signora della mensa. Alla fine Sheldon realizza un geniale grafico che suddivide le varie informazioni in base alle persone a cui queste cose possono essere raccontate.
Grazie a questo, Amy scopre che ci sono cose che Sheldon non ha mai detto a nessuno. Così veniamo a sapere che Sheldon ha preso la patente, ma che lo ha nascosto ai suoi amici ed alla sua ragazza perché gli piace essere scarrozzato in giro. Anche questo ovviamente la fa andare su tutte le furie, ma l'episodio si conclude senza mostrarci il loro ennesimo litigio.
Questo episodio è stato sicuramente meno sottotono rispetto a quello della settimana scorsa. Sheldon diverte molto di più quando tenta di capire le emozioni altrui e i rapporti umani piuttosto che quando si cimenta nell'ingegneria. La decisione di Raj potrebbe portare a conseguenze interessanti, e speriamo proprio che "The Big Bang Theory" le approfondisca.
Il personaggio di Bert è fastidioso e soprattutto inutile: perché aggiungere un altro uomo che si autocommisera per il poco successo che ha con le donne, quando abbiamo già Raj e Stuart? Per questo la scena finale dell'episodio non è stata né divertente, né originale. Ha mostrato piuttosto la mancanza di nuove idee da parte degli showrunner. Come faranno a realizzare altre due stagioni (leggete qui per scoprire tutto sul possibile rinnovo della sit-com)?
Nonostante tutto, si possono salvare diverse cose di questo episodio, come il personaggio di Sheldon che ha riacquistato vivacità e l'evoluzione di Raj (sebbene proceda a passo di lumaca). Anche se questo episodio ci ha fatto ridere o per lo meno sorridere un po', tuttavia questo non nega le impressioni che abbiamo avuto l'altra settimana. La decadenza della sit-com ormai è inarrestabile.
Leggi anche – The Big Bang Theory: è giunta la fine?