Sta per terminare la decima stagione di The Big Bang Theory che, con alti e bassi, ci sta comunque intrattenendo da diversi mesi. Questa decima stagione verrà sicuramente ricordata per aver completato l'evoluzione di Sheldon (leggi qui il nostro articolo sulla sua evoluzione) e per averci mostrato finalmente la convivenza di Amy e Sheldon.
Ovviamente non dobbiamo dimenticare anche il fatto che in questa stagione abbiamo finalmente potuto vedere Howard e Bernadette in veste di genitori. Mancano però ancora tre episodi e quindi può ancora accadere di tutto.
In questo nuovo episodio di The Big Bang Theory ci siamo davvero inteneriti grazie ad Howard e Bernadette e al loro grande affetto per Halley!
L'episodio, infatti, sarebbe stato piuttosto piatto senza di loro. Del resto non riesco a capire che bisogno ci fosse di dedicare un episodio intero alla vita sentimentale di un personaggio minore e insignificante come Bert.
Piccola avvertenza: la recensione potrebbe contenere degli spoiler per chi non ha ancora visto il nuovo episodio. Quindi andate avanti a vostro rischio e pericolo!

La parte più divertente dell'episodio è stata sicuramente quella dedicata alla puntata speciale di "Fun with Flags" in cui Sheldon e Amy hanno ripercorso i momenti più importanti della web serie del dottor Cooper dedicata esclusivamente al mondo delle bandiere.
Sheldon ha ricordato quello che lo ha spinto a creare questo progetto: stava cercando di parlare a Leonard e Penny delle bandiere e Penny lo aveva esortato a cercare qualcuno a cui interessasse. E Sheldon aveva creato "Fun with Flags" proprio per parlare agli appassionati di bandiere. Molto divertente e carina la sigla cantata da Howard e Raj che per l'occasione hanno fatto rinascere la loro esilarante band.
Amy e Sheldon hanno esortato i fan della trasmissione a chiamare e a raccontare in diretta i loro momenti preferiti di "Fun with Flags". Purtroppo però l'unica persona a telefonare è Bert, il geologo dell'Università, che vuole annunciare a tutti che per la prima volta ha una fidanzata.
Quando il giorno successivo Leonard, Sheldon e Raj incontrano Bert invitano lui e la sua ragazza a unirsi a loro per una cena. Bert si presenta insieme ad una bellissima ragazza e fin dall'inizio Sheldon paragona questa donna a Penny. Del resto le due hanno davvero molto in comune: entrambe bionde, aspiranti attrici e fidanzate con degli scienziati.
La ragazza, a differenza di Penny però, sta con il geologo solo per il suo denaro e perché lui le fa dei costosi regali. I suoi amici allora consigliano a Bert di lasciarla e cercare qualcuno che lo ami realmente. Bert all'inizio decide di seguire il loro consiglio e rompe con lei, ma dopo essendosi reso conto di quello che ha fatto, capisce di essere rimasto da solo di nuovo e si pente della sua scelta. Quindi le compra una moto ad acqua e riesce a riconquistarla.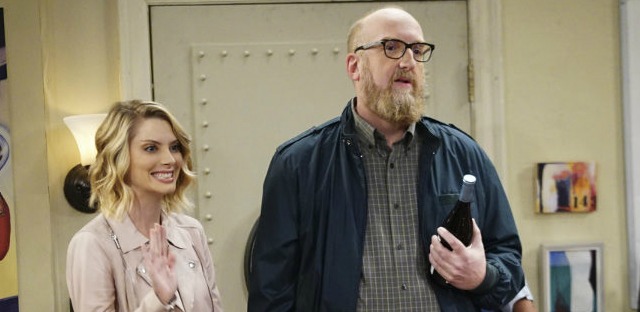 Per fortuna l'altra storyline di questo episodio di The Big Bang Theory invece è stata decisamente più interessante e tenera.
Abbiamo visto infatti Howard e Bernadette nei panni di genitori adorabili e innamorati della loro bimba.
Bernadette, infatti, deve presto tornare a lavoro e approfitta quindi degli ultimi giorni liberi che ha per stare insieme a sua figlia. Al pensiero di dover lasciare la sua Halley in un asilo nido Bernadette è molto in ansia: teme che gli educatori non siano abbastanza esperti o che un bambino possa farle del male.
Tuttavia è preoccupata soprattutto perché ha paura di commettere un grande errore a tornare al lavoro troppo presto.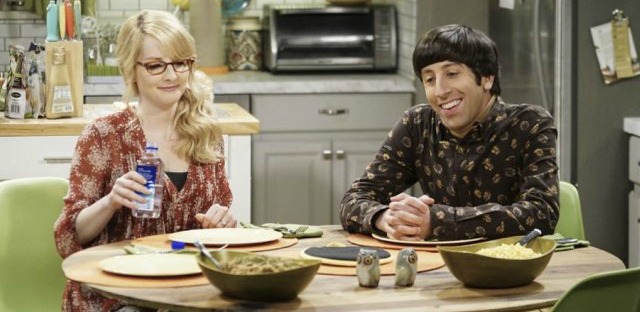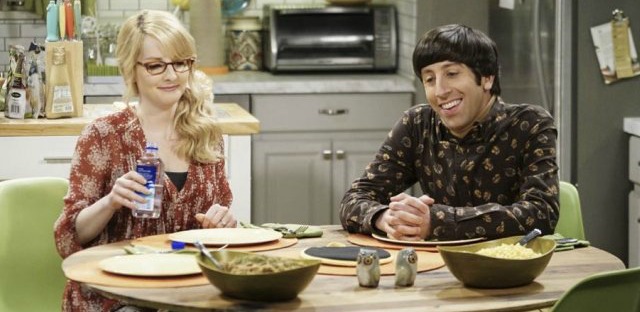 Arriva però il giorno in cui la piccola deve andare al nido e i suoi genitori (e Stuart) non riescono a trattenere qualche lacrima di commozione davanti alla bimba. Il primo giorno Howard non riesce a lasciare da sola Halley e decide di non andare a lavoro per un giorno e portarla all'acquario insieme a Stuart. Il secondo giorno invece devono lasciarla al nido, anche se a malincuore. Molto esilarante è stata la scena finale in cui Bernadette con la sua divertente vocina ha cominciato a gridare ad Halley che doveva salutarla, facendo svegliare tutti i bambini presenti.
Sono, infatti, Howard e Bernadette le vere star di questo episodio, che senza di loro non sarebbe stato lo stesso!
La loro evoluzione è stata perfetta e i due sposini ora sono davvero molto cambiati rispetto al momento in cui li abbiamo conosciuti. Bernadette all'inizio era reticente al pensiero di avere dei figli e invece adesso si commuove al pensiero di lasciare da sola Halley al nido. E che dire di Howard? È capace di farci ridere con le sue assurde imitazioni (davvero notevole quella di Stuart) e di intenerirci quando guarda sua figlia.
Non so voi, ma io mi sono emozionata a vederlo osservare con amore la sua Halley attraverso il vetro dell'asilo. È davvero difficile ricordare lo scapolo mammone e latin lover delle prime stagioni (leggete qui la nostra recensione della prima stagione di The Big Bang Theory): Howard è davvero cresciuto!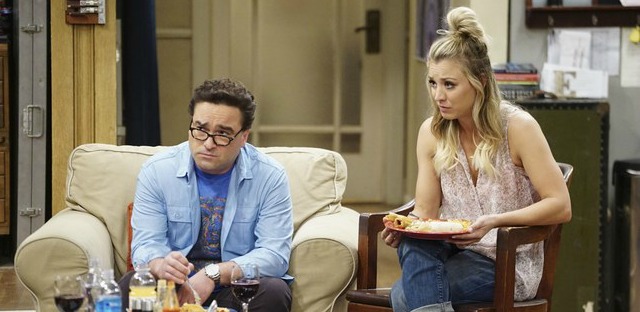 Per il resto ho trovato la storyline dedicata a Bert piuttosto insignificante, ravvivata solo dalle battute maligne di Sheldon. È evidente che questo episodio conferma ancora di più il nostro sospetto che Penny e Leonard si lasceranno presto.
Infatti, confrontando la storica coppia dei due protagonisti con quella di Bert e la sua bionda opportunista, Sheldon evidenzia come anche i suoi due amici dovrebbero lasciarsi, dato che sono molto diversi tra loro. Leonard e Penny però non sembrano preoccupati riguardo la loro relazione e, anzi, Leonard sostiene che mentre Bert prima o poi finirà i suoi soldi, lui invece potrà fare lo zerbino per sempre. Ma sarà davvero felice di ricoprire questo ruolo per sempre?
Nel complesso questo ventunesimo episodio di The Big Bang Theory non è stato un episodio particolarmente brillante, come quello della settimana scorsa, ma comunque godibile e divertente.