# #
Non avrei mai creduto di poterlo dire, ma "The Big Bang Theory" è riuscito a sorprenderci anche alla decima stagione! Questo season finale, grazie a scene esilaranti e buffe ci ha fatto davvero divertire e dopo aver visto la scena finale, non vediamo l'ora che inizi l'undicesima stagione della sitcom.
# #
Con questo episodio Chuck Lorre e Steve Molaro hanno decisamente dato una risposta alla domanda "Perché The Big Bang Theory dovrebbe continuare per altre due stagioni?".
Se solo non allungassero il brodo con episodi inutili (leggi qui cosa non ha funzionato nella decima stagione) e insignificanti e realizzassero più episodi di questo livello, la Serie Tv potrebbe essere una delle migliori.
# #
Piccola avvertenza: la recensione potrebbe contenere degli spoiler per chi non ha ancora visto il nuovo episodio. Quindi andate avanti a vostro rischio e pericolo! E questa volta potreste leggere uno spoiler grande quanto una casa!
Questo è stato probabilmente il miglior season finale in assoluto
di qualunque stagione di "The Big Bang Theory"!
Ci hanno davvero imbrogliati per bene: già il titolo dell'episodio, "The Long Distance Dissonance", non ci aveva fatto presagire nella di buono riguardo la relazione di Sheldon ed Amy. Del resto molti blog avevano anticipato che in questo episodio Sheldon avrebbe tradito Amy e noi non eravamo per nulla contenti.
Le cose però non sono andate proprio come volevano farci credere.
All'inizio dell'episodio vediamo Sheldon ed Amy in videochat e i due fidanzati sono più uniti che mai. Si sussurrano parole dolci, sorridono e Sheldon corregge la costruzione delle frasi di Amy. Una scena da veri innamorati insomma.
Il giorno successivo Sheldon all'università incontra una sua vecchia amica, la dottoressa Ramona Nowitzki. Avevamo conosciuto la ragazza già nella seconda stagione: era una studentessa della Calthec, grande ammiratrice di Sheldon, per il quale aveva persino una cotta. Ora è tornata all'università e vuole nuovamente conquistare Sheldon.
Il dottor Cooper però, si sa, non è molto bravo a capire le relazioni umane e non si accorge delle intenzioni della dottoressa Nowitzki. Mentre pranza con lei alla mensa, i suoi amici li guardano e restano sconvolti dalla loro complicità.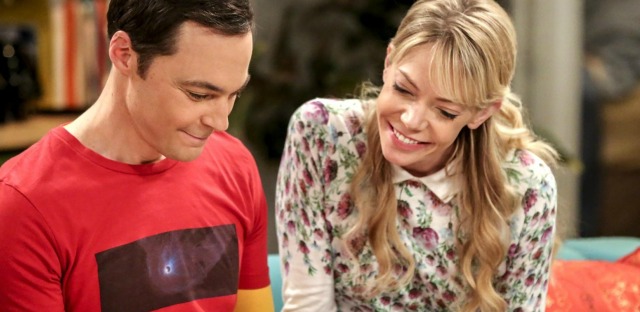 Leonard e Howard riferiscono tutto alle loro mogli, che non sanno se sia il caso di allarmare Amy.
La dottoressa Farrah Fowler però viene comunque a conoscenza della nuova amicizia del suo fidanzato perché è proprio Sheldon ad informarla, credendo che non ci sia nulla di male nel loro rapporto. Amy diventa molto gelosa, soprattutto quando scopre che la ragazza è intelligente, carina e un ex nuotatrice olimpionica e così rimprovera le sue amiche per non averla allontanata da Sheldon. Penny e Bernadette rassicurano più che possono la loro amica, ma sono comunque turbate.
E se convivere con Amy avesse risvegliato in Sheldon un appetito sessuale? Lo Sheldon della seconda stagione non avrebbe mai nemmeno guardato Ramona, ma adesso?
Gli amici di Sheldon lavorano ad un piano per allontanarla da lui e pensano di convincere un altro ragazzo a fare delle avances alla Nowitzki, così che lei dimentichi Sheldon. A proporsi è Staurt, che sostiene di piacere molto ai dottori che amano studiarlo e definirlo un "caso clinico".
Tuttavia la gang preferisce mandare Raj a provarci con la bella biondina. L'astrofisico le si avvicina nella mensa e le chiede se può sedersi con lei, ma Ramona lo respinge bruscamente e mostra in modo evidente di preferire il dottor Cooper, offendendo Raj.
Sheldon continua imperterrito a frequentare Ramona, senza capire le sue intenzioni: va in piscina con lei e la invita a cena nell'appartamento di Leonard a cenare con i suoi amici. Dopo la cena poi la invita a casa sua per mostrarle le lettere che ha ricevuto dai personaggi famosi.
Lì riceve una videochiamata da Amy e le presenta la dottoressa Nowitzki. Dopo averla vista, la povera fidanzata del dottor Cooper si sente ancora più minacciata e insicura. Alla fine della serata Sheldon vorrebbe accompagnare Ramona alla macchina, ma i suoi amici si intromettono e insistono per seguirli, pur di non lasciarli soli neanche un attimo.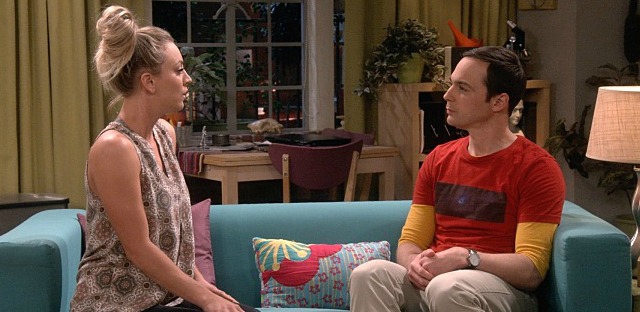 Penny cerca di spiegare a Sheldon che la dottoressa Nowitzki potrebbe essere innamorata di lui e che lui dovrebbe essere più cauto con lei, ma far capire a Sheldon come funzionano le relazioni umane è sempre un'impresa decisamente ardua.
Sheldon sostiene che lei non può essere interessata a lui, dato che sa bene che è fidanzato e non riesce a capire le parole di Penny (nemmeno quando lei lo paragona ad una rara action figure). La sua conversazione con Penny però almeno insinua in lui il dubbio, che prontamente vuole chiarire.
Quando rivede Ramona le chiede senza mezzi termini se lei sia interessata ad avere una relazione sentimentale con lui. E Ramona non solo risponde affermativamente, ma lo bacia. Sheldon senza battere ciglio, dopo il bacio, si alza e affronta un lungo viaggio per andare a Princeton da Amy.
Noi tutti credevamo che avesse l'intenzione di confessare alla sua ragazza quello che era accaduto e che volesse chiederle scusa. In realtà quando Amy apre la porta trova Sheldon in ginocchio con un anello e lui le chiede di sposarlo.
L'episodio finisce prima di poter sentire la risposta di Amy, ma non credo proprio che oserà rifiutare.
Questo episodio di "The Big Bang Theory"
ha riscattato l'intera stagione!
È stato un episodio sicuramente molto emozionante grazie alla coppia formata da Sheldon ed Amy, che sono sempre più dolci e divertenti. La loro convivenza è stata una delle scelte migliori di questa stagione e ci ha donato momenti esilaranti e teneri, mostrando che lo show si mantiene interamente sulle loro spalle. Forse l'unica pecca di questo season finale è stata che l'episodio è stato completamente Sheldoncentrico e non è stato lasciato molto spazio agli altri personaggi e alle loro storyline.
La dichiarazione di matrimonio è stata prevedibile e inaspettata allo stesso tempo: se da un lato ci aspettavamo che prima o poi Sheldon avrebbe fatto la proposta ad Amy, dato che già convivevano da un po', d'altro canto però non credevamo che sarebbe accaduto proprio adesso e dopo il bacio rubato.
Quello però che ci ha sorpreso è che questo episodio di The Big Bang Theory
sia riuscito a farci realmente ridere come non accadeva da tempo!
La scena sulle scale è stata davvero esilarante, così come ci hanno provocato grasse risate la gelosia di Amy o l'ingenuità di Sheldon. La vera rivelazione da questo punto di vista però è stata Penny: ormai avevamo dimenticato che potesse fare altro oltre litigare con Leonard o lamentarsi del suo lavoro. E invece in questo episodio ci ha divertito il modo in cui tentava di allontanare la Nowitzki da Sheldon.
Come avrete capito ormai siamo molto soddisfatti di questo season finale che mette le basi per un'undicesima stagione interessante e piena di risate. Abbiamo cominciato la decima stagione con il matrimonio di Penny e Leonard: che la prossima stagione possa aprirsi con il matrimonio degli Shamy?
Per scoprirlo dobbiamo aspettare settembre prossimo.
Continuate ovviamente a seguirci per conoscere ogni news in anteprima sulla prossima stagione e sullo spin-off (leggete qui tutto quello che dovete sapere) che è attualmente in lavorazione.