Mancano ormai solo quattro episodi alla fine della decima stagione di "The Big Bang Theory", a cui seguiranno probabilmente altre due che concluderanno il ciclo (leggete qui tutte le novità sul possibile rinnovo). Chuck Lorre e Steve Molaro si stanno ora concentrando sull'evoluzione del personaggio di Raj e sul suo tentativo di diventare finalmente indipendente dal padre. Il ragazzo si sta abituando a una vita di maggiori ristrettezze e per questo nel diciassettesimo episodio ha rinunciato a comprare un biglietto per il Comic-con. In "The Escape Hatch Identification" la Serie ha continuato a concentrarsi su questo aspetto: Raj, infatti, ha dovuto abbandonare il suo comodo appartamento e cercare un altro posto dove stare.
Questo diciottesimo episodio di "The Big Bang Theory" sarebbe stato davvero molto noioso se non fosse intervenuta Beverly Hofstadter a vivacizzarlo un po'!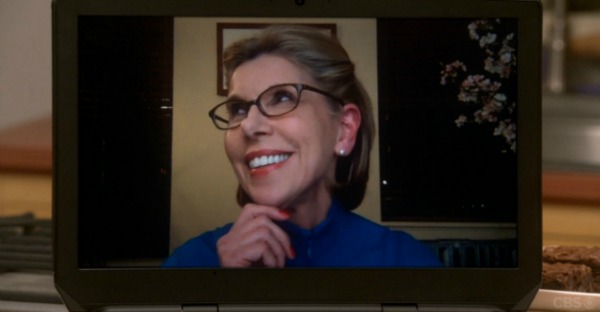 Piccola avvertenza: la recensione potrebbe contenere degli spoiler per chi non ha ancora visto il nuovo episodio. Quindi andate avanti a vostro rischio e pericolo!
All'inizio dell'episodio tutti gli amici apprendono che Raj è alla ricerca di un nuovo appartamento dato che non può permettersi più di pagare l'affitto. Leonard e Howard si sentono in dovere di ospitarlo, ma allo stesso tempo non sono entusiasti all'idea di avere il loro amico per casa. Alla fine si convincono che però è loro dovere aiutare l'amico in difficoltà. Il primo a chiamare Raj è Howard che gli offre di abitare nel suo garage, ma allo stesso tempo il ragazzo riceve anche un'offerta da Leonard che mette a disposizione per lui la vecchia stanza di Sheldon.
Raj all'inizio non sa quale delle due proposte accettare: fa delle domande ad entrambi per valutare quale sarebbe per lui la sistemazione migliore. Alla fine decide però di andare a vivere con Leonard e Penny. Sheldon apprende che Raj occuperà la sua vecchia stanza e sebbene cerchi di nasconderlo, è molto risentito. Nonostante la sua convivenza con Amy vada a gonfie vele tuttavia c'è qualcosa che lo turba.
Non può fare a meno di sentirsi rimpiazzato dal suo storico coinquilino. Comunque cerca di mettere da parte il suo risentimento, convinto da Amy. La ragazza infatti gli spiega che Raj si trova in una situazione delicata, che ha bisogno d'aiuto e che per questo deve vivere nel suo vecchio appartamento.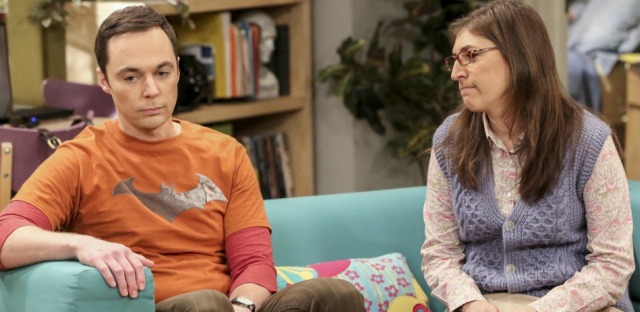 Sheldon sembra non nutrire più alcun rancore per Raj. Per questo quando il ragazzo si trasferisce, gli fa anche un regalo di benvenuto. Dona a lui un taccuino vuoto dove poter trascrivere tutte le idee che gli vengano nella stanza che ha tante volte ispirato Sheldon. La situazione però degenera nuovamente quando Sheldon ricorda al povero ragazzo indiano tutti i suoi problemi e finisce per offendere il suo amico.
In "The Big Bang Theory" è sempre uno spasso vedere come l'ingenuità di Sheldon e la sua inettitudine nelle relazioni umane provochi delle scene davvero buffe. Per affrontare i suoi problemi e capire perché il trasferimento di Raj lo infastidisca tanto, il dottor Cooper decide di rivolgersi a Beverly Hofstadter, la nota psichiatra.
La dottoressa è lieta che Sheldon l'abbia chiamata e cerca di aiutarlo con molto piacere. Avendo appreso quale sia il problema, sottolinea come il fastidio di Sheldon derivi dal fatto che il ragazzo teme che la sua relazione con Amy possa andare male e che lui non abbia più un posto dove poter tornare. Ma Beverly dice la sua anche su Leonard e Penny che, a suo parere, riempiono i buchi della loro relazione con dei coinquilini. Leonard chiama sua madre per dirle che si sbaglia e che la sua relazione va bene, ma lei gli fa il lavaggio del cervello. Beverly si diverte con molto sadismo a far vacillare le sicurezze di Leonard e Sheldon, che passano una brutta nottata.
Infatti Sheldon non riesce a dormire tranquillo e confida i suoi timori alla sua ragazza. Leonard e Penny (leggete qui un'interessante teoria su questo esuberante personaggio di The Big Bang Theory) trascorrono tutta la notte a litigare. Raj, invece, che si sente in colpa dato che crede di essere la causa del litigio dei suoi due amici, lascia l'appartamento.
Va quindi a casa di Howard, spaventando i due coniugi che dormivano tranquillamente nel loro letto. È stata molto divertente l' irruzione di Stuart che armato di Lucille (un'arma che i fan di The Walking Dead conoscono bene) voleva difendere Howard e Bernadette. I due sposi dicono a Raj di sistemarsi sul loro divano e di lasciarli dormire tranquillamente.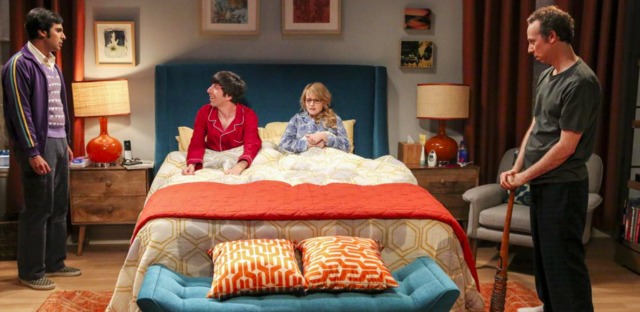 Raj e Stuart, mentre sistemano le coperte sul divano, hanno un'interessante discussione. Raj esorta Stuart ad andare ad affittare un appartamento insieme a lui, dato che si trovano nella stessa precaria situazione economica. Stuart però si rifiuta, preferendo fare il parassita di Howard e Bernadette per tutta la vita. L'indomani mattina Raj afferma di voler lasciare la casa di Leonard, temendo di essere un peso per loro, ma Penny lo rassicura: potrà restare con loro finché vorrà e loro non ne saranno infastiditi.
Raj allora accetta, ma assicura che sarà solo una sistemazione temporanea finché non troverà un altro appartamento. Tutte le coppie fanno pace e risolvono i loro problemi. Leonard chiede scusa a Penny per essersi lasciato manipolare da sua madre per l'ennesima volta e Amy corrompe Sheldon con una statua a grandezza naturale di Batman.
Questo nuovo episodio di "The Big Bang Theory" è stato piuttosto ripetitivo: Raj aveva già ricevuto l'offerta di andare ad abitare con Leonard e Penny e l'aveva rifiutata. A cosa è servito fare un passo indietro? Tra l'altro la paga di un astrofisico è davvero così bassa da non permettere a Raj di pagare l'affitto?
A rendere migliore l'episodio ci ha pensato Beverly, che ha messo in discussione le coppie e li ha spinti a ragionare sui propri problemi. Ovviamente il tutto si è risolto con un nulla di fatto e la fine dell'episodio è stata frettolosa, ma probabilmente si tornerà a parlare delle insicurezze di Sheldon e dei problemi di Leonard e Penny.
Sarebbe interessante invece se Stuart e Raj prendessero un appartamento, come aveva proposto quest'ultimo e speriamo che questo possa accadere prima o poi. Nonostante questo episodio di The Big Bang Theory sia stato davvero sottotono, tuttavia ha posto le basi per scene future che potrebbero risultare interessanti. Nel prossimo episodio, infatti, potremo vedere come va la convivenza di Raj con Leonard e Penny. Direi che ci aspettano delle scene esilaranti!