SPOILER ALERT : NON CONTINUATE A LEGGERE LA GIF-RECENSIONE SE NON AVETE ANCORA VISTO L'EPISODIO DI THE BIG BANG THEORY.  
Siamo ormai agli  sgoccioli e tra un paio di episodi si concluderà questa nona stagione, che ha ricevuto pareri contrastanti ma che ha il merito di aver fatto prendere allo show una nuova strada, che può essere condivisa o meno.
Vediamo com'è questo episodio di The big bang theory può essere annoverato tra quelli graditi oppure no e dunque partiamo con la gif-recensione!
Penny ha invitato tutti ad andare ad una degustazione di vini, essendo stata invitata lì in qualità di venditrice. Tutti accettano, ma non ha tenuto conto di Bernadette che essendo in dolce attesa non può bere e dell'altro strambo amico che preferisce assumere uva in forma non liquida. Howard decide di non accettare per non lasciare da sola sua moglie, ma Bernadette lo invita a non preoccuparsi per lei e ad andare comunque. Amy invece non vuole assolutamente rinunciare al vino per il suo ragazzo.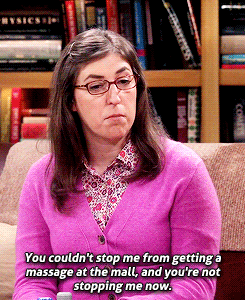 Sheldon allora propone alla futura mamma di trascorrere la serata con lui.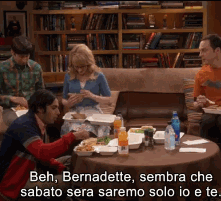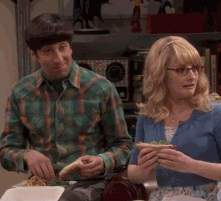 Sheldon e Bernadette: la strana coppia! Si sono a stento scambiati qualche parola in ben nove stagioni e adesso stanno per trascorrere un'intera serata insieme? SCIOCCANTE!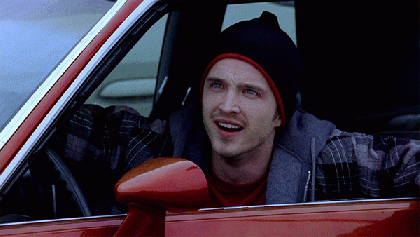 Raj pensa invece di invitare anche Claire alla degustazione, così da farla conoscere ad i suoi amici. Ed Emily? Lei resterà a a casa.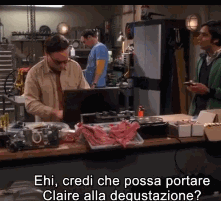 Raj spiega allora come sta gestendo la sua situazione sentimentale: Claire ed Emily non sanno l'una dell'altra, ma sanno che non hanno una relazione seria con lui.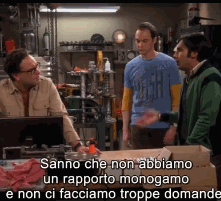 Non dimentichiamoci però che lui è Raj e dunque qualcosa andrà storto di sicuro! Come ha ammesso lui stesso "E' con zero donne che dà il suo meglio".
In questo episodio comunque abbiamo assistito a grandi ritorni : oltre a quello di Zack, di cui vi parlerò tra poco, è anche tornata la scienza! Si è finalmente parlato del progetto che Howard, Leonard e Sheldon stanno realizzando usando i vortici come giroscopio per creare un nuovo sistema di orientamento, che funzioni al'infinito.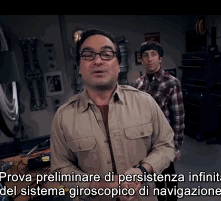 E sembra che il progetto funzioni davvero alla grande! E' stato un piccolo cameo quello della scienza, ma è servito a ricordarci che è di questo che parla di The Big Bang Theory, più o meno.
Raj invita Claire alla degustazione e scopriamo la ragione per cui Raj l'ha scelta: è più complessata di lui. Mi sembra quasi di vedere in lei qualche tratto della prima ragazza di Raj, Lucy. Forse Claire è decisamente più simpatica di così, ma la situazione in cui Raj l'ha messa non è molto semplice in effetti.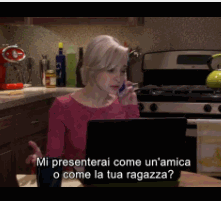 Accetta comunque di andare, rassicurata da Raj che non accadrà nulla di strano o imbarazzante. Intanto i ragazzi vanno alla degustazione di vini e lasciano Bernadette nelle grinfie di insieme a Sheldon. Contrariamente alle previsioni invece la serata di Sheldon e Bernadette va meglio di come la donna avrebbe creduto.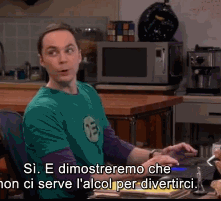 All'inizio il dottor Cooper la tedia mostrandole varie tipi di treni o di toast, ma alla fine le organizza una speciale partita di D & D in cui le permette di fare tutto ciò che da quando è incinta non può più fare (bere, mangiare sushi o fare l'idromassaggio). Per una volta dunque la donna non si sente più la futura mamma, ma semplicemente Bernadette.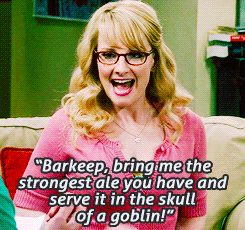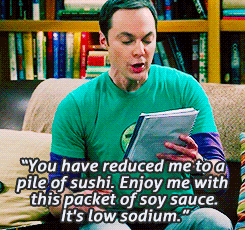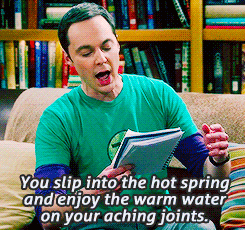 Non avrei mai creduto che potessero essere così teneri Sheldon e Bernadette insieme! Tra Amy ed Howard invece non c'è la stessa sincronia e anche stare da soli pochi secondi li mette a disagio.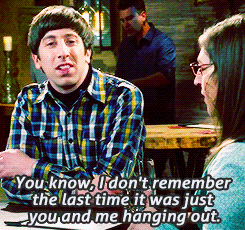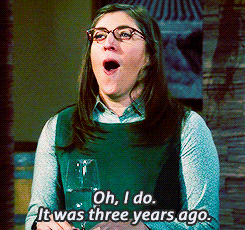 Alla degustazione il gruppo di amici incontrano una vecchia conoscenza, Zack l'ex di Penny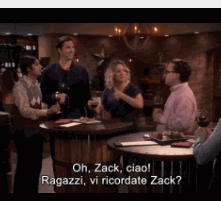 …che ricorderete certamente per la sua intelligenza!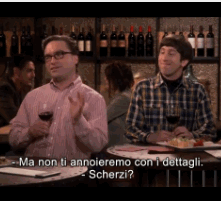 Sì, l'ha detto davvero. Per lui Mike Tyson è uno scienziato…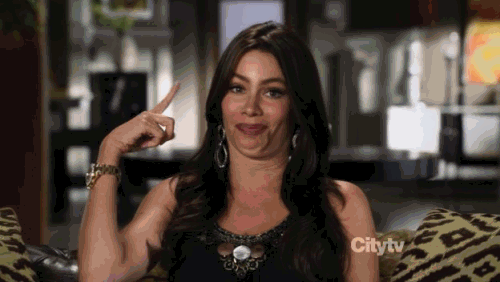 Dopo la figuraccia, però, resiste imperterrito e sembra deciso a non andarsene. Finisce dunque per rovinar loro la serata con la sua presenza inopportuna. Prima infatti osserva che il sistema creato da i tre scienziati potrebbe essere utilizzato anche per le armi.
E poi ci prova spudoratamente con Claire.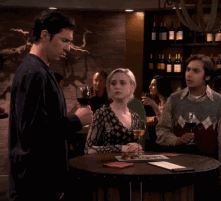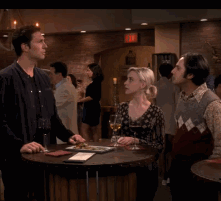 E nemmeno parlargli migliora la situazione.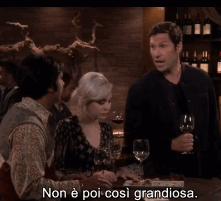 Le parole di Zack generano in Leonard un dilemma morale, a cui avrei preferito che fosse stato dato più spazio. Insomma la scienza dovrebbe fermarsi sapendo che ciò che sta per scoprire potrebbe contribuire a distruggere l'umanità oppure dovrebbe perseverare? In The Big Bang Theory la questione è caduta nel dimenticatoio, forse perché troppo seria per lo show, ma sarebbe stato bello se avessero azzardato una risposta alla domanda, seppur con la medesima ironia di sempre.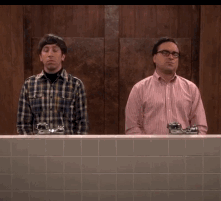 La serie ha preferito invece concentrarsi sull'imbranato Raj che sta vivendo una situazione sentimentale in cui non si trova per niente a suo agio, nonostante dica il contrario. Raj non è quel si direbbe un latin lover e per quanto si diverta ad essere conteso da due donne, sono sicura che sapesse anche lui che questa vita non faceva per lui. Ce lo vedete Raj ad avere una doppia vita?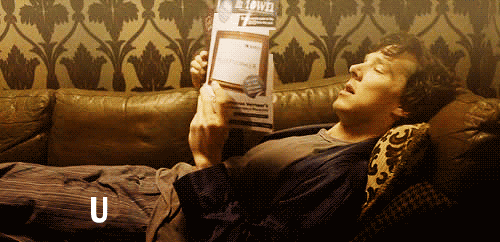 Ecco! E infatti si è tradito da solo…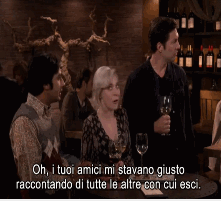 Raj ha combinato un casino, come suo solito e mi chiedo se riuscirà a far pace con la ragazza. Adesso che abbiamo visto Raj insieme a Claire possiamo dare un giudizio su questa coppia. Chi vi sembra più adatta al nostro ragazzo indiano tra Claire ed Emily? Personalmente ero scettica riguardo lei, ma mi sono dovuta ricredere. E' l'equilibrio perfetto tra Emily e Lucy: carina, spiritosa ,brillante, ma anche insicura. Certamente è più simile all'imbranato Raj rispetto a quanto lo sia Emily! E peccato che abbia rovinato tutto con lei… Nei prossimi episodi sapremo se avrà qualche altra chance con la biondina. Voi che ne pensate?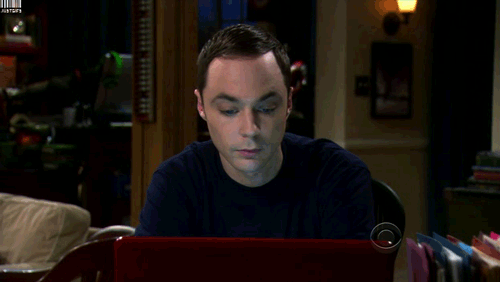 Credo che potrebbe essere definita una puntata "vecchio stile" con qualche elemento innovativo. E' stato un colpo di genio far tornare Zack, un personaggio buffo e divertente che ha rallegrato questo episodio altrimenti un po' noioso. Si è rivelato poi un buon modo per conoscere Claire, che finora avevamo solo intravisto in qualche scena. Dal punto di vista della tematica scientifica però questo episodio è stato un'occasione sprecata. Viene un po' da chiedersi se The Big Bang Theory sia più una sitcom su un gruppo di scienziati. Appena un minuto dedicato al nuovo progetto di Howard, Leonard e Sheldon, che viene per l'ennesima volta trattato troppo sommariamente: sembra che Chuck Lorre sia obbligato a parlare di scienza e vi accenni il meno possibile così da togliersi il dente velocemente. La questione interessante sul valore ambivalente delle invenzioni scientifiche è stata inoltre accantonata troppo facilmente. L'elemento più positivo è stato la serata tra Bernadette e Sheldon, la coppia strana ma vincente. Un episodio che mi ha lasciato l'amaro in bocca, ma che mi ha comunque intrattenuto per una ventina di minuti, facendomi ridere. Dato che ultimamente lo scopo di The Big Bang Theory sembra essere esclusivamente questo, possiamo dire che hanno raggiunto l'obiettivo.
Vi aspetto alla prossima gif-recensione!