SPOILER ALERT : NON CONTINUATE A LEGGERE LA GIF-RECENSIONE SE NON AVETE ANCORA VISTO L'EPISODIO.  Non vorrei che vi sentiste come Leonard, che riceve continui spoiler dal suo coinquilino.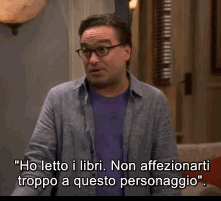 Dunque che cominci la gif-recensione!
Benvenuti alla gif-recensione del nuovo strabiliante episodio di The Big Bang Theory! La cosa più bella di questa serie è che vediamo i ragazzi alle prese con le nostre stesse passioni! Dopo aver visto a dicembre l'episodio dedicato al nuovo film di Star Wars, ora è toccato al ritorno di una serie amata in tutto il mondo : Game of Thrones. Noi dovremo aspettare domani per vedere il primo attesissimo episodio della sesta stagione, ma Chuck Lorre ha immaginato  per la trama del suo show che Sheldon & Co possano già vederlo! I nostri nerd preferiti si sono dunque riuniti a casa di Leonard e Sheldon per poterlo vedere tutti insieme!!
Prima però Penny ci fa un breve riassunto di quello che è accaduto nelle cinque stagioni precedenti della famosa serie.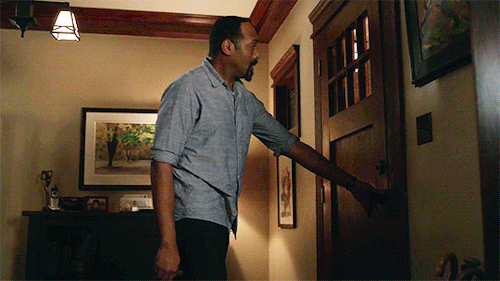 In casa Cooper però c'è aria di tempesta : come ogni tre mesi Sheldon ha organizzato la riunione tra coinquilini (in cui per la prima volta è compresa anche Penny!!) e Leonard sostiene di non volervi partecipare. Sheldon insiste e Penny si schiera dalla sua parte piuttosto che da quella di Leonard. Leonard giustamente è stanco di assecondare le follie di Sheldon e vorrebbe poterlo evitare, ma Penny non la pensa come lui. All'arrivo di Amy le cose non migliorano, dato che la ragazza dà ragione a Leonard. Scopriamo dunque che neanche alla povera Amy piacevano le riunioni per decidere di cambiare o confermare alcuni punti del Contratto tra Fidanzati. Sheldon non ci crede, sostenendo che se ne sarebbe accorto se lei si fosse annoiata. Amy però sa fingere molto bene!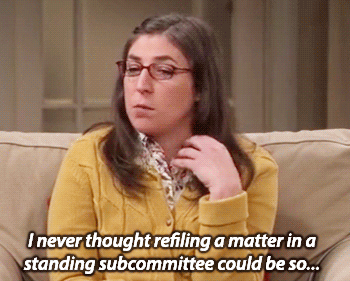 Dato che il conflitto non si placa, Penny e Sheldon decidono di andare a vedere Game of Thrones nell'appartamento di Penny!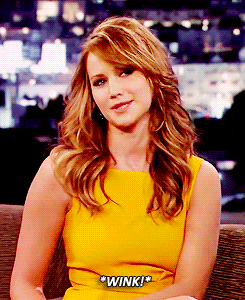 Interessante… le coppie si mescolano!!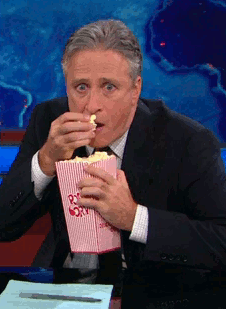 Sopraggiungono poi Raj ed Howard, anche loro sul piede di guerra.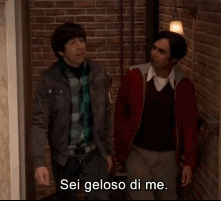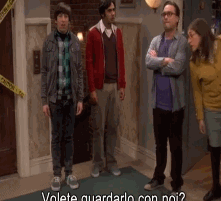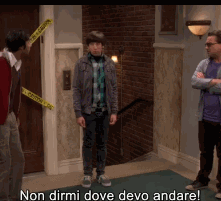 Ma come mai i due inseparabili amici hanno litigato? Perché per la prima volta nella sua vita Raj si vanta della sua vita sentimentale. Già, perché Raj ha deciso di uscire sia con Claire che con Emily!!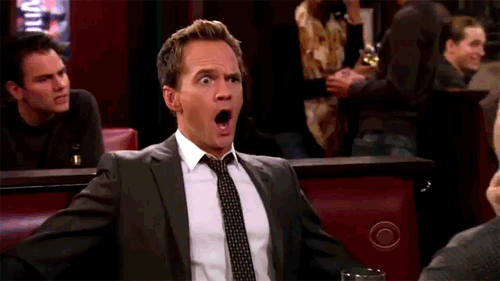 Il ragazzo che prima non riusciva nemmeno a parlare con una donna, adesso esce con due bellissime ragazze! Neanche Leonard riesce a nascondere la sua sorpresa!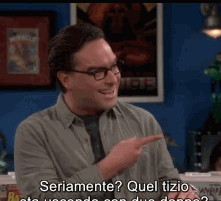 L'euforia di questa nuova situazione ha portato Raj però ad avere un po' troppa boria. Trascorre infatti ogni momento a lamentarsi di quanto sia stancante andare a letto con due donne diverse! (Ad averceli questi problemi!)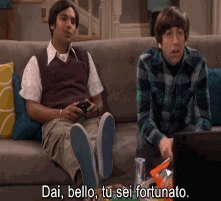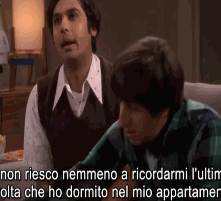 Howard estenuato allora decide di andare da Leonard ed Amy, pur di non sentirlo più. Capisco che Raj sia fastidioso, ma lo stesso Howard non è mica un santo… Non ricordate quando si vantava di Bernadette o delle sue conquiste davanti al suo amico, che era sempre da solo? Raj ha sopportato le battutine di Howard sulla religione e cultura indiana, gli sfottò contro la sua sensibilità quasi femminile, mentre Howard non può tollerare per un po' le lamentele di Raj?
Comunque mentre Amy, Leonard ed Howard si lamentano dei loro partner arriva una visita inaspettata!
JON SNOW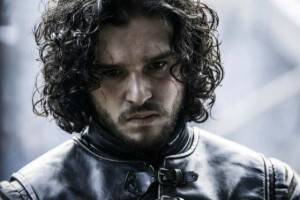 O MEGLIO…STUART VESTITO DA JON SNOW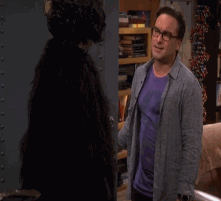 Se vi state chiedendo il perché di un tale orrore, chiedetelo ad Howard che aveva detto al povero Stuart che quella a cui era stato invitato era una festa in maschera. Anche lui decide di andare naturalmente nell'appartamento di Penny, ossia dalla parte di quelli che ce l'hanno con Howard.
Leonard ed Howard fanno poi una terribile scoperta : le loro mogli spesso difendono e appoggiano i loro amici, piuttosto che loro.
Chi è stato a convincere Howard a non fare più battute su Gandhi?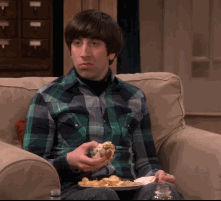 Ad Amy e Leonard invece non sta bene che Penny e Sheldon siano così uniti e che si difendano sempre vicendevolmente.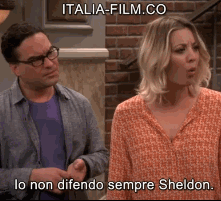 A mettere fine alle discussioni però c'è stato l'incidente di Howard, che ha per sbaglio mangiato della frutta secca ed ha dunque avuto una terribile reazione allergica.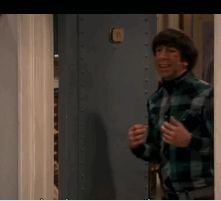 Gli amici hanno dovuto urgentemente portarlo in ospedale ed assicurarsi che stesse bene. Quando Bernadette ha comunicato a tutti che il povero Howard era fuori pericolo, tutti si sono sentiti sollevati. Ma soprattutto hanno dimenticato le loro divergenze e sono tornati uniti come sempre! Raj poi ha collegato gli eventi accaduti in quel giorno ad alcune delle scene di Game of Thrones, regalandoci una sorta di mashup tra le due serie che resterà indimenticabile! Ma soprattutto Sheldon ha pronunciato una parola italiana : "Mortadella"! Solo io mi sono emozionata?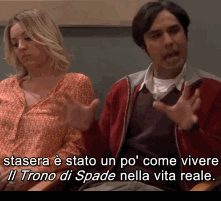 Prima di chiudere questa gif-recensione, voglio ricordare il momento più tenero di tutto l'episodio! Howard comincia a farsi delle domande sul sesso del nascituro : sarebbe meglio un maschio? Ma dovrebbe insegnargli a giocare a palla e lui non è una cima negli sport. Sarebbe meglio una femmina? Ma Howard sarebbe geloso dei ragazzi che cercherebbero di conquistarla con squallidi approcci (quali erano i suoi).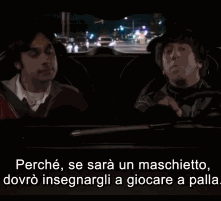 Anche se questo momento è stato presto rovinato da Raj che ha preso la palla al balzo per potersi vantare della sua doppia conquista, tuttavia è stato parecchio carino.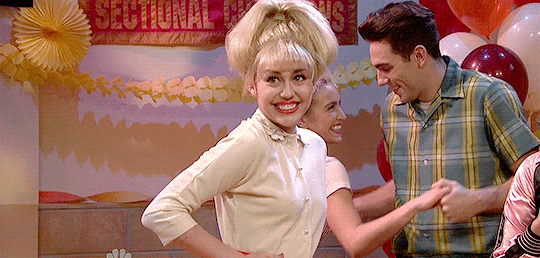 Voi preferireste che il figlio di Howard e Bernadette sia un maschietto o una femminuccia?? Fatecelo sapere nei commenti!
Siamo giunti alla fine della gif-recensione ed è il momento di tirare le somme.
Questo ventunesimo episodio è stato divertente e brillante. Un cambio di schieramenti, il tema dedicato a Game of Thrones, il ritorno dell'intero cast (ma quindi Stuart non era morto?) lo hanno reso davvero godibile. La trama ha dato spazio a tutti personaggi : mostrandoci sia la situazione sentimentale di Raj, sia i pensieri da futuro papà di Howard, sia i soliti litigi tra Sheldon e Leonard. Soliti però solo per modo di dire perchè non capita tutti i giorni che Leonard si ribelli contro le stranezze di Sheldon. Un episodio che unisce il fascino nerd delle prime stagioni (con Game of Thrones ed il dibattito su Batman e Man-Bat) alla nuova direzione che sta prendendo la trama. Sono sicura che questo episodio abbia convinto anche i più scettici e abbia ricordato a tutti cosa ci aspettiamo da un episodio di questa serie.
Non posso far altro dunque che darvi appuntamento alla prossima gif-recensione ed augurare ai fan di Game of Thrones un buon Got Day per domani!