Fear The Walking Dead è finalmente ritornato in America e a breve sarà trasmesso anche in Italia. Lo spin off della celebre serie The Walking Dead ci aveva lasciato con ottime premesse e numerosi spunti di riflessione. Per quanto criticato dai fans della serie originale e per quanto ingiustamente paragonato ad essa, lo show era stato rinnovato per questa seconda stagione ancor prima che l'episodio pilota andasse in onda.
Fear The Walking Dead già dal PREVIOUSLY ON ci ricorda il punto a cui eravamo rimasti..
"Dobbiamo allontanarci dalla città, dobbiamo stare lontani dalla gente"
Ecco la premessa di tutto. La situazione della prima stagione, lo stato di allerta e di fuga sono ripresi immediatamente. La civiltà è crollata, l'esercito e le altre forze civili non sono state in grado di fronteggiare e arginare il pericolo "zombie". Il nostro gruppo di sopravvissuti ha avuto poco tempo per capire, ancora meno per reagire e per escogitare un modo per riuscire a sopravvivere. La possibilità è arrivata, inaspettata e misteriosa, dal signor Strand che ha proposto a tutti di seguirlo per mare.
La seconda stagione riparte proprio da qui, dal mare. Madison Clark fissa il tempestoso silenzio mentre alle sue spalle tutto crolla, tutto va a fuoco, tutto si consuma, proprio come spesso è successo in The Walking Dead. I luoghi che si lasciano alle spalle i protagonisti vengono quasi sempre distrutti per segnare un cambiamento o un punto di non ritorno.
Dalle fiamme compaiono gli zombie, altro segno inequivocabile del fatto che tutto si stia perdendo. Ciò che è davvero necessario sono le persone che si amano, la propria famiglia (Travis e Chris infatti continuano a voler tener vicina Liza) e le cose indispensabili per la propria sopravvivenza. Come sempre, quando si ha un "bene" così importante in una situazione simile bisogna avere la giusta dose di paura che qualcuno si faccia avanti per prendertelo.
L'importante è però che questa paura e questa mancanza di fiducia non paralizzino, perché come afferma Travis "nessuno può sapere come andrà il futuro". Bisogna essere disposti a combattere per le poche possibilità, combattere duramente proprio come fanno Madison e suo marito sulla spiaggia, proprio come fa Nick sul gommone e poi, bisogna essere in grado di lasciarsi alle spalle la propria casa, di vederla bruciare sapendo di non poter fare nulla per evitarlo.
Bisogna capire che è arrivato l'inizio della fine. 
Però quello non è il solo prezzo da pagare. In una rapida sequenza ci vengono mostrati altri atteggiamenti indispensabili da ricordare e attuare nel nuovo mondo di Fear The Walking Dead. Non si possono più dare fiducia e pietà gratuitamente (come fa Strand con le persone che chiedono aiuto), non si può più dare degna sepoltura alla propria madre (Chris e Travis sanno qual è l'unica cosa da fare con Liza) e si deve avere la forza di ignorare tutti i disperati e terribili messaggi alla radio (come fa Alicia).
Il punto di vista di Strand sul salvataggio ci riporta all'eterna questione primordiale di tutto il grande mondo dell'apocalisse raccontata da Kirkman. E' giusto o non è giusto? Gli intenti delle persone sono ancora buoni, ma la sopravvivenza viene prima di tutto. Giusto o sbagliato? Strand pensa sia giusto. L'uomo è misterioso, calmo, come se avesse previsto tutto da tempo, come se sapesse esattamente come comportarsi o cosa lo aspetta. Travis, che si addossa tutte le responsabilità, sia per la sua famiglia allargata, sia per le persone che ha incontrato lungo la strada, dà ragione all'uomo con cui si è imbarcato perché rappresenta la sua unica momentanea ancora di salvezza. Lui ha già fatto una scelta: la sua famiglia.
In questo ricorda molto Rick Grimes che arrivò ad uccidere il suo migliore amico per la sua salvaguardia e quella conseguente del gruppo. E Madison ricorda a tratti Lori, con il suo disappunto contro il marito, ma si riprende lasciando il giusto spazio ai suoi ragazzi e schierandosi comunque sempre a fianco dell'uomo che ama.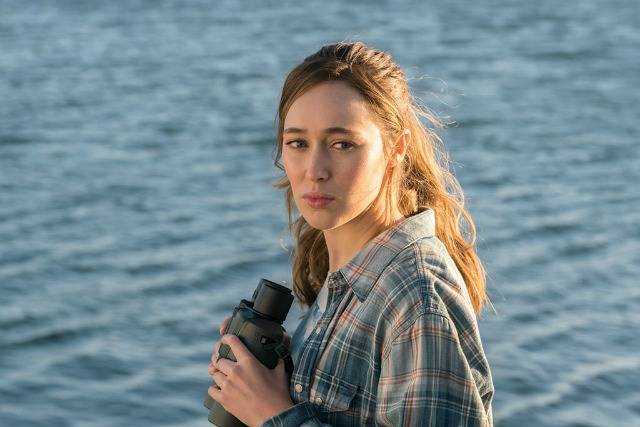 Alla fine è così. I ruoli si ribaltano in questo nuovo disastroso mondo rinominato Fear The Walking Dead. Nick, il tossicodipendente, può girare la sua scaltrezza e la sua confidenza con la morte a favore del gruppo. Al contrario Alicia, così forte nella situazione casalinga del fratello vagabondo, sembra rimasta un po' incastrata nel dolore della morte del ragazzo. Guarda il suo tatuaggio, ride, cerca la radiolina come si cerca un sms, si lega a Jack attraverso brevi ed intensi messaggi vocali perché con i dialoghi con lui riesce ad avere una speranza.
"Era già finita prima che sapessi che era cominciata" dice, sintetizzando un po' tutta la loro situazione.
Si confida con lui, con l'uomo dall'altra parte della radio che non abbiamo ancora la possibilità di capire se sia degno della fiducia della ragazza oppure no. Strand è deciso, si impone da bravo comandante su tutta la sua ciurma. A nessun altro verrà data una possibilità, a nessun altro verrà concessa la sua fiducia, perché lui la sa lunga (chissà perché).
La nave distrutta, gli zombie in mare, il ruolo di Chris, Jack e di Victor Strand..questa puntata ha lasciato ottimi spunti per proseguire alla grande, proprio come ha cominciato.
Vedremo se anche in Fear The Walking Dead si dovranno temere più i vivi, rispetto ai morti. Le premesse dicono: "assolutamente sì".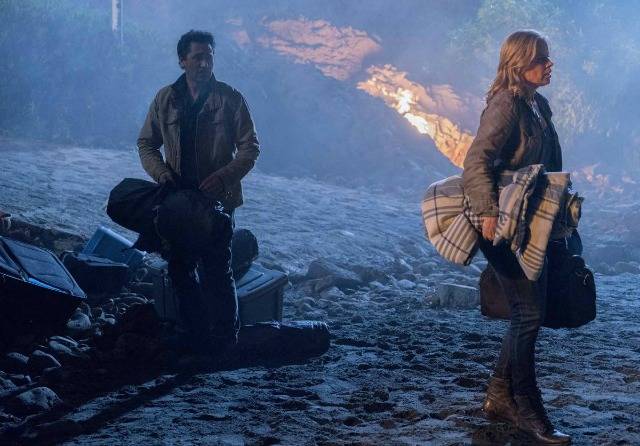 Un saluto alle pagine Fear The Walking Dead – Italia e The Walking Dead-Italy !