Questo è stato l'ultimo episodio di The Big Bang Theory prima della pausa invernale, che ha interrotto molte delle nostre Serie Tv preferite, ed è stato un vero concentrato di dolcezza!
L'ultimo episodio di The Big Bang Theory del 2016 non è stato però un episodio qualsiasi, ma uno dei più interessanti e belli di questa stagione. Per questa undicesima puntata gli sceneggiatori ci hanno regalato una bellissima sorpresa… Abbiamo criticato molto l'episodio precedente, che è stato davvero deludente, ma non possiamo dire lo stesso per questo che ci ha invece sorpreso positivamente.
Insomma senza indugi parliamo di questo episodio e ci ha davvero intenerito e ci ha sorpreso!
NATURALMENTE SE NON AVETE VISTO L'EPISODIO NON CONTINUATE A LEGGERE:
CONTIENE SPOILER!
In questo episodio abbiamo finalmente assistito alla nascita della piccola di casa Wolowitz, Hally. Ma cominciamo con calma…
Nell'episodio della settimana scorsa abbiamo visto il Team Baby attivarsi, dato che Bernadette stava per partorire. All'inizio di questo nuovo episodio abbiamo quindi visto i due neogenitori ed i loro due amici tesi e ansiosi in macchina, mentre andavano in ospedale. Nel pronto soccorso però hanno scoperto di essersi allarmati precocemente e di essersi recati in ospedale troppo presto.
Ritornano quindi a casa e Raj realizza un filmato dei momenti che precedono il parto, che sarà poi destinato al piccolino. Per sbaglio però si lascia sfuggire il sesso del nascituro e manda su tutte le furie Howard e Bernadette che volevano scoprirlo solo dopo il parto. Per questo lo allontanano dalla loro casa.
Raj va prima a bussare alla porta dell'appartamento di Leonard e Penny e poi a quello di Amy e Sheldon, ma entrambi lo rifiutano. In particolare Sheldon ed Amy stavano festeggiando il compleanno della ragazza. E' già passato un anno da quando si è verificato il fatto più significativo della storia degli Shamy, la loro prima volta. E adesso che ricorre di nuovo l'anniversario del suo compleanno, Amy può finalmente avere un altro momento in intimità con il suo strambo fidanzato.
L'ho notato solo io o Sheldon sembra felice e quasi impaziente di avere un coito con Amy? Pazzesco il cambiamento straordinario che ha avuto questo personaggio…
Comunque sebbene Amy e Sheldon siano ben disposti, tuttavia non riescono a consumare, perché vengono continuamente interrotti. È stato però esilarante e davvero magica la scena in cui Amy ha cercato di sedurre Sheldon vestita da studentessa di Hogwarts. "Una tassorosso che va a letto con un grifondoro? Che scandalo".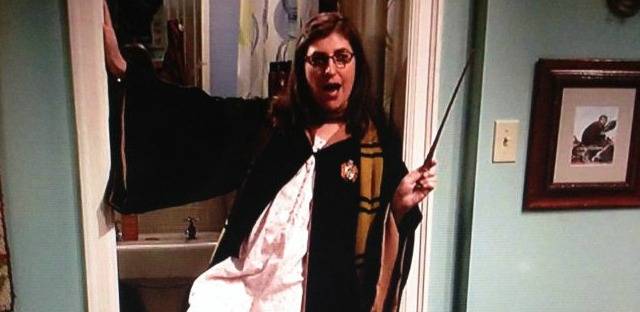 Comunque sono stati interrotti un'altra volta e sono corsi insieme a Leonard, Penny e Raj in ospedale per stare accanto a Bernadette, che stavolta era davvero sul punto di partorire. Raj però è depresso poiché non può aiutare Howard e Bernadette ed intromettersi come fa di solito. Del resto non deve essere semplice vedere il proprio amico crescere ed allontanarsi: Raj ormai si sente messo da parte e sostituito da Stuart.
Nella sala d'attesa dell'ospedale i ragazzi riflettono sui passi avanti che sono riusciti a fare nella loro vita in pochi anni. E' un buon modo anche per noi per osservare quanto i quattro nerd siano cresciuti in questi anni: Sheldon è diventato più umano ed è andato a vivere con Amy, Leonard è riuscito a conquistare ed a sposare Penny, Howard è andato nello spazio, si è sposato ed ora è diventato padre.
L'unico che invece sembra non aver fatto nessun passo in avanti è il povero astronomo Raj, che si deprime sempre più. Effettivamente forse si è concentrato più per intromettersi nella vita degli altri piuttosto che costruirsene una propria e sta per cominciare a rendersene conto. Mentre Bernadette soffre per i dolori del parto c'è anche tempo per ricordare la madre di Howard morta qualche stagione fa ed immaginare come sarebbe stata contenta di diventare nonna.
Un momento molto tenero che ci ha ricordato un personaggio che ha lasciato un grande vuoto, anche se non lo avevamo mai effettivamente visto.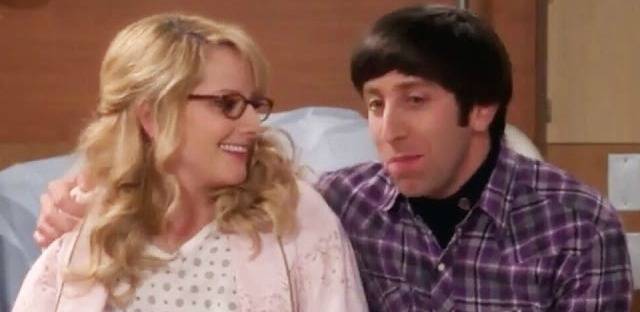 Alla fine la bimba è nata e Howard lo ha annunciato ad i suoi amici con grandi entusiasmo. Ha anche fatto un altro grande annuncio, che mi ha quasi fatto commuovere: il padrino della piccola sarà Raj.
L'abbraccio tra Raj ed Howard che è seguito ha un gran numero di significati: vuol dire che nonostante tutto Raj sarà sempre presente nella vita Howard e che la loro amicizia resterà sempre salda.
Alla fine avremmo dovuto vedere la piccola, ma l'abbiamo solo sentita gridare e piangere con un'energia degna di sua nonna.
La produzione del resto ha confermato che non vedremo mai la bimba in faccia, come è accaduto già con la madre di Howard. E' una scelta originale, ma del tutto discutibile: noi fan avremmo voluto vedere Howard alle prese con la piccola, la bimba interagire con Sheldon e tante altre scene che sarebbero state fantastiche.
E poi la figlia di Howard, a differenza di sua nonna, è importante ai fini della trama. Che dire? Speriamo cambino idea e ci facciano vedere il faccino di Halley o almeno Howard che stringe tra le braccia sua figlia.
L'ultima cosa da dire sull'episodio è che per fortuna alla fine Sheldon ed Amy hanno avuto finalmente tempo di copulare!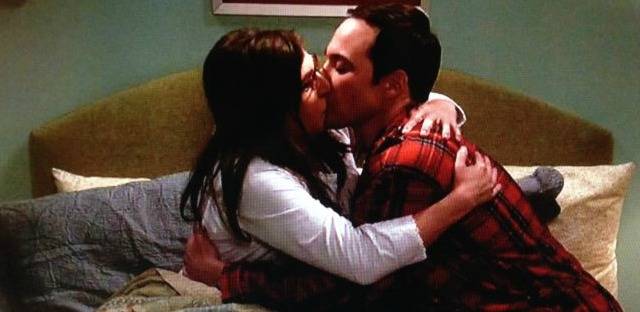 Ora tiriamo le somme di questo episodio!
E' stato un grande episodio, uno dei migliori delle ultime stagioni. Per noi fan accaniti è stata una grande emozione vedere l'improbabile Howard diventare padre.
Abbiamo visto nuovamente tutti i protagonisti riuniti per sostenere il loro amico e vederli insieme ultimamente è cosa più unica che rara.
I siparietti sexy di Sheldon ed Amy poi hanno reso l'episodio veramente indimenticabile ed irresistibile.
Mi chiedo se ora la vita di Raj subirà un'evoluzione, dato che il medesimo personaggio ha riconosciuto la sua staticità. Mentre i ragazzi parlavano nella sala d'attesa, ho riflettuto che questo poteva benissimo essere il finale dell'intera Serie Tv.
Insomma un episodio completo e ben equilibrato: un giusto mix tra ilarità e commozione. L'unica pecca è la scena di non mostrarci la bambina, che non approvo per nulla… Vedremo come la gestiranno.
Una cosa è certa: dopo un episodio come questo non vedo l'ora di vedere i prossimi!