Attenzione: evitate la lettura se non volete imbattervi in spoiler sulla 1×02 di American Gods
Scrivere senza poter dire è un po' come agire senza poter sapere, seppure al contrario. Chiunque recensisca American Gods conscio degli eventi che si sviluppano nel capolavoro di Neil Gaiman si trova in antitesi rispetto a Shadow Moon: conosce l'identità del fantomatico Mr. Wednesday e le motivazioni che lo porteranno ad affrontare una battaglia decisiva, ma non potrà parlare per almeno un'altra settimana (prepariamoci a fare un bel giro sulle giostre e ragionate sul fatto che il suo nome non sia casuale), mentre il nostro protagonista non sa ancora niente. Lui, come chi si sta facendo rapire dall'ultima follia della Starz senza conoscere il romanzo che ha ispirato la Serie Tv.
Il punto di vista attraverso il quale abbiamo vissuto gli eventi dei primi due episodi è evidente: i nostri occhi sono gli stessi di Shadow, catapultato da un giorno all'altro in un universo onirico e misterioso, nel quale è al momento impossibile mettere ogni tassello al proprio posto e si è costretti ad agire lo stesso. Questa è una partita a dama che giochiamo bendati, anche se vediamo tutto con grande compiacimento. American Gods è un amplesso estetico di surrealista memoria che ci aliena, senza compromessi. Brutale nella narrazione, romantica nella visione.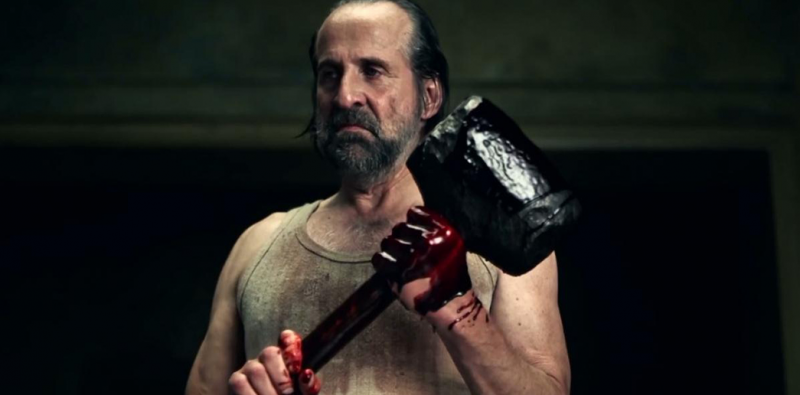 Se non ci state capendo niente, non preoccupatevi: a breve il quadro sarà molto più chiaro. Finora abbiamo fatto uno strano viaggio in America (quella di ieri, e di oggi) in compagnia di un ragazzo che ha vissuto le prime ore di libertà dopo tre anni in prigione con un terribile fardello: sua moglie è appena morta in un incidente stradale, causato da un rapporto sessuale con il suo migliore amico. Ha perso tutto, ma ha trovato un lavoro ben retribuito: un personaggio misterioso lo pagherà infatti per fargli da guardia del corpo. Fin qui niente di particolarmente complesso, ad "esclusione" degli uomini e le donne grottesche che incontriamo per strada: un leprecauno, uno slavo che lavora in un mattatoio e vive con tre sorelle, un ragazzino particolarmente arrogante, una donna piuttosto esigente a letto e… un'inedita Lucille Ball.
Se siete confusi, non abbiate paura: American Gods è un'avventura per ogni senso, in tutti i sensi. E a prescindere dallo sviluppo della narrazione. Il grande punto di forza del pilot e di The Secrets of Spoons, secondo episodio della prima stagione, è la capacità di immergerci in un vortice di colori, forme e musica. Talvolta deviante, talvolta incredibilmente empatico. Ci avviciniamo alla verità e allo stesso tempo ci allontaniamo continuamente, in un percorso preparatorio che associa la nostra esperienza a quella di Shadow: dovremo abituarci a tutto, senza mai perdere la capacità di sorprenderci. L'autostrada delle Serie Tv di ultima generazione è abbandonata definitivamente, abbiamo preso una strada secondaria e sarà bellissimo persino veder bruciare una sigaretta.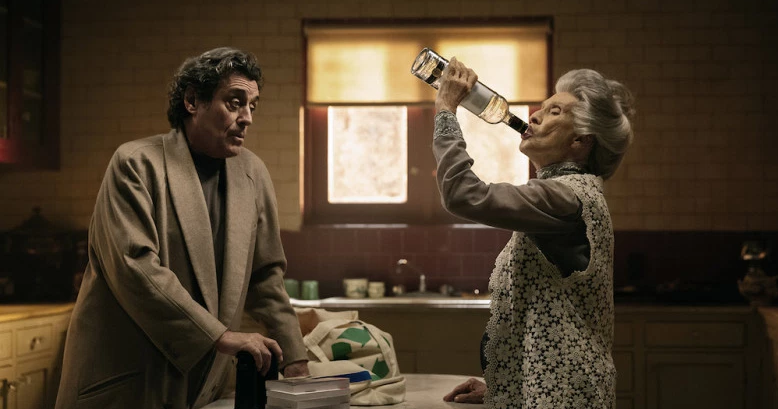 Se non sapete apprezzare i piccoli dettagli, American Gods non fa per voi. Prepariamoci a vivere una narrazione lenta e costante, associabile per certi versi a quella che sta portando avanti Better Call Saul. Stiamo parlando di una Serie Tv che, a prescindere da come andrà, si è già configurata come piccola opera d'arte. Uno spettacolo sensoriale con tutte le potenzialità per trasformarsi in un capolavoro. E prepariamoci anche a cogliere più di una differenza col romanzo di Neil Gaiman: seguirlo fedelmente è molto difficile, e la presenza dell'autore come produttore esecutivo è la miglior garanzia possibile per la buona riuscita dell'esperimento. Un tentativo folle e coraggioso che ha trovato da subito un'identità fortissima e distinguibile, capace di tenerci all'oscuro di tutto senza mai smarrire le nostre attenzioni. Niente male, come inizio. E il meglio deve ancora venire.