Salve a tutti, benvenuti alla nuova demenziale gif-recensione di Pretty Little Liars.
Cosa sarà mai successo questa settimana alle nostre Liars?
Prima di scoprirlo, ricapitoliamo ciò che è successo fin qui (Link!)
Em vuole donare gli ovuli per pagarsi il college, Papà Montgomery ha deciso di entrare in combutta con non-A sbaragliando il precedente sospettato Ezra Fitzgerald con ben 9 punti di vantaggio, Caleb e Spence ci hanno dato dentro, Mamma Marin è tornata a fare la cattivella per salvare il culo alla figlia e Toby ha una nuova ragazza, Yvonne, che si da il caso sia anche la figlia dell'avversaria di Mamma Hastings.
ZITTO LEO!
Dopo questo mini riassunto delle puntate precedenti, iniziamo a concentrarci su ciò che succede ora a Liars – landia.
E iniziamo con il botto!!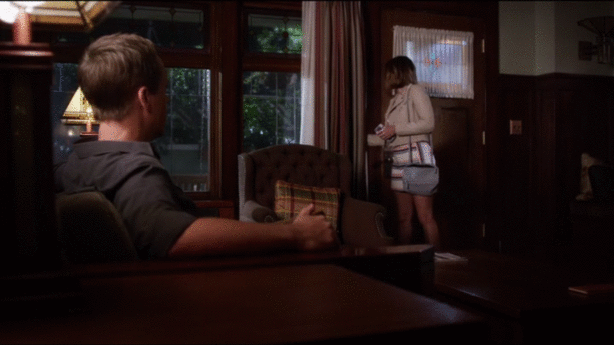 No Papà Mont, che dici?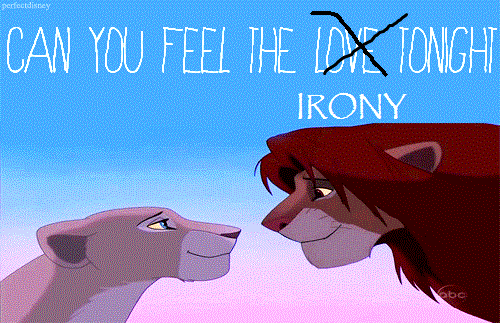 C'è ….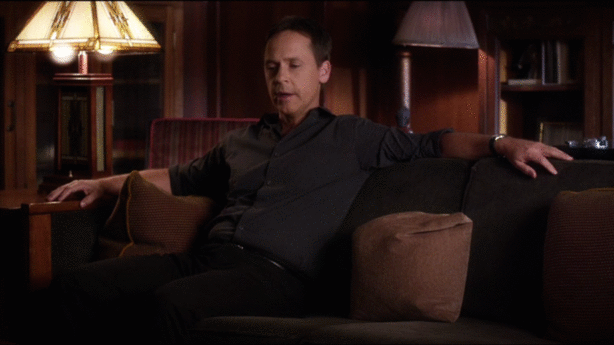 Papà Montgomery, a quanto pare, sta vedendo qualcuno.
Ma chi?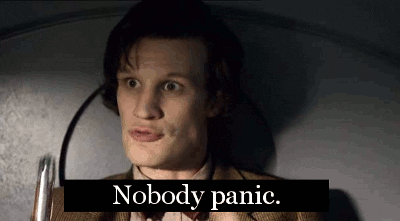 Di tutte le preoccupazioni che Arya aveva, quella di un'ipotetica fidanzata non c'era proprio.
Ed ecco che compare anche Mamma Montgomery che ha smesso di essere in combutta con delle streghe per tornare a trovarci. Ci sei mancata.
Maaaaa …
Wait. La tipa che vede Big papà è … la sua ex moglie?
E si risposano? Whaaaaaaat? Cioè, pensarci prima no?
Dico, eravate già sposati, perché fare tutta sta trafila per risposarvi? E perché tenerlo nascosto alla figlia (figlio maschio non pervenuto)
Io questa famiglia non la capisco proprio!
La sigla tocca ad Arya, chissà che tutti i suoi segreti non vengano a galla in questa puntata. Intanto Hanna è quella più in contatto con NON – A in questo momento. Il nostro nuovo persecutore ha scoperto (o supposto, non ci voleva un genio per arrivarci) che Mamma Marin si è fregata il filmato e lo rivuole!
Niente di nuovo sul fronte Jordan che è soooo principe azzurro, soooooo charming, soooooo kind che penso che lo aggiungerò alla lista dei miei ragazzi ideali.
Hanna, ma perchè non te lo sposi e la facciamo finita?
Passiamo alla coppia felice nel fienile. Ma che cosa hai addosso Spencer? Spencer? SPENCER? Bontà divina ma non riuscite a staccarvi per un secondo? Questi Spaleb stanno diventando la coppia più appiccicosa del mondo.
Em sembra che stia davvero per donare i suoi ovuli.
Solo io penso che sia un po' una cagata? Mille modi di farla finire in ospedale e proprio a donare gli ovuli?
E ha decisamente preso troppi Macchiados! È MACCHIATO NON MACCHIADO!
Arya sembra ancora sconvolta dalla notizia del matrimonio dei suoi e non troppo convinta dell'innocenza del suo paparino, che però si è appena guadagnato un alibi perché era a letto con la sua ex moglie. Ma non lo era anche la sera dell'"omicidio" di Alison? Questa cosa mi puzza di già visto. Sembra che ci stiano propinando le stesse cose solo facendocele scoprire in ordine diverso!
Hanna, dopo tutti i guai che ha combinato, ha capito che la sua mammina farebbe di tutto per lei e, non riuscendo a farla collaborare, ha ingaggiato Arya come "trovarobe" per cercare il filmato da consegnare a NON – A.
Prova a guardare nella pasta, chissà mai che certe cose non cambino davvero mai!
Io non riuscirei mai a mettere sotto sopra la casa per poi sistemare tutto come lo avevo trovato.
Intanto il nuovo ragazzo di Ali sta cercando di convincere Em a tornare l'amichetta del cuore della sua fidanzata.
Tempo sprecato, ha deciso di donare gli ovuli, è una donna adulta e badass adesso!
Ma a chi vuoi darla a bere Em?
NON – A ha deciso di aprire un'agenzia di incontri scomodi e (ammesso che sia stata lei) ha organizzato una cenetta romantica tra le figlie delle due candidate a non so quale elezione. (Prima era per il senato, poi le comunali …  io non ci capisco più nulla!)
Nessuna delle due sembra volersi tirare indietro e accumulano punti per vincere un biglietto per Imbarazzolandia.
Ma la vera domanda è… azz ci fa Sarah Harvey al liceo vestita come un'emo teppistella?
Anche Yvonne è entrata nella lista delle sospettate, Ottima mossa quella di rubarle il telefono Spence!
A quanto pare anche Sarah Harvey ha un cuore e possiamo accantonare l'hastag #Sarahisthenewjenna. Almeno fino a che non cambierà personalità di nuovo!
Hanna si è rivolta al suo ex hacker del cuore per ingannare NON – A e sembra davvero avere dei ripensamenti sulla coppia Spencer x Caleb, ma non lo da a vedere quanto Keegan Allen!
.@KeeganAllen reacting to Spencer and Caleb in tonight's #PLL episode pic.twitter.com/E4QhsIGk4F

— Keegan Allen News (@KeeganAllenNews) January 27, 2016
Il piano brillante è: fingere di aver trovato un hard disk per incastrare Sarah Harvey?
Emily dona gli ovuli.
Pensavo ci fosse sotto altro ma evidentemente è davvero quello!
La sua amichetta pentita, Alison, decide di accompagnarla e di farle da mamma. Questa ragazza sembra invecchiata di mille anni. Ha messo giudizio ed è diventata un'altra persona in confronto al minimo cambiamento delle altre Liars. Perchè questa scelta?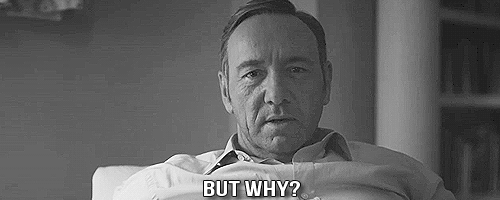 Che ansiaaaaaaaaaa. #ANSIATIME
Ma è davvero Sarah che tenta di avvelenare Em o le medicine le hanno dato alla testa? 
Il nuovo quartier generale delle Liars è la camera accanto quello della sospettata n*1. Indovina chi è?
Sarah Harvey! 
La squadra da combattimento Sparia ha messo a punto un piano geniale: scavalcare un balcone.
Perché ho la sensazione che qualcuno si farà male?? Forse perché qualcuno si fa sempre male no?
Sembra che Aria abbia un 29 di piede. Che sono quelle scarpe minuscole?
Ma stiamo seri. Nel fortino di #SarahisstillSarah c'è un pavimento identico a quello della foto mandata da NON – A con l'arma del delitto. Ma ovviamente nessuno sembra averlo notato. Solo io a quanto pare.
La sospettata ha un'arsenale di mani in legno provviste di guanti e sembra che tenga la sua camera come un santuario perchè pare sia la vecchia stanza di Charlotte al Radley Sanitarium.
HO UNA TEORIA. Non è che la ragazza ha ancora le mani ma finge di non averle? Dico, esistono tante protesi migliori di mani in legno che non si muovono, o sbaglio?
Mentre Spencer fa tutte queste scoperte, Arya è sparita in un buco sul fondo di un armadio.
Qualcosa mi dice che la ritroveremo a Narnia!
La nota di merito di questa fine puntata va a CALEB RIVERS per aver hackerato il computer di NON – A.
è forse l'unica cosa che ha funzionato nell'intera puntata!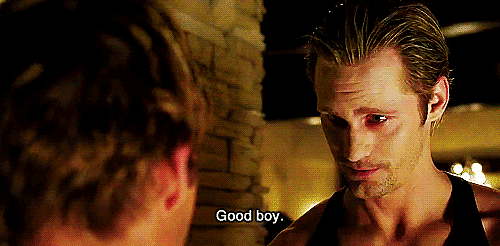 Benissimo belli, finisce qui questa Gif – Recensione sperando che vi sia piaciuta. Mi raccomando, tenete al sicuro i vostri segreti e siate straordinari! Alla prossima puntata!