We shake hands with the devils and we walk past.

Gli ultimi episodi di Peaky Blinders sono sempre stati la ciliegina sulla torta di ogni stagione: avvincenti, mai scontati e sempre pronti a regalarti un frame finale da lasciarti a bocca aperta. Questa quarta stagione ci ha dato qualcosa in più, un finale inaspettato che ha spaccato in due fazioni gli spettatori. Ma prima di parlare della fine, cominciamo dall'inizio.
Il grande fotte il piccolo.
La lotta sul ring è iniziata. Goliath contro Bonnie, gigante contro minuto. L'intera puntata sembra essere pesata su queste due misure: grande e piccolo. Alfie Solomons lo sottolinea nel suo discorso mentre è negli spogliatoi con Tommy, quasi a volergli dare un suggerimento sottile che solo a fine puntata lo spettatore può capire. Il successivo "Ci vedremo al molo" suona sin da subito come un regolamento di conti: entrambi sanno cosa sta per accadere, entrambi sanno che a fine giornata uno di loro morirà.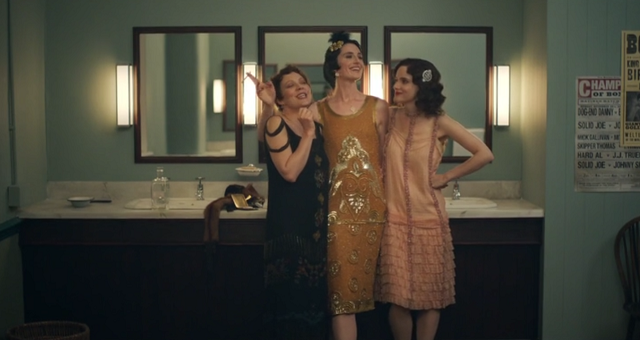 La scena di ilarità femminile tra le matriarche della famiglia Shelby è una delle più belle e più iconiche che lo show ha mostrato: inoltre, ci fa capire quanto ormai la criminalità sia parte integrante delle loro vite. Da una Polly in piena ripresa, ad una Ada che si gode la sua vita glamour, dimenticandosi gli ideali comunisti per cui si batteva una volta. Linda che prende il vizio del marito e accetta la vita da cui fino a pochi minuti prima tentava di strappare Arthur. Ed infine Lizzie, che "ha vinto alla lotteria" e porta in grembo la figlia di Tommy. L'accettazione di una vita che hanno sempre cercato di allontanare, rinvigorisce i personaggi e li unisce più che mai.
E come un'altalena, dal divertimento si passa alla tragedia: la morte inattesa di Arthur getta nel panico tutti, compreso lo spettatore. Tutto è architettato in modo così magistrale che l'unico particolare fuori posto che si può notare è la pacatezza di Polly dinnanzi tale tragico avvenimento.
La dipartita forzata di Michael getta le basi per una possibile futura partenza dei Peaky nei quartieri di New York, o forse potrebbe ampliare il background del figlio di Polly. Sta di fatto che non è l'unico elemento che punta in direzione del Nuovo Mondo.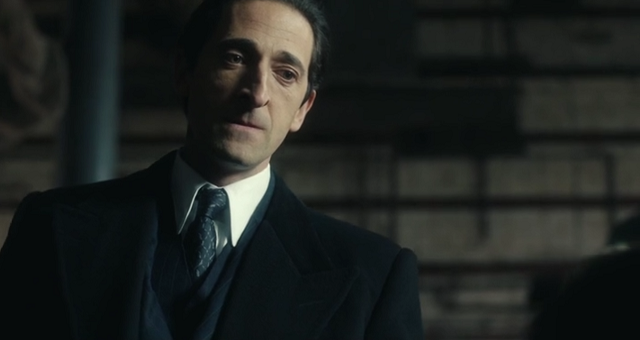 La fine di Changretta è arrivata veloce e (in)dolore: se il grande fotte il piccolo, allora devi trovare qualcuno più grande del mafioso italiano. La mente astuta di Tommy lo ha fatto. In fin dei conti, tutti abbiamo dei nemici, allora quale mosse migliore dell'allearsi con il nemico del tuo nemico, per far fuori dal gioco gli scagnozzi di cui si serve e lasciarlo solo e circondato da un branco di Peaky Blinders incazzati? La spavalderia che ha contraddistinto Changretta lo ha fatto morire solo e da idiota. L'ebbro del potere, della vittoria in pugno, gli hanno offuscato la mente. Cantar vittoria prima ancora di averla in mano è sintomo di stoltezza e di negligenza.
Ed eccolo che sfuma dal fondo della stanza, che avanza con il proiettile per Luca Changretta: la tradizione è rispettata, Arthur uccide l'italiano, la famiglia è salva. "Possiamo usare la sua morte per vincere questa guerra."
Segue la mia confessione che suonerà un po' bizzarra dopo tutti questi eventi: in questa scena in particolare, ciò che più mi ha fatto rizzare i capelli e urlare stile fangirl senza pudore, è stata la nomina di un personaggio mai apparso sulle scene di Peaky Blinders. L'apparizione di Arthur è subito passata in secondo piano. Anche solo sentir nominare quel nome mi ha fatto fare un salto temporale in avanti nella prossima stagione (che poi potremmo anche non vederlo mai in azione): Alphonse Capone. Un nome che evoca diversi attori nella mia testa, diversi film e telefilm e mi gasa ancor di più l'attesa per la quinta stagione.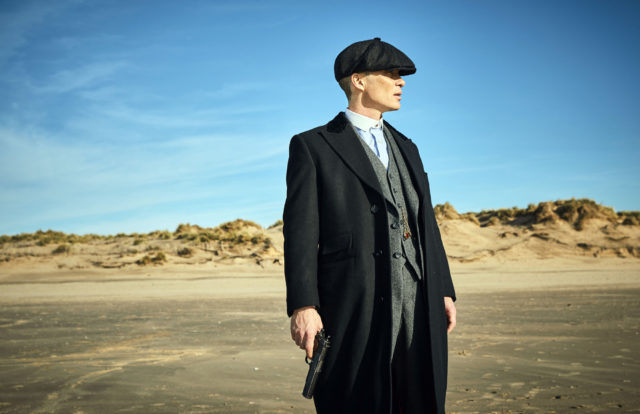 La puntata procede con un ritmo serrato e dalla morte di Changretta si viene catapultati nella festa per celebrare la pace che finalmente può regnare intorno alla famiglia Shelby. Una pace che sembra acquietare gli animi di ogni singolo membro, escluso il suo capostipite.
Un ultimo atto per Tommy prima di andare in vacanza forzata: l'incontro con Alfie sul molo è finalmente giunto. Le piaghe che ricoprono il viso dell'ebreo sono spiegate con l'affermazione del suo cancro, venutogli probabilmente quando era in guerra a causa dei gas respirati. Il cattivo sangue che scorre tra i due sembra arrestarsi nel momento in qui enuncia la malattia terminale: negli occhi di Tommy vi è un tentennamento, mentre in quelli di Alfie c'è risolutezza nuda e cruda. Non vuole morire per un male incurabile, vuole morire per mano di una persona che dovrebbe detestarlo per ciò che gli ha fatto.
Quando si vive una vita sempre al limite, la fine per mano di una cosa così semplice come una malattia fa sentire l'uomo impotente. E l'impotenza Alfie non l'ha mai avuta, non l'ha mai sentita nella sua lunga carriera da criminale, men che meno la vuole sentire scorrere nelle sue vene contro la sua volontà. La volontà di morire sotto un colpo di pistola sembra più accettabile, tanto da istigare Tommy a sparargli.
Una morte che non sembra veritiera per molti fan, che tiene viva la speranza che forse non sia questa l'ultima stagione per Tom Hardy. Perché si sa, se nelle Serie Tv non ti fanno vedere il morto nella bara, una speranza rimane sempre accesa.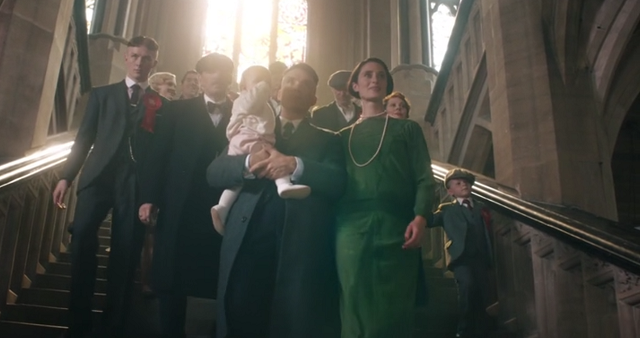 It's just myself talking to myself about myself.
Tutto è finito. Tutti possono vivere serenamente le loro vite finalmente, continuando a fare ciò che gli è sempre riuscito meglio: i criminali. Eppure, Thomas non riesce a star fermo, ad avere la mente sgombra, libera da qualsiasi cosa. Quando Tommy non ha nulla da proteggere, da architettare,da conquistare, la sua mente lo riporta alla guerra. I fantasmi del passato non ci lasciano mai in pace, bisogna imparare a conviverci. Ma Tommy non sembra riuscirci.
Tra alcol e sostanze stupefacenti, le sue ferie sembrano più una prigionia che una libertà. La guerra, la paranoia, la colpevolezza di tutti i peccati commessi lo colpiscono violentemente, facendogli perdere il senno. Una lotta interiore che nacque nel momento in cui decise di fondare il suo impero, che lo dilania da dentro e lo accartoccia, lasciando solo un involucro di carne e ossa non abbastanza forti da sorreggere il peso delle conseguenze. L'eco del passato sussurra nelle sue orecchie. Ma Thomas Shelby sa come zittire quel suono. Il rumore delle sue azioni è più forte dei sussurri del passato e allora rimette in moto sé stesso: per non perdersi tra i ricordi di una vita che sta ancora vivendo, Tommy ha bisogno di costanti stimoli, di messe alla prova.
Quando annuncia di avere in mente un piano, la reazione di Polly è la risposta che ognuno di noi ha esclamato: "Oh Fuck." Thomas Shelby, membro del parlamento in rappresentanza del collegio di Birmingham. Chi mai avrebbe immaginato un finale di serie simile?