Osmosis è una delle ultime serie tv di genere sci/fi creata da Audrey Fouché e diretta da Thomas Vincent. Netflix ne ha acquisito i diritti di distribuzione dalla casa di produzione Telfrance, ed è disponibile in streaming sulla piattaforma in otto puntate.
L'impressione generale avuta con Love, Death & Robots fu che, visto il successo di Black Mirror, se ne volesse replicare il successo utilizzando la formula antologica e temi sci/fi distopici. Osmosis è un esempio ancora più chiaro di estrapolamento di un elemento di successo di Black Mirror, in particolare dell'episodio Hang the DJ. Stavolta la formula ha funzionato? Apparentemente Osmosis è un buon prodotto. Abbiamo la realtà virtuale, la pillola alla Matrix, una tecnologia rivoluzionaria moralmente discutibile, un gruppo eterogeneo di persone che agiscono da cavie, nanorobot e ovviamente problematiche a livello informatico.
"Non è proprio una serie fantasy quanto un dramma più prossimo al futuro, e un genere che parla di amore. Nessuna generazione è mai stata così connessa, eppure ci sentiamo così isolati. Siamo handicappati in amore" dice il regista Julius Berg.
Paul ed Esther, fratello e sorella, sono le menti geniali dietro al progetto Osmosis. Questo pone in relazione la tecnologia delle nanomacchine – impianti microscopici innescati nel corpo che ne rilevano la chimica – con le informazioni trovate nel web.
Ovvero leggendo le reazioni chimiche e quindi le emozioni del corpo ospitante, le nanomacchine di Osmosis trovano la perfetta anima gemella basandosi sui dati immessi nei social.
Eppure nello svolgimento di Osmosis appare chiaro che le persone non si adattano così bene all'algoritmo. Mentre Paul lo ritiene rivoluzionario a tal punto da trasformare irrevocabilmente l'umanità, sua sorella non è d'accordo. Esther, il genio della tecnologia dietro Osmosis, è completamente disinteressata al romanticismo. Dice a Paul che ha già due anime gemelle che occupano tutto il suo tempo – lo stesso Paul e la loro madre ricoverata in ospedale in stato vegetativo. In realtà l'obiettivo di questa giovane donna è proprio quello di sfruttare la tecnologia Osmosis per riportare a uno stato cosciente la madre.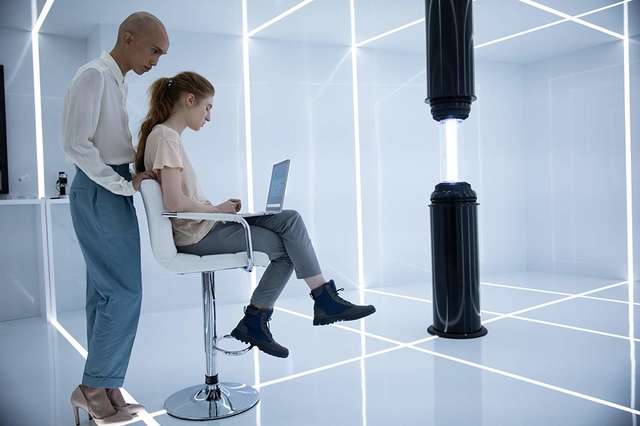 Se i fratelli appaiono poco memorabili per caratterizzazione, la sorpresa dello show risulta essere l'assistente fedele di Esther. Questa affascinante figura androgina, Billie, illumina lo schermo con delicata sensualità attraverso il portamento e un certo stile nell'abbigliamento. Risulta essere anche la figura più umanamente calorosa del gelido laboratorio.
Forse la principale differenza tra Osmosi e Black Mirror è la mancanza di una narrativa generale che ritragga la tecnologia come malvagia e corruttiva.
La tecnologia di Osmosis non è neanche lontanamente somigliante a quella della scorsa stagione di Black Mirror. A differenza dei dispositivi di visualizzazione della memoria in Coccodrillo, Osmosis non è obbligatoria, né è progettata per invadere la privacy come il sistema di parental control in Arkangel . E sicuramente non può intrappolare la coscienza di un coniuge comatoso all'interno di un peluche, e abbandonarla per l'eternità come in Black Museum.
In definitiva le intenzioni dei Vanhove sono nobili – anche se leggermente ingenue – e consentono comunque agli individui il loro libero arbitrio. Mentre Black Mirror dipinge spesso la tecnologia come uno strumento di oppressione, una forma di controllo mentale o la causa di distruzione di massa, Osmosis offre un quadro più ottimista. Il genere umano e le macchine possono infatti vivere in relativa armonia e senza la paura di cani assassini, di videogiochi mortali o di genocidi con l'hashtag. E se il disastro dovesse avvenire, è probabile che la colpa sia imputabile agli umani.
Osmosis si unisce a serie tv come il thriller tedesco Dark, l'horror norvegese The Rain e il dramma medievale sudcoreano Kingdom nella creazione di un sottogenere all'interno di Netflix di produzioni straniere in lingua straniera.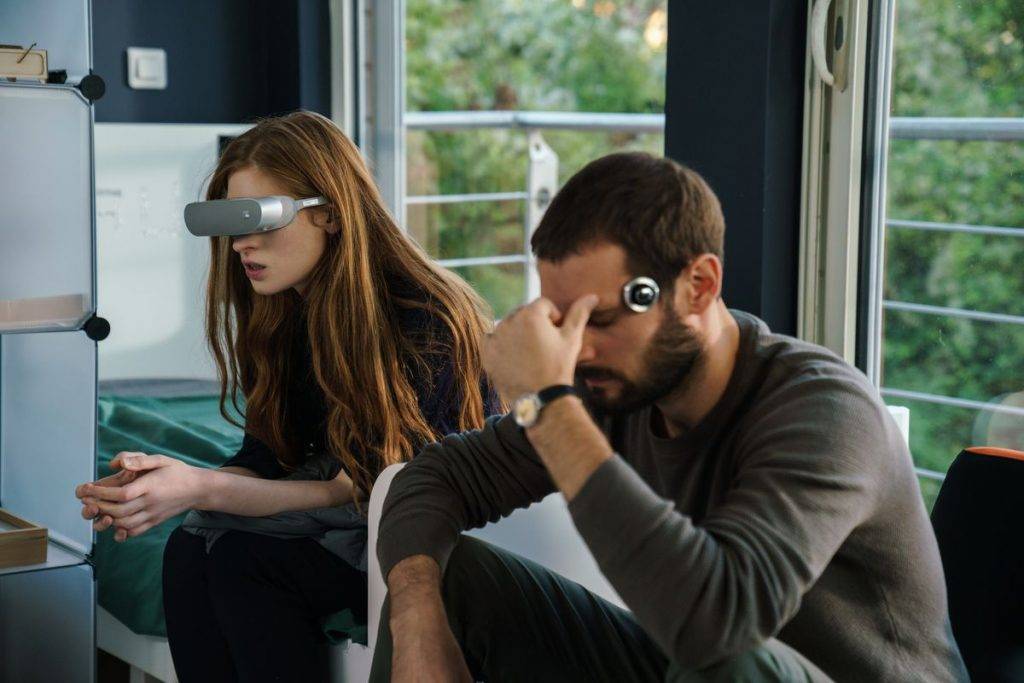 Osmosis ha uno stato d'animo calmo, quasi contemplativo per la maggior parte dei suoi episodi, prendendo davvero il tempo necessario per farci ambientare nel suo mondo. Per questo motivo può essere percepita come molto lenta, soprattutto da chi non parla francese ma vuole comunque seguire la versione originale. Tuttavia, le storyline risultano blande e si ha l'impressione di seguire una serie che parte già stanca. Mancano i presupposti per una serialità avvincente ma sarebbe potuto essere un ottimo film. In conclusione, è una serie che si lascia guardare ma non aspettatevi nulla di iconico come Black Mirror. Semplicemente si tratta di una ricetta artificiale, dagli ottimi ingredienti ma dal risultato dimenticabile.