# #
Il 12 giugno si avvicina. Il 12 giugno, che sembrava essere così lontano, è quasi arrivato. Mancano pochi mesi e finalmente torneremo a Lichfield. A consolarci un po' dall'astinenza dalla prigione è stata la pubblicazione del trailer della terza stagione: indiscutibilmente il motto è #SorryNotSorry.
# #
In due minuti abbiamo ritrovato quasi tutte le nostre carcerate del cuore! Sin da subito incontriamo le esuberanti ragazze della crew delle nere: Poussey, Taystee e Black Cindy che, "sedute" ad un tavolo della sala di ritrovo, si divertono cantando e ballando. Subito un cambio d'immagine con Dogget che accoglie nuove arrivate: "This place is amazing!", accidenti! Chissà da che posto vengono queste per entusiasmarsi così tanto per un carcere relativamente pulito!
A seguire una scena a dir poco esilarante: tutte noi sappiamo quanto Sophia sia una brava parrucchiera, ma ci saremmo mai aspettate che riuscisse a trasformare Big Boo, la nostra mascolina e dai corti capelli Big Boo, in una donnicciuola all'apparenza per bene? Eh sì, un caschetto e un sorriso coperto di rossetto sono in primo piano rispetto a Morello che, talmente entusiasta e sconvolta, lancia un urlo di gioia a dispetto però della faccia traumatizzata di Big Boo. Ti capiamo sorella, anche la nostra faccia è stata quella quando t'abbiamo vista così.
# #
A quanto pare Daya e Bennet sono ancora felici insieme, una coppia più antisgamo di non so cosa. Certo ragazzi, continuate così che siete proprio invisibili!
00.38 secondi. Eccoci. E' lei. E' arrivata. Perché è vestita d'arancione? Novellina. Il mio cuore. I miei feels. Alex Vause è qui. Non so se sono io che non vedo o è davvero cosi ma mi sembra abbia gli occhi neri. Piper ma cos'è quella faccia? Hai Alex davanti! Non capirò mai quella ragazza. Perché non le salti addosso?!
"Maybe this is exactly where i supposed to be right now". Perchè Piper? Non preferiresti trovarti nel tuo appartamentino con quel figo super virile di Larry?
Alex, perché stai piangendo.
Red mi sembra davvero in ottima forma. I suoi capelli sono tornati assurdi come all'inizio, forti ma soprattutto rossissimi.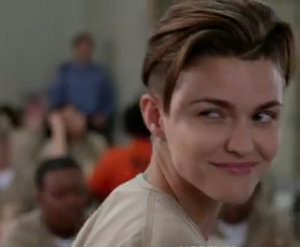 01:05. Ruby Rose. La new entry di Orange is the new black ha appena fatto la sua prima comparsa. Ma perché tutte ci provano con Piper?
A seguire troviamo una scena di apparente rivalità tra Gloria Mendoza e Sophia, che stiano lottando per il dominio della cucina? Nicky vestita in abiti normali ci fa un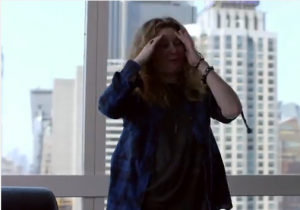 attimino pensare al fatto che sia uscita di prigione.
Lacrime varie, porte sbattute, Alex che prende a cazzotti la nuova arrivata che lodava la pulizia di Lichfield, sorrisi, balletti, facce corrucciate. La terza stagione di OITNB si prospetta come qualcosa di meraviglioso. Non pensavo potesse nascere in me una così forte attrazione verso le prigioni.
Detto questo, ciò che possiamo evincere dal trailer è che:
1– Dogget ha preso il posto di Morello all'accoglienza.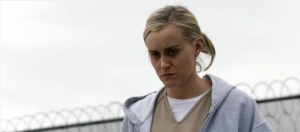 2– Pipes viene a sapere del ritorno di Alex e non sembra affatto contenta.
3– Alex, tornata in carcere, è stata malmenata dato il livido sotto l'occhio.
4– L'occhiolino di Ruby Rose a Piper ci prognostica un'interazione non troppo friendzoned tra le due. #TeamAlex vs #TeamStella.
5– Morello piange guardando fuori dalla finestra. Ha le mani appoggiate e un'espressione non troppo felice. Probabilmente sta salutando Nicky, vista in abiti civili un secondo scarso nel trailer? E' possibile che sia uscita di prigione?
Il 12 giugno si avvicina. Il 12 giugno, che sembrava essere così lontano, è quasi arrivato.
(Un saluto agli amici di Orange is the new Black Italia, Laura Prepon Italia, Orange Is The New Black – L'Arancione è il nuovo Nero e Orange Is The New Black Italian Inmates !)