Twin Peaks: The Return, si può considerare una terza stagione della Serie Televisiva o un film?
E' questa la domanda che, ormai da mesi, si pongono gli appassionati dello Show su internet. Ma al Museum of Modern Art (conosciuto meglio come MoMA) di New York City, non interessa.
Per loro, i diciotto episodi andati in onda, sono una forma d'arte!
Tant'è che proprio il MoMA dal 5 al 7 gennaio del nuovo anno, farà una full immersion in occasione dell'annuale rassegna dei film migliori dell'anno.
Il curatore dell'evento, Rajendra Roy, ha commentato così la decisione d'inserire Twin Peaks nella sezione film:
L'ultima stagione di David Lynch è semplicemente inclassificabile: qualcosa di totalmente e sensazionalmente unico. Ad ogni modo, come Capo Curatore di Film, e non di Televisione, qui al MoMA, voglio dire semplicemente che la mia opinione sulla questione, può essere interpretata dal fatto che io stesso ho voluto che venisse proiettata qui, al museo.
Interpretatelo come volete voi, spero che vi uniate a noi in questo dibattito, sperimentando e vivendo questa incredibile esperienza sul grande schermo, gratuitamente, il prossimo gennaio.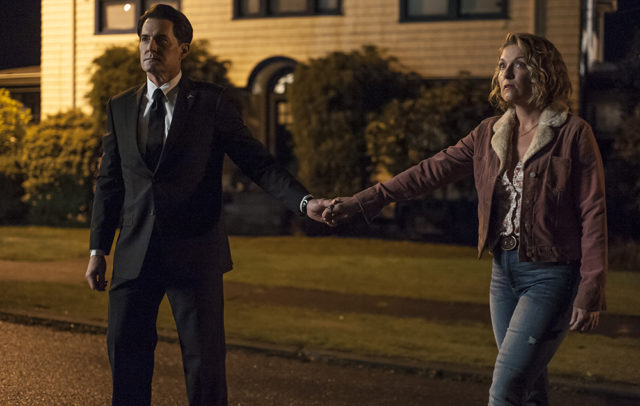 Questo è il calendario delle visioni di tutte le puntate: i primi quattro episodi verranno trasmessi il 5 gennaio, dal quinto all'undicesimo il 6 gennaio e dal dodicesimo al diciottesimo il 7 di gennaio.
Insomma, un'iniziativa straordinaria per tutti gli appassionati della Serie creata da David Lynch e, sicuramente, un'occasione da non perdere.
E voi, fan della Serie, cosa ne pensate?
Quest'ultima stagione di Twin Peaks può essere considerata una terza stagione o è qualcosa che s'allontana dalle prime due installazioni?
Ad ogni modo, se qualcuno di voi dovesse trovarsi a New York in quel periodo, potrebbe cogliere l'occasione per guardare Twin Peaks sul grande schermo!