# #
The Young Pope è una Serie Tv ideata da Paolo Sorrentino, la cui prima stagione è andata in onda nel 2016. Per Sorrentino è stata la prima esperienza nel mondo seriale. Ha avuto un successo incredibile e di sicuro non si tratta solo della fortuna del principiante! Il regista ha del talento.
# #
Il protagonista della Serie è Lenny Belardo (Jude Law), un giovane cardinale statunitense. Lasciato in orfanotrofio, sentirà sempre il peso di questa sofferenza causata dall'abbandono. Di conseguenza, il suo rapporto con Dio e la fede finirà per essere altalenante. Una volta eletto pontefice, con il nome Pio XIII, dimostrerà di non essere un Papa come tutti gli altri. I suoi metodi per ricoprire il ruolo saranno infatti poco convenzionali. Gli altri protagonisti della Serie Tv sono Diane Keaton, Silvio Orlando, Cécile de France e James Cromwell.
Il finale della prima stagione di The Young Pope ci ha lasciato con alcune domande senza risposta (per rinfrescarvi la memoria, leggete questo articolo). Pio XIII sopravviverà?
Per risolvere questo mistero non ci resta che aspettare la seconda stagione. Quanto siete ansiosi di vederla?
# #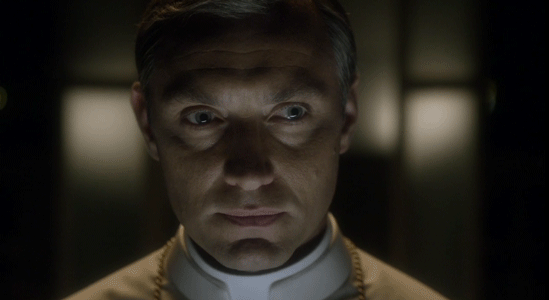 Iniziamo dal tranquillizzare le vostre ansie: la seconda stagione di The Young Pope è stata ufficialmente confermata. Pare inoltre che Sorrentino abbia già scritto la sceneggiatura (in questo articolo, abbiamo parlato delle nostre ipotesi a riguardo). A essere in ritardo sono però le riprese. Il regista si trova infatti impegnato nello sviluppo del film incentrato su Silvio Berlusconi, intitolato Loro, le cui riprese sono previste per l'estate 2017.
Il ritorno delle telecamere sul set di The Young Pope è previsto invece per l'estate 2018. Potremmo quindi vedere la seconda stagione della Serie Tv nell'autunno 2018, oppure all'inizio del 2019 (a tre anni dal lancio della prima stagione). Nelle nuove puntate dovrebbe essere riconfermato il cast originale, anche se si tratta di attori molto famosi, impegnati in diversi progetti.
Insomma, ci aspetta una lunga attesa, ma sicuramente verrà ripagata con degli episodi memorabili! Otterremo delle risposte ai nostri dubbi?
Stay tuned!