In occasione del monumentale successo della nuova serie tv originale The Witcher, che ha debuttato il 20 dicembre scorso sul proprio catalogo, la piattaforma streaming Netflix è ora alla ricerca di un Witcher per aiutare con la sicurezza all'interno dell'azienda.
In una divertente svolta di eventi, la piattaforma ha effettivamente pubblicato un'offerta di lavoro che spiega come l'azienda sia alla ricerca di un Witcher per aiutare con la sicurezza. Il post afferma che sono alla ricerca di un "lupo solitario auto-motivato" e "orientato ai risultati" con una "passione per la risoluzione dei problemi" e "uccisione dei mostri (letteralmente e figuratamente)". L'annuncio prosegue spiegando che forniranno al candidato prescelto "formazione e supporto eccellenti" insieme a "molte opportunità di mobilità verso l'alto".
Il candidato ideale dovrebbe avere una "laurea di quattro anni presso una scuola accreditata di Witcher" o avere "un'esperienza di vita equivalente" e deve "avere una comprensione innata del male minore e del bene superiore".
Qui sotto l'annuncio pubblicato da Netflix: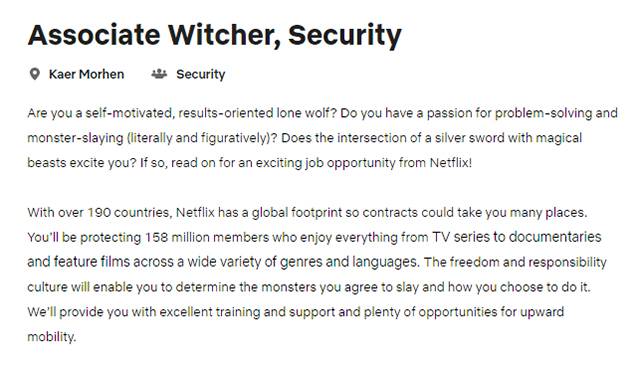 Questo post non è solo un modo divertente per coinvolgere ulteriormente i fan dello show, ma dimostra che Netflix si sta chiaramente gustando l'entusiasmo per la loro nuova serie fantasy. Tutto ciò si ripercuote anche dietro le quinte di The Witcher, poiché Lauren Hissrich (showrunner dello show) è stata molto aperta nel condividere il suo processo creativo con i fan.
L'annuncio di lavoro è un modo fantastico e divertente per avvicinare ancora di più la comunità alla serie tv The Witcher. Non solo: il post afferma anche che l'azienda sta effettivamente accettando applicazioni video che potrebbero essere pubblicate sui loro social media. Questo è un modo divertente per i fan della saga di esprimere veramente il loro amore per lo show in modo originale. Considerando che la seconda stagione non uscirà fino al 2021, Netflix ha ancora molto tempo per creare attività più coinvolgenti come questa per gli appassionati di The Witcher.
Pronti a mandare la vostra candidatura?