The Walking Dead è una delle Serie tv più seguite di sempre. Il successo dello zombie drama dell'AMC ha fatto sì che venisse realizzato uno spin-off, Fear The Walking Dead. Forse non tutti sanno che esiste un secondo spin-off della Serie!
I fan più accaniti saranno a conoscenza di Flight 462, una web serie rilasciata da AMC suddivisa in 16 parti. Lo scopo di questo progetto era quello di introdurre il personaggio di Alex, una sopravvissuta che più tardi sarebbe apparsa in Fear The Walking Dead. Dopo Flight 462 è stata prodotta Fear The Walking Dead: Passage, una seconda parte da 16 episodi. Accanto a queste due Serie, sono state realizzate altre quattro web series collegate a The Walking Dead: Torn Apart (2001), Cold Storage (2012), The Oath (2013) e Red Machete.
Tutte queste storie sono accomunate dall'introduzione di un paio di personaggi. Tutte meno una: Red Machete. Questo spin-off si distacca dallo scopo tradizionale delle web series che l'hanno preceduta. Red Machete racconta le origini dell'arma che Rick ha trovato nella quinta stagione di The Walking Dead. L'arma che successivamente ha usato per sterminare il cannibale Gareth.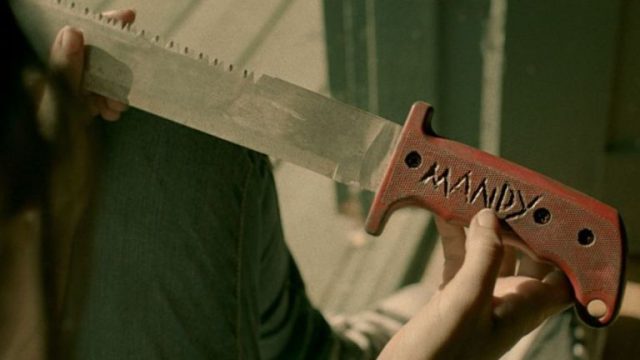 Durante un'intervista con Deadline il regista dello spin-off Avi Youabian ha dichiarato:
Il machete dall'impugnatura rossa è stato importante nella quarta stagione ed è qui che ha avuto origine la storia. Questa è appunto una storia che Scott Gimple ha voluto raccontare.
L'idea originale era quella di introdurre il percorso che ha portato Red Machete nelle mani di Rick. Nella Serie compare tuttavia un personaggio noto ai fan di The Walking Dead. Si tratta di Joe (l'uomo a cui Rick ha strappato la giugulare coi denti nella quarta stagione).
La maggior parte di Red Machete è live-action, ma ci sono alcune parti in cui viene inserito il frame originale dei fumetti di Kirkman. L'obiettivo di Youabian era chiaro:
Ogni episodio era diverso. Abbiamo un episodio animato, poi ce n'è un altro che ha solo fotogrammi statici… Abbiamo voluto dare ad ogni capitolo uno stile unico.