Il cast e i produttori di The Walking Dead aprono il PaleyFest 2017 in un panel di 90 minuti tra battute e rivelazioni.
La settima stagione di The Walking Daed sta giungendo al termine ma i produttori non hanno intenzione di fermarsi. Dopo un video introduttivo con i punti salienti della stagione in corso, il primo a parlare è stato il produttore Scott M. Gimple dal palco del PaleyFest 2017 alla folla di fan che gremivano la sala:
I restanti tre episodi della stagione ci porteranno a scoprire che i personaggi prendono vita ancora una volta per guadagnare il posto in cui si trovano [….]  Il primo episodio dell'ottava stagione sarà il centesimo della serie. E non sarà un punto di arrivo, ma sarà un punto di partenza per i prossimi 100. Il finale di questa stagione sarà come la chiusura di un capitolo e l'inizio della prossima imposterà qualcosa di epico, non solo per l'ottava stagione ma per il futuro.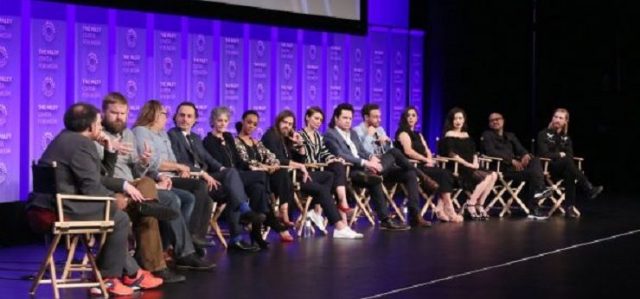 Durante il panel il cast quasi al completo di The Walking Dead ha risposto alle domande dei fan sul futuro della serie e dei suoi personaggi.
Lauren Cohan (Maggie) ha raccontato come la gravidanza abbia aiutato il suo personaggio a superare il trauma della morte violenta di Glenn. "Come puoi rinunciare alla vita quando la porti in grembo?" dichiara l'attrice, mentre Seth Gilliam ha spiegato come Padre Gabriel  stia cercando una redenzione personale per perdonare a se stesso i suoi terribili errori del passato.
Ma è Andrew Lincoln, interprete di Rick Grimes, ha divertire i fan immaginando quella che secondo lui sarebbe la morte ideale per il suo personaggio:
Voglio che muoia così: siamo in un deserto, io salto giù dal camion in modo molto eroico, con mosse da kung fu, in varie sequenze d'azione. A metà dell'opera vengo morso. Ma non mi interessa, continuo. E aspetto di morire. Nell'ultima immagine però dico 'Forse sono io la cura!'. Rick si alza e segue gli indizi per ritrovare suo figlio Carl. Una folla di zombie lo raggiunge ma ormai non lo attacca più.
Grandi assenti sul palco sono stati Norman Reedus (Daryl) e l'interprete del crudele Negan, Jeffrey Dean Morgan, a cui Robert Kirkman, creatore dell'omonimo fumetto da cui è tratta la serie, ha voluto rivolgere qualche parola di elogio (per approfondire leggete qui):
La cosa più impressionante che è riuscito a fare Jeffrey Dean Morgan è rendere un personaggio orribile così gradevole. Il problema di Negan è che è attraente. Fa cose orribili e deprecabili ma con Jeffrey c'è qualcosa di cordiale mentre le fa. Non so come ci riesca.
Sembra però che i fan dovranno aspettare per vedere lo scontro tra Rick e Negan. Il produttore e direttore degli effetti speciali Greg Nicotero lascia intendere tra le righe che l'epica battaglia finale andrà in scena nella première della prossima stagione. Ma i fan non temono più niente e ormai sono abituati a dover aspettare, dopo aver subito uno dei cliffhanger più drammatici della TV al termine della sesta stagione.
Mancano ancora tre episodi alla fine della settima stagione di The Walking Dead in onda ogni lunedì alle 21 sul canale FOX.