# #
La settima stagione di The Walking Dead si è appena conclusa ma già trapelano le prime indiscrezioni sul futuro della Serie Tv.
# #
[SPOILER]
Durante un'intervista per TVLine Scott Gimple, showrunner e produttore di The Walking Dead, ha annunciato il possibile ritorno di Steven Yeun, alias Glenn, nell'ottava stagione.
# #
Ha così dichiarato:
Sarei pazzo a non valutare questa alternativa. La maternità di Maggie si avvicina ed è quanto mai probabile che le appaia in sogno il padre del suo futuro figlio. Potrebbe succedere qualcosa di analogo ad Abraham e Sasha.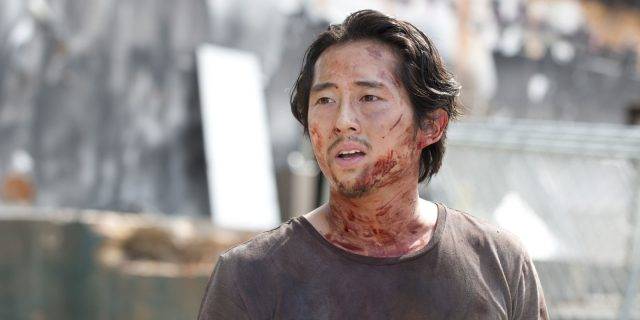 Ovviamente nessuna resurrezione per Glenn che nella première della settima stagione ci ha lasciati per sempre. Questo lascia comunque spazio per un suo ritorno, ad esempio in sogno o in una sequenza flashback come è stato per Abraham negli ultimi attimi di vita di Sasha (per leggere la recensione dell'ultimo episodio clicca qui).
Ha inoltre aggiunto:
Non capiterà in tempi brevi. Stanno capitando molte cose, è vero, ma non è passato molto tempo nella storia del racconto. Dovrete aspettare ancora un po'.
Il parto di Maggie non è quindi previsto per la prima parte della stagione e, come avevamo già potuto vedere con la nascita di Judith, le cose che potrebbero degenerare durante una gravidanza sono molte, soprattutto nel mondo di The Walking Dead, dominato dalla crudeltà e dalla violenza.
Inoltre alcune indiscrezioni che circolano sul web sostengono che i primi due episodi saranno completamente incentrati su Negan e la battaglia che li aspetta.
Non sappiamo ancora cosa ci riserverà questa ottava stagione ma sicuramente lo scontro tra il gruppo di Rick e l'esercito di Negan è imminente e Gimple assicura:
Sarà diversa. […] Ora che le varie fazioni sono in aperto conflitto e ciascuno conosce la posizione di chiunque altro, la narrazione cambierà notevolmente. Diventerà molto più dinamica e avvincente.