Ottobre si avvicina sempre di più per i numerosi fan di una delle serie televisive più famose a livello internazionale: The Walking Dead.
Dopo l'annuncio della separazione dell'attore Andrew Lincoln, e quindi del personaggio Rick Grimes, la domanda che si sono posti in molti è: chi sarà il nuovo leader del gruppo? Chi prenderà il posto di Rick?
Alcuni fan della serie avrebbero ipotizzato il nome di Maggie Greene (Lauren Cohen) ma, come ben sappiamo, il personaggio comparirà nella prossima stagione solo per ben sei episodi su dieci. Inoltre, la presenza della Cohen per la decima stagione deve essere ancora confermata – impegni permettendo da parte dell'attrice.
Ragion per cui, è possibile che il futuro erede di Rick Grimes sarà proprio lui: Daryl Dixon, interpretato dall'attore Norman Reedus.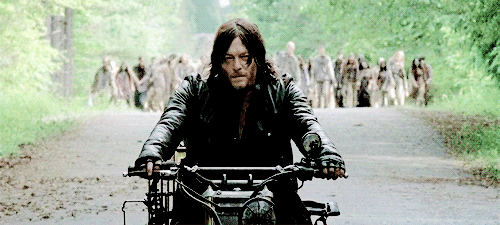 L'attore, però, non sarebbe dello stesso avviso.
Recentemente Reedus ha rilasciato un'intervista in cui ha espresso la sua opinione riguardo tutto ciò. Alla domanda sul se Daryl avesse desiderio di diventare il leader del gruppo, l'attore ha risposto:
No, non vuole. Lui, al momento, ha quel sentimento dell'anti-eroe, anti-leader. Il fatto è che Daryl ha quell'intelligenza da ragazzo di strada. E penso che questo sia più importante di un badge in un mondo fatto di banditi, tagliagole e criminali. Hai il rispetto, hai la paura e poi hai il ragazzo che sta nel mezzo, che può vedere entrambe le estremità.
Secondo Reedus, ad ogni modo, nessuno si assumerà questa responsabilità una volta che Rick non farà più parte del gruppo. E, sempre continuando con l'intervista, l'attore si è lasciato andare esprimendo il suo pensiero sul protagonista principale di The Walking Dead:
Penso che a volte Rick sia così accecato dalla sua visione di ottenere qualcosa per Carl o per qualsiasi motivo, che non senta la gente. Si comporta come se lo facesse, ma non lo fa. Penso che se non ascolti le persone che ti seguono, se tu non hai la loro attenzione e loro iniziano a pensare che tu non li stia ascoltando… perderai il loro rispetto.
Qual è la vostra opinione in merito?
Quale membro del gruppo sarebbe idoneo a prendere il ruolo di leader?