A poche ore della premiere americana dell'ottava e conclusiva stagione di The Vampire Diaries, sul web spunta una notizia bomba riguardo il finale che tutti i fan dei fratelli Salvatore sperano e pretendono: il ritorno di Elena!
Sia Nina Dobrev, attrice bulgara che interpreta Elena Gilbert, che Julie Plec, showrunner della serie, hanno sempre smentito il ritorno del personaggio protagonista indiscusso delle sei stagioni precedenti, nonostante la promessa fatta dalla Dobrev alla produttrice ed a tutti i fan.
Avevamo perso quindi ogni speranza di rivedere anche, per un'ultima volta, i Delena.
Ma nel giorno del debutto della 8×01 "Hello Brother", la Plec, durante un'intervista per TVLine, sgancia una notiziona!
"Elena avrà una presenza molto forte in tutta l'ottava stagione, un po' come era già successo l'anno scorso".
Ok mantenete la calma! Una piccola comparsa di Elena l'avevamo "sentita" anche durante la settima stagione, precisamente nella puntata finale 7×22 "Gods and Monsters", in cui per qualche momento Damon sente la voce della sua bella addormentata. Il ritorno di Elena sarà un ritorno "spirituale" anche questa volta?
La Plec ha rilasciato anche qualche altra informazione interessante per quanto riguarda tutta l'ottava stagione: "Alla fine della settima stagione avevamo deciso di far scrivere a Stefan il diario di Elena, per raccontare velocemente ciò che stava accadendo. Continuerà a farlo anche all'inizio dell'ottava stagione, dove tutti racconteranno, nel diario, la propria storia. É il modo che abbiamo per tener vivo il personaggio di Elena e per tornare con nostalgia alla prima stagione, in cui il "Caro diario" era un elemento importante".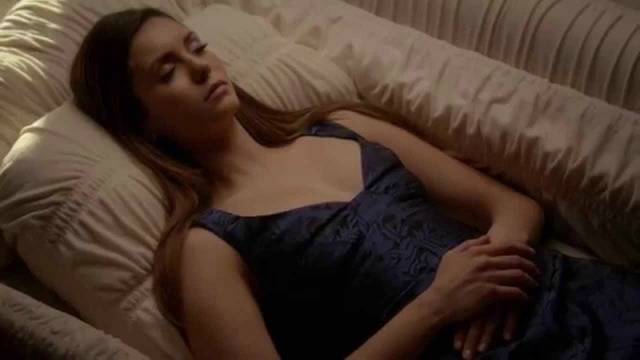 L'ultima stagione di The Vampire Diaries sarà, detta con le parole della produttrice, la season "dei finalmente" dove verrà messo in scena "tutto quello che c'era sulla nostra lista dei desideri per Natale".
Sicuramente su quella lista di tutti i fan, dei produttori e del resto del cast (fatta eccezione per Ian Somerhalder) c'è il nome di Elena Gilbert!
Speriamo che questo desiderio si avveri!