# #
Grazie all'evento dell'estate il San Diego Comic Con, la Marvel ha deciso di deliziare il proprio pubblico con tutte le novità in vista per i prossimi mesi. In collaborazione con il magazine Entertainment Weekly, nei giorni scorsi aveva annunciato il poster ufficiale della Serie Televisiva The Punisher che debutterà non prima di novembre di quest'anno.
# #
Come gli appassionati delle Serie Televisive targate Marvel e prodotte dall'emittente streaming Netflix saranno già a conoscenza, Frank Castle meglio noto come The Punisher (interpretato magistralmente da Joe Bernthal), l'abbiamo conosciuto nel corso della seconda stagione di Daredevil; dopo aver riscontrato l'enorme successo ottenuto dal personaggio tra i fan, la Marvel ha deciso di produrre una Serie dedicata al vigilante antieroe per eccellenza.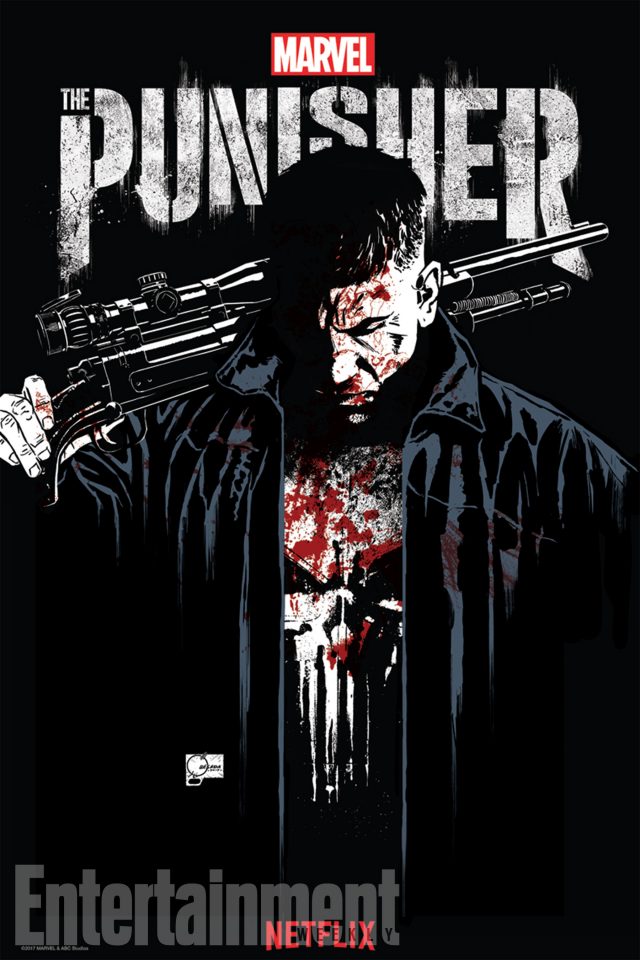 # #
Frank Castle è un veterano di guerra, pluridecorato, il quale decide di utilizzare la sua conoscenza in campo militare per vendicare la propria famiglia barbaricamente assassinata dalla mafia durante uno scontro a fuoco; il regista della Serie Televisiva, Stephen Surjik, ha confessato durante un'intervista rilasciata nei mesi scorsi che il prodotto finale sarà un "dramma adulto", essenzialmente come lo sono quasi tutti i prodotti della Marvel. L'approccio però utilizzato su The Punisher è diverso rispetto a quello adottato sulle altre Serie, dove i protagonisti hanno dei superpoteri.
The Punisher è un personaggio che fondamentalmente è basato sulla vendetta. La sua famiglia è vittima di un evento orribile. Il personaggio è ben noto, ormai è famoso, ma ciò che renderà questa serie diversa dalle altre è l'approccio e il modo in cui ci si avvicinerà e verrà presentato il protagonista.
Durante il panel dedicato a tutte le Serie Televisive della Marvel, il pubblico presente è riuscito a vedere uno sneak peek del trailer, del quale purtroppo ancora non si hanno notizie riguardo una data di rilascio.
Ecco la descrizione delle scene:
Frank è visto con il figlio a suonare la chitarra. Tagliare tra Frank, solo arrabbiarsi, sedersi contro un muro e suonare la chitarra. Adesso guida su una strada in Alabama con indosso la classica maglietta da Punisher. Spara a due uomini sulle moto, poi li investe, lasciando una scia di sangue dietro di sé.

In Messico, un gruppo di uomini grida a una festa. La pistola di Frank è rivolta a loro da lontano. Punta un uomo nel suo mirino. Rilascia il colpo, c'è un lungo ritardo, il proiettile passa attraverso la testa dell'uomo. Frank stava prendendo la mira da El Paso, TX.

Un uomo ricco entra in un bagno in NY. Frank irrompe nella sua cabina e lo picchia. Implora Punisher dicendo che tutti sono già morti. Dice che ucciderlo non riporterà in vita la famiglia di Frank. Frank concorda ma lo soffoca comunque a morte. Frank chiude la cerniera del cappuccio mentre esce dal bagno.
All'interno del cast oltre a Bernthal compariranno anche Ben Barnes, Ebon Moss-Bachrach, Amber Rose Revah, Michael Nathanson, Jaime Ray Newman, Jason R. Moore, Daniel Webber, Mary Elizabeth Mastrantonio, Paul Schulze e Deborah Ann Woll.