Le porte della città di New Orleans si riapriranno il 17 marzo. L'attesissima quarta stagione della serie spin-off di The Vampire Diaries, The Originals, finalmente tornerà sugli schermi della The CW insieme a tutti i suoi vampiri. Con la quarta season Julie Plec e tutto il cast si giocano il tutto per tutto, sperando di guadagnarsi il rinnovo per un'altra (o più) stagione. Il futuro di The Originals, quindi, dipende tutto dai tredici episodi che verranno trasmessi da marzo in poi.
Il 17 marzo ritroveremo Klaus imprigionato nella cripta per mano di Marcel (il nuovo re di New Orleans) ed in preda alle allucinazioni (al punto tale di parlare con i morti; scoprite qui chi gli farà visita durante la sua prigionia), gli altri membri della famiglia Mikaelson addormentati nelle loro bare e Hayley, a cui tocca tutto il lavoro sporco questa volta, impegnata nella ricerca della cura.
A New Orleans è previsto l'arrivo di alcune nostre vecchie conoscenze di The Vampire Diaries. Confermata la presenza, nell'ottavo episodio della quarta stagione di The Originals, di Alaric Saltzman, il quale farà visita ai Mikaelson portando loro un dono "oscuro". Ma da Mystic Falls, secondo alcuni rumors, potrebbero arrivare altri tre personaggi di TVD.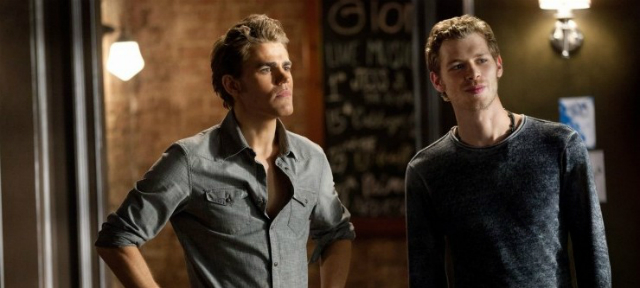 Elena Gilbert ed i fratelli Salvatore, Damon e Stefan, potrebbero fare una capatina nel regno degli Originali.
La presenza di Nina Dobrev, Ian Somerhalder e Paul Wesley nella serie spin-off dipenderà dagli ascolti e dai rating della quarta stagione. Se i tre attori verranno arruolati anche per The Originals, non avranno di certo un ruolo ricorrente, ma faranno giusto qualche piccola apparizione.
A questo punto sorge spontanea una domanda: come potrebbe evolversi la storia di Klaus & Co. se anche Elena, Stefan e Damon venissero inclusi nel progetto?
Ovviamente bisognerà attendere a lungo per avere una risposta. Ma consolatevi: la CW ha rilasciato la prima key art dell'imminente stagione di The Originals. Protagonista la piccola Hope, la figlia di Klaus ed Hayley, che si addentra a piedi nudi nella foresta attorniata da corvi privi di vita, e ad accompagnarla una tagline inquietante:
"Evil walks with us.. Always and forever"
Segnatevi la data: Klaus vi aspetta il 17 marzo!