E' ora di dire addio alla scapestrata famiglia degli Heck. Dopo otto stagioni, The Middle si sta avviando verso la sua conclusione.
La ABC ha deciso: The Middle si concluderà con la nona stagione, in onda dal 3 ottobre 2017. Sarà l'ultima in cui vedremo le avventure degli Heck.
La Serie aveva ricevuto il rinnovo alla nona stagione nel maggio 2017. Il presidente della ABC Entertainment, Channing Dungey, aveva così commentato: "The Middle è stato uno dei nostri show migliori. Gli Heck sono riuscite a trovare un posto nel cuore dell'America con la loro visione autentica e pungente sull'essere genitori, sul lavoro, sui figli, sul matrimonio e sulla vita in generale".
"Ci siamo riuniti con il cast alla fine dell'anno scorso" ha affermato la produttrice esecutiva e sceneggiatrice Eileen Heisler in merito al rinnovo. "Per noi era importante avere un anno per potersi dire addio. Volevamo essere in grado di raccontare tutte le storie". "E' una serie sulla famiglia. Potremmo andare avanti per ancora 10 anni con nuove relazioni" ha fatto eco l'altra produttrice esecutiva e sceneggiatrice, DeAnn Heline.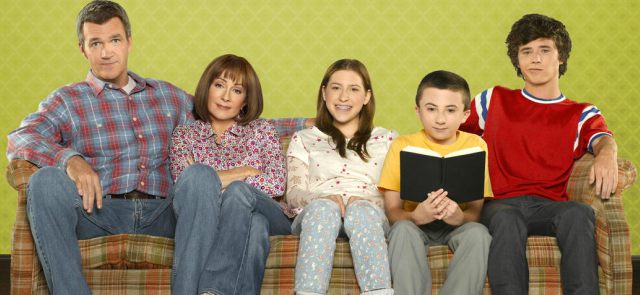 Nonostante la serie abbia avuto critiche positive, non ha mai ottenuto lo stesso successo di altre serie della ABC, come Modern Family. "Sentiamo che la reazione alla nostra serie è positiva. Siamo orgogliosi di quel che facciamo. Nel suo piccolo, The Middle ha ottenuto buoni riconoscimenti, anche se non è un magnete per i ratings" ha aggiunto Heisler.
The Middle racconta la storia degli Heck, una famiglia residente nella fittizia cittadina di Orson, nell'Indiana. Frankie, Sue, Brick, Axl e Mike si confrontano in ogni episodio con tematiche di varia natura, quali l'amore, la famiglia, il rapporto genitori-figli, la difficoltà di crescere, la questione economica. Nel cast troviamo Neil Flynn (Mike), Patricia Heaton (Frankie), Charlie McDermott (Axl), Eden Sher (Sue) e Atticus Shaffer (Brick).
In Italia la serie è andata in onda prima sul canale pay Joi di Mediaset Premium, per poi approdare in chiaro su Italia 1 e Italia 2.