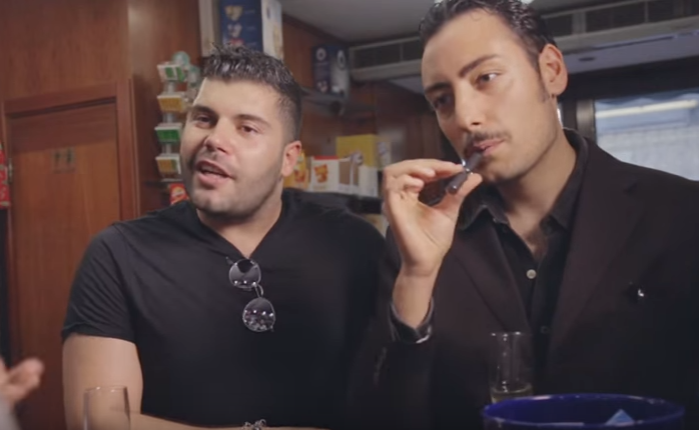 The Jackal e Gomorra, Gomorra e The Jackal. Un binomio di successo destinato a durare ancora a lungo. Dopo il boom che c'è stato in questi anni sui video-parodia (Gli Effetti di Gomorra sulla gente, do you remember?) eccoli adesso sbarcare al cinema. Insieme. Già, perchè i The Jackal sono pronti a spiccare definitivamente il volo con il loro attesissimo film ed hanno chiesto a due special guest, che ormai si presume siano anche loro grandi amici, di partecipare. Ottenendo una risposta positiva ed entusiasta.
Si tratta di Salvatore Esposito (sopra nella foto con Ciro Capriello, leader dei The Jackal) e Fortunato Cerlino, alias Genny Savastano e Don Pietro Savastano, protagonisti assoluti ed indiscussi della già celebratissima serie Gomorra. 
Salvatore Esposito non ha voluto anticipare nulla su quello che sarà e quello che racconterà effettivamente il film dei The Jackal, ma si è limitato a dire: "Una cosa è certa… questo film vi farà ridere!". E di dubbi in ogni caso noi ne avevamo ben pochi, visto che Ciro e soci negli ultimi anni si sono affermati come il gruppo comico italiano più divertente ed intelligente del web. Sbarcando recentemente sul piccolo schermo e, ben presto, anche sul grande schermo.
I produttori del film dei TJ saranno gli stessi produttori di Gomorra – La Serie: dietro l'ultima opera del collettivo campano, infatti, c'è Cattleya, casa produttrice della serie sbarcata ormai a furor di popolo in tutto il mondo.
Insomma, i presupposti per essere curiosi ci sono tutti, e sembrano esserci anche tutti i presupposti per vedere al cinema un prodotto di qualità. Del resto, il binomio The Jackal-Gomorra fino adesso non ci ha mai delusi. Attendiamo la data ufficiale di rilascio del film e speriamo che anche questa volta il trend sia confermato. Nel frattempo, state senza pensieri!