Mancano 6 giorni all'uscita di The Defenders
Ebbene si, sembra passata una vita. Probabilmente è davvero così ma oggi, 11 agosto 2017, mancano ufficialmente 6 giorni all'uscita mondiale di The Defenders.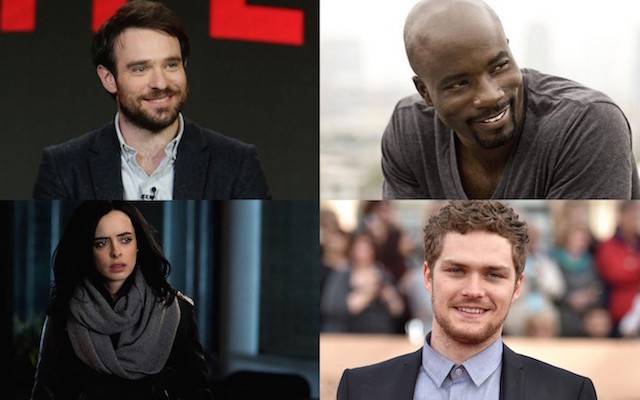 Per chi di voi segue gli attori sui diversi canali social non sarà certo una novità sapere che i nostri quattro supereroi stanno girando il mondo in lungo e in largo per promuovere la serie.
Finn Jones (Iron Fist) e Charlie Cox (Daredevil) hanno condiviso numero foto e storie su Instagram che li immortalano insieme a Tokyo. Nelle scorse settimane invece si susseguivano foto dei quattro (Jessica Jones, Iron Fist, Luke Cage e Daredevil) in aereoporto, come se fossero una vera famiglia.
Tornando a The Defenders, è di qualche giorno fa l'ultima foto promozionale che ritrae la squadra al completo.  Al link i dettagli.
Cosa sappiamo per ora di questo crossover?
Partiamo dal primo trailer:
https://www.youtube.com/watch?v=u_OppvuiKXs
https://www.youtube.com/watch?v=u_OppvuiKXs
E' sulle note di Come as you are dei Nirvana che ci vengono mostrati gli incontri dei Defenders. La prima coppia che vediamo interagire è quella composta da Jessica Jones che viene interrotta durante un interrogatorio da quello che sarà il suo avvocato da qui in poi: Matt Murdoch, ovvero Daredevil.
E' invece Claire (DATE UNA SERIE SINGOLA ANCHE A LEI) a fare l'apripista all'incontro dell'altro duo che figura nel trailer: Danny Rand (Iron Fist) e Luke Cage.
'Il diavolo di Hell's Kitchen', 'L'investigratice saputella', 'L'ex carcerato virtuoso' e 'Il ragazzo con il pugno che brilla' (cito testualmente la voce narrante del trailer) sono finalmente una squadra e sembrano pronti più che mai a difendere New York.
Se il primo trailer è prettamente introduttivo, il secondo ci mostra quello che dobbiamo aspettarci dagli otto episodi che comporranno la stagione.
Eccolo qui:
https://www.youtube.com/watch?v=FpObdvTE5XY
Vengono finalmente svelati i villains a cui i Defenders si opporranno. Danny Rand dovrà nuovamente vedersela con  La Mano, la cui guida è affidata ad Alexandra (Sigourney Weaver); Matt Murdoch ritrova invece Elektra (Elodie Yung) diventata a seguito di un terribile rituale Black Sky.
Come vediamo dal trailer non sarà facile per i quattro creare un legame solido, visti i caratteri non certo facili di  Jessica Jones e Luke Cage ma siamo sicuri che con la mediazione di Claire le divergenze iniziali si appianeranno in men che non si dica!
Finalmente mancano solo 6 giorni al rilascio della serie. Parte ufficialmente il count down!