Jessica Jones (Krysten Ritter), Daredevil (Charlie Cox), Luke Cage (Mike Colter) e Iron Fist (Finn Jones) hanno tutti la propria rispettiva serie televisiva, ma si uniranno per combattere il male. I quattro formeranno la versione televisiva dei Difensori nella serie The Defenders, prodotta da Netflix.
La trama di the Defenders vedrà Jessica Jones, Matt Murdock/Daredevil, Luke Cage e Danny Rand/Iron Fist unirsi per salvare la città di New York. I quattro supereroi capiranno che sono più forti se lavorano insieme.
A occuparsi della sceneggiatura saranno Marco Ramirez e Douglas Petrie, che hanno scritto la seconda stagione di Marvel's Daredevil. "Siamo incredibilmente eccitati all'idea di poter unire i nostri eroi in una storia epica scritta da Douglas e Marco, il cui lavoro in Marvel's Daredevil è stato eccezionale" ha affermato Jeph Loeb, produttore esecutivo e capo della Marvel.
Drew Goddard (Alias, Lost) sarà il produttore esecutivo. A dirigere i primi episodi della miniserie sarà S. J. Clarkson, che ha lavorato ai primi due episodi di Jessica Jones. La Marvel Television produrrà la serie in collaborazione con la ABC Studios.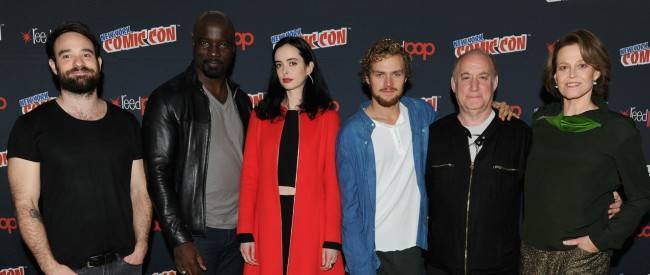 Oltre ai quattro protagonisti, altri attori provenienti dalle serie Marvel faranno parte di The Defenders. Da Daredevil, avremo Scott Glenn (interprete di Stick), Elden Henson (Foggy Nelson) e Deborah Ann Woll (Karen Page). Da Jessica Jones ci sarà Eka Darville, che interpreta Malcom Ducasse. Da Luke Cage, Simone Missick riprenderà il suo ruolo di Misty Knight. Anche Rosario Dawson (Claire Temple), Rachael Taylor (Trish Walker) e Carrie-Anne Moss (Jeri Hogarth) faranno parte del cast di The Defenders. Il cattivo principale sarà interpretato dall'attrice Sigourney Weaver.
The Defenders avrà otto episodi e arriverà su Netflix nel 2017. Marvel's Iron Fist sarà rilasciata a marzo 2017 su Netflix. Marvel's Jessica Jones tornerà con la sua seconda stagione nel 2018. Anche la terza stagione di Marvel's Daredevil arriverà nel 2018, mentre il suo spin-off Marvel's The Punisher sarà su Netflix nel 2017. Infine, non è ancora stato confermato il rinnovo per Marvel's Luke Cage.