Finn Jones e Mike Colter parlano di The Defenders
A circa un mese dall'attesissimo rilascio ufficiale di The defenders due dei protagonisti anticipano quelle che dobbiamo aspettarci dalle sere.
Mike Colter e Finn Jones, rispettivamente Luke Cage e Iron Fist/Danny Rand, hanno dichiarato che la serie  sarà più leggera delle precedenti serie singole di ciascun supereroe.
Finn Jones si era già espresso a maggio su quello che sarebbe stato il nuovo Danny Rand in The defenders.
Qui le sue parole:
'Il discorso è che con Danny abbiamo un ragazzino ordinario con un sacco di problemi, e stiamo cercando di appianarli tutti prima che diventi il Danny 'Iron Fist'. E quello che vedremo in Defenders è che Danny scende a patti con l'essere un supereroe. In The Defenders quando inizia non sa neanche cosa sia un supereroe, e poi incontra questi ragazzi e reagisce tipo: 'WHOA. Questo è figo,' e alla fine di tutto si vede un Danny che si prende le sue responsabilità in modo molto più maturo.'

playlist
Mike Colter ci fa invece sapere che la serie che raggruppa i 4 supereroi sarà molto meno dark di quanto ci si possa aspettare. Ci si focalizzerà quindi più sull'azione che sull'aspetto introspettivo, che presumibilmente verrà (giustamente) approfondito nelle serie singole.
Più leggera si ma non per questo scanzonata. Finn Jones aggiunge infatti che, nonostante assisteremo a siparietti colmi di ironia e scene più soft, è stato comunque mantenuto l'approccio di alta professionalità a cui siamo stati abituati dalla collaborazione Marvel/Netflix.
Come sappiamo Jessica Jones, Luke Cage, Iron Fist e Daredevil se la dovranno vedere con Alexandra, impersonata da Sigourney Weaver, che è stata scelta come villain per questa stagione.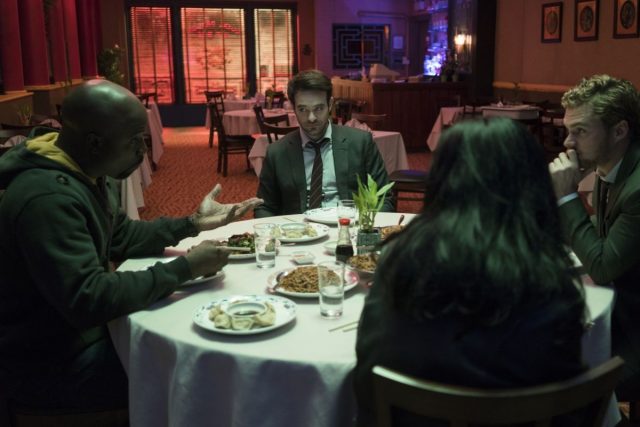 Non si hanno ancora notizie in merito ad altri appuntamenti con i The defenders al completo ma siamo certi che se il pubblico confermerà il suo apprezzamento si potrebbe pensare ad un rinnovo per altre stagioni.
Intanto iniziamo a preparare i popcorn che al 18 agosto non manca così tanto 😀
LEGGI ANCHE: Defenders
– finalmente la squadra è al completo: ecco i dettagli!