The Big Bang Theory sta per tornare! Il 25 settembre sarà trasmesso in America il primo episodio della nuova stagione della famosa sitcom di Chuck Lorre.
Ma ricordate dove eravamo rimasti?
Nell'ultimo episodio della decima stagione era tornata all'università una vecchia amica di Sheldon, la dottoressa Ramona Nowitzki. Lei approfittando dell'assenza di Amy, che si trovava a Princeton, aveva tentato di conquistare il dottor Cooper.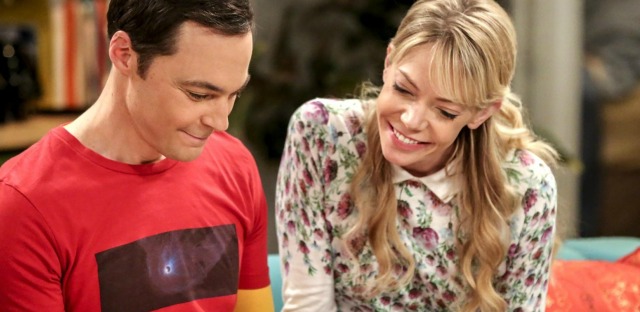 Sheldon ignaro di tutto ciò aveva trascorso del tempo con lei ed era stata Penny ad aprire gli occhi al suo amico riguardo le vere intenzioni di Ramona. Sheldon (leggi qui cosa accadrebbe se Sheldon si trovasse nel mondo di Game of Thrones) allora per chiarire le cose le aveva chiesto senza mezzi termini se lei fosse interessata ad avere una relazione sentimentale con lui e Ramona lo aveva baciato. Sheldon allora senza battere ciglio aveva intrapreso un viaggio per recarsi a Princeton e aveva chiesto ad Amy di sposarlo.
Dopo un cliffhanger così inaspettato,  i fan attendono con ansia questo episodio per poter scoprire cosa Amy risponderà alla proposta di Sheldon.
E se vi dicessi che potreste scoprirlo in anteprima?
L'episodio è stato girato il 15 agosto davanti a un pubblico dal vivo e sono stati proprio i fortunati fan che hanno assistito alle riprese ad aver divulgato queste informazioni riguardo quello che vedremo nel primo episodio.
Siete troppo curiosi e volete leggere in anteprima la trama del nuovo episodio di The Big Bang Theory? La trovate qui sotto, ma leggetela solo se siete assolutamente sicuri perché ci sono molti spoiler.
Qui sotto troverete delle anticipazioni più innocue riguardo l'episodio.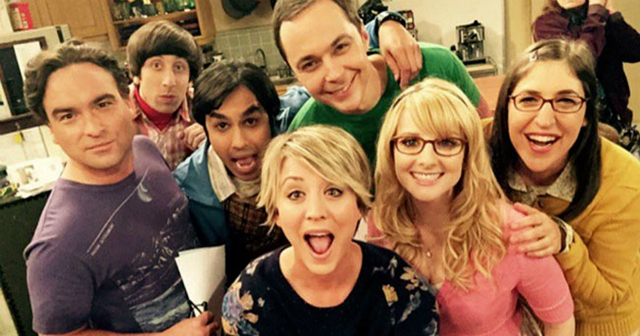 1) "The Proposal Proposal" riprenderà esattamente da dove si era interrotto il ventiquattresimo episodio della decima stagione.
2) Scopriremo già nel primo episodio se Amy accetterà o no di sposare Sheldon.
3) Tornerà un personaggio molto amato e ci sarà una speciale guest star.
4) Ci sarà una sorpresa che riguardeà anche un altro personaggio
L'episodio "The Proposal Proposal", come ho detto, inizierà proprio dove ci eravamo fermati e vedremo quindi Sheldon in attesa di una risposta da parte di Amy.
La loro conversazione verrà interrotta da una chiamata: Leonard, infatti, non avendo notizie di Sheldon da molte ore lo ha chiamato per sapere dove si sia cacciato. Sheldon racconterà a Leonard perché si è recato a Princeton da Amy e cosa è successo con Ramona e il suo amico gli farà le congratulazioni, anche se in realtà Amy non ha ancora dato una risposta. La ragazza dirà di non aver risposto solo perché è stata interrotta, ma che ovviamente vuole sposare Sheldon. Il dottor Cooper dirà però di dover chiedere la benedizione a un uomo molto importante per lui: Stephen Hawking! Vedremo quindi nuovamente il grande astrofisico in questo episodio di The Big Bang Theory!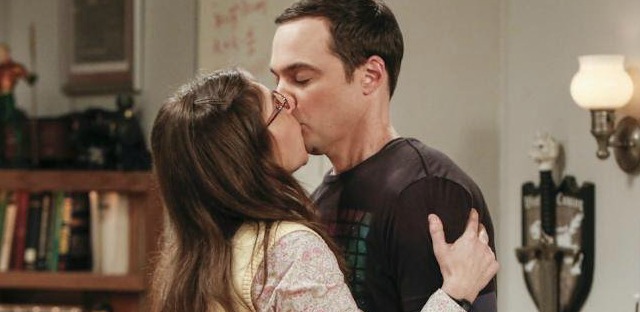 Amy chiederà al suo fidanzato di restare con lei a Princeton per qualche giorno (ma alla fine ci resterà per tre mesi) e lui accetterà, anche se sarà costretto ad andare a comprare degli assurdi nuovi vestiti in una fumetteria, perché non ne aveva portati abbastanza con sè. Sheldon avrà anche la possibilità di andare a cena con dei colleghi di Amy. Tra i due fidanzati ci sarà un breve litigio scatenato dal fatto che Sheldon durante la cena parlerà solo e soltanto di se stesso, mettendo in ombra Amy.
Il dottor Cooper poi chiamerà anche sua madre per informarla della sua decisione e Mary non solo ne sarà entusiasta, ma ringrazierà anche Dio per aver permesso che questo accadesse. Sheldon la avvertirà che non intende sposarsi in Chiesa, ma Mary non sarà turbata tanto Dio è ovunque.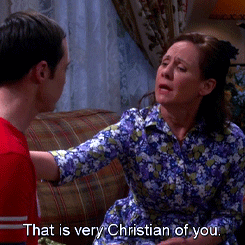 Raj verrà informato del fidanzamento di Sheldon, ma finirà per rattristarsi perché mentre i suoi amici sono felici lui è sempre solo. Vedrà Ramona in una caffetteria e le racconterà la novità, ma la donna non sembrerà molto sorpresa. Verremo poi anche a sapere che anche Stuart ha avuto un appuntamento con una ragazza.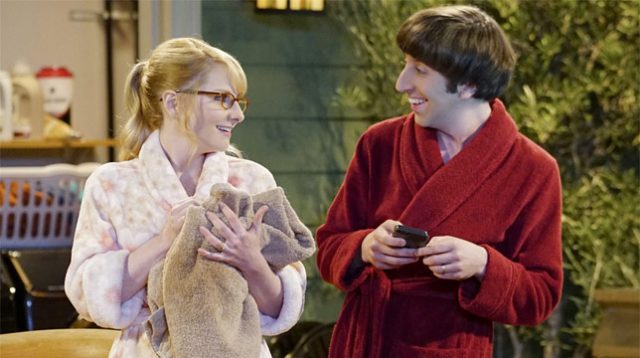 Ma la grande e inaspettata notizia riguarda Howard e Barnadette che annunceranno a Stuart e successivamente ai loro amici che aspettano un altro figlio. Vi avevamo già detto che Melissa Rauch aveva rivelato di essere incinta (leggi qui per saperne di più) e gli autori hanno deciso di sfruttare questa cosa e inserire una nuova gravidanza per la dolce Bernadette. I coniugi Wolowitz cominceranno a fare pressioni a Leonard e Penny affinché anche loro comincino a considerare l'idea di avere un bambino, ma loro non riusciranno a convincerli.
Ci sarà poi un salto temporale di tre mesi e vedremo tutti i protagonisti di" The Big Bang Theory" insieme in una caffetteria a festeggiare. Quando arriverà Ramona e Amy si alzerà per andarle incontro, tutti temeranno che possa scoppiare una rissa. In realtà Amy ringrazierà Ramona perché se lei non avesse baciato Sheldon lui non si sarebbe mai deciso a fare il grande passo. L'episodio si chiuderà con l'abbraccio di Amy e Ramona.