Un'altra settimana è passata e sembra che trovare buchi di trama relativi a The Big Bang Theory sia il passatempo preferito degli utenti Reddit. La scorsa volta vi avevamo parlato di questo: una falla nella memoria fotografica di Sheldon, strano dato che è una caratteristica importante del suo personaggio. Ancora una volta, oggi, è sempre di Sheldon che si parla e di un buco di trama che lo vedrebbe morto nella terza stagione.
Molto tempo fa, nell'episodio intitolato The Vengeance Formulation, Sheldon e Barry Kripke (John Ross Bowie) hanno aumentato la loro faida. Sheldon avrebbe dovuto fare un'intervista radiofonica, che fu incredibilmente eccitante fino a quando Barry non riempì lo studio del fisico di elio. Una cosa del genere, nella realtà, avrebbe portato alla morte, quindi don't try this at home. Barry avrebbe potuto uccidere per sbaglio Sheldon, i cui polmoni sarebbero collassati in diretta alla radio. Sappiamo cosa succede alla nostra voce se proviamo ad inalare l'elio ma non sappiamo cosa potrebbe accadere se, come in questo caso, venisse riempita un'intera stanza.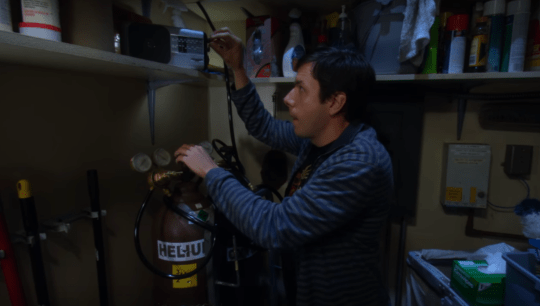 Ma se la stanza contenesse abbastanza elio da fargli squittire la voce solo respirando, Sheldon sarebbe in realtà soffocato per la mancanza di ossigeno, dato che l'elio, più leggero, ha spostato l'ossigeno, più pesante. "Puoi farlo con un palloncino perché puoi respirare aria normale tra un soffio e l'altro", hanno continuato gli utenti su Reddit. "Ma se ti trovi in una stanza piena di elio, non durerai a lungo prima di svenire e soffocare". Ecco fatto. Sheldon avrebbe potuto essere spazzato via proprio quando The Big Bang Theory è diventata gradualmente la più grande sitcom del pianeta.
Voi avevate notato questo particolare? È incredibile di quante cose potremmo accorgerci solo facendo un rewatch.