The Big Bang Theory può essere finita dopo 12 stagioni sulla CBS, ma questo non ha impedito ai fan di tornare a rivedere l'intera serie. Tuttavia, durante un rewatch l'occhio attento dello spettatore ha notato un enorme buco nella trama riguardo Raj Koothrappali. Raj Koothrappali (interpretato da Kunal Nayyar) è diventato rapidamente uno dei preferiti dai fan della serie dopo la sua introduzione nel pilot. Raj è apparso in ogni singolo episodio della sitcom insieme a Sheldon Cooper, Howard Wolowitz e Leonard Hofstadter. Tuttavia, una scena che coinvolge Raj e Sheldon della quarta stagione suggerisce che le cose potevano andare diversamente.
Chi ha amato la serie sa che Sheldon, fino alla fine, ha dato del filo da torcere ai suoi amici. In uno di questi "scontri" Raj era abbastanza determinato a non farsi mettere i piedi in testa. Nel quarto episodio della quarta stagione, intitolato The Hot Troll Deviation, i due sono stati coinvolti in un infantile faccia a faccia. I problemi cominciarono a sorgere quando Sheldon e Raj decisero di collaborare a un nuovo progetto insieme, il che significava che avrebbero dovuto operare nello stesso spazio di lavoro.
Sheldon si è rifiutato di lasciare a Raj la sua scrivania nel suo ufficio, lasciando Raj confuso e arrabbiato. Da qui è iniziata una gara a chi faceva il dispetto maggiore: Raj compra una scrivania gigante, Sheldon suona musica indiana e Raj alza ila temperatura del termostato. Fino a quando, secondo i fan, Sheldon non ha fatto il passo più lungo della gamba.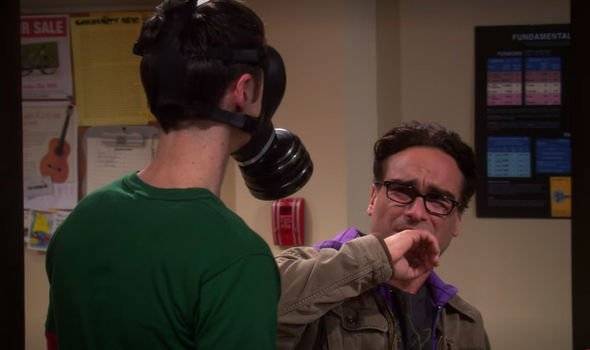 Quando Leonard si imbatte in uno strano odore nei corridoi trova Sheldon che indossa una maschera antigas. Sheldon rivelò allora che stava "producendo idrogeno solforato e gas ammoniacale", per cacciare Raj con l'odore. Raj non si fece scoraggiare dall'odore, ma decise di mascherare l'odore medesimo con candele profumate. Leonard fece subito notare che il gas era altamente infiammabile e le candele di Raj causarono presto un'esplosione in ufficio.
Raj ne uscì illeso, ma se la serie fosse rimasta fedele alla scienza la fine sarebbe stata ben altra, molto più tragica. È impossibile uscirne vivi.