Pare che il costante viaggio dell'Enterprise e del suo equipaggio per l'intero universo l'abbia portata fino in casa Netflix, infatti sarà proprio l'azienda ad occuparsi della distribuzione della nuova serie di Star Trek in ben 188 paesi. Il progetto, con a capo Brian Fuller, sarà disponibile sul piccolo schermo a partire da gennaio 2017 distribuito dalla famosa piattaforma streaming ed ogni episodio sarà disponibile esattamente 24 ore dopo la sua messa in onda su CBS All Access. In Canada, invece, la serie verrà diffusa grazie a Bell Media.
Ma non è tutto, l'accordo prevede anche che Netflix ottenga tutti i diritti su tutti i 727 episodi delle serie precedenti, ovvero "Star Trek: The Original Series", "Star Trek: The Next Generation", "Star Trek: Deep Space Nine", "Star Trek: Voyager" e "Star Trek: Enterprise", l'ultima ad essere prodotta, oltre 11 anni fa, nel 2005.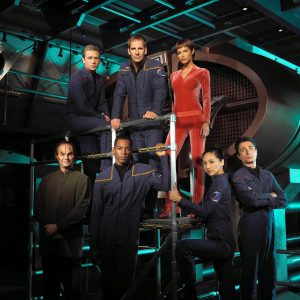 Le aspettative sono alte, ma il progetto introdurrà "nuovi personaggi alla ricerca di nuovi mondi e civiltà, mentre si esplorano le drammatiche tematiche contemporanee al centro del franchise fin dalla sua creazione nel 1966".
Un grande ritorno, insomma, e anche Armando Nuñez, Presidente e CEO di CBS Studios International, si definisce entusiasta:
"Il lancio del nuovo ' Star Trek ' sarà veramente un evento televisivo globale. Star Trek' è già un fenomeno in tutto il mondo e questa partnership internazionale darà ai fan di tutto il mondo, che hanno desiderato una nuova serie per più di un decennio, la possibilità di vedere ogni episodio praticamente contemporaneamente agli spettatori negli Stati Uniti. Grazie ai nostri partner di livello mondiale di Netflix, il nuovo 'Star Trek' sarà sicuramente 'su tutte le frequenze' in tutto il pianeta."
I fan della saga non si possono certo dire insoddisfatti, ci sono tutte le premesse per una grande serie, che sarà un evento a dir poco mondiale.
Quindi accendiamo i motori e.. Live long and prosper!