Dopo Richard Madden e David Bradley, un altro attore di Game of Thrones arriva nel cast de I Medici, la serie della RAI che racconta dell'influente famiglia Medici di Firenze. Si tratta di Sean Bean: l'attore, divenuto famoso ne Il Signore degli Anelli, ha preso parte alla Serie del Trono di Spade interpretando Ned Stark.

Sean Bean apparirà nella seconda stagione della Serie I Medici. L'attore interpreterà Jacopo de' Pazzi, uno dei nobili responsabili della Congiura dei Pazzi.
Nella Serie Tv è protagonista la famiglia Medici, signori di Firenze, che ha avuto un ruolo fondamentale nella storia della città e della penisola italica promuovendo per generazioni la vita artistica, culturale, spirituale e scientifica del Rinascimento. La trama della Serie Tv I Medici è iniziata con la storia di Cosimo de' Medici, interpretato da Richard Madden, e del patriarca Giovanni de' Medici, interpretato dall'attore hollywoodiano Dustin Hoffman.
Nella prossima stagione vedremo un salto temporale di 20 anni e le vicende si concentreranno su Lorenzo il Magnifico. I produttori sono attualmente in trattative con Madden, ora impegnato con la Serie Oasis, per la sua apparizione in scene flashback.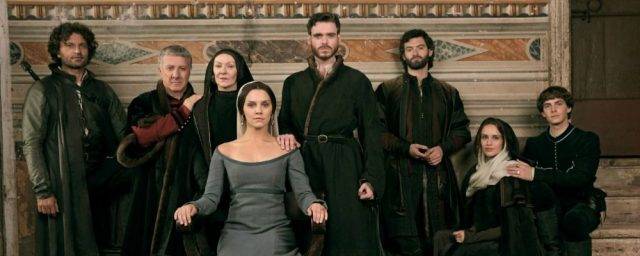 La Serie è prodotta dalla RAI, dalla Lux Vide e dalla Big Light di Frank Spotniz (The Man in the High Castle), produttore esecutivo e showrunner. Il regista Jon Cassar (24) dirigerà e produrrà quattro degli otto episodi della nuova stagione.
Le riprese sono attualmente in corso in varie località italiane e si concluderanno prima delle fine dell'anno. L'idea è quella di mandare in onda la Serie nel 2018, sia sulla RAI sia sulle altre piattaforme, tra cui Netflix. Il colosso dello streaming possiede i diritti per la messa in onda della Serie negli Stati Uniti, nel Regno Unito, in Canada, in India e in Taiwan.
La Serie ha riscosso un buon successo sia in Italia, conquistando il pubblico giovanile, sia all'estero. Attendiamo pazientemente la prossima stagione!