Non è finita per The Shannara Chronicles: le vicende di Wil, Amberle e Eretria torneranno ancora sui nostri schermi.
MTV, il canale su cui va in onda la serie fantasy, ha infatti deciso di rinnovare The Shannara Chronicles per una seconda stagione.
"Il team della serie ha realizzato uno show meraviglioso e innovativo, con storie e percorsi dei personaggi interessanti, attirando nuovi spettatori" ha detto Mina Lefevre, vice presidente di MTV e responsabile dello sviluppo degli show. "Non vedo l'ora di scoprire cosa accadrà nella seconda stagione."
La serie ha avuto risultati positivi dal punto di vista degli ascolti, classificandosi come lo show più visto sul canale MTV. Principalmente, ha avuto un riscontro positivo sulle piattaforme digitali, essendo stata vista in streaming 16.6 milioni di volte su tutte le proprietà digitali di MTV, il che è in linea con il target del canale composto da un pubblico giovane abituato a far uso delle nuove tecnologie.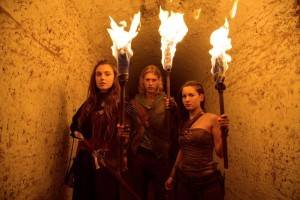 The Shannara Chronicles è l'adattamento televisivo della trilogia di romanzi Il Ciclo di Shannara dell'autore statunitense Terry Brooks e porta su schermo le vicende narrate nel secondo libro Le Pietre Magiche di Shannara. La trama vede protagonisti il mezzo-elfo Wil Ohmsford (Austin Butler), la principessa di stirpe elfica Amberle Elessedil (Poppy Drayton) e l'umana Nomade Eretria (Ivana Baquero), i quali, unendo le loro forze, partono per un epico viaggio con l'obbiettivo di impedire a un'armata di demoni malvagi di distruggere il mondo. Ai tre si aggiungono vari altri personaggi, tra i quali il Re degli Elfi Eventine Elessedil (John Rhys-Davies), i principi elfi Arion e Ander (interpretati rispettivamente da Daniel MacPherson e Aaron Jakubenko) e lo stregone Allanon (Manu Bennett).
The Shannara Chronicles è co-prodotta da MTV, Sonar Entertainment e Farah Films, e è scritta e prodotta da Alfred Gough e Miles Millar. L'autore dei libri Terry Brooks è coinvolto anch'egli come produttore e si è dichiarato contento di come sono stati adattati i suoi romanzi.