Dopo aver assistito a una terza stagione più breve del previsto, i fan di Rick and Morty si sono trovati di fronte a un bivio. La serie televisiva ha firmato per altri 70 episodi, ma ancora non è certa di quando questi verranno rilasciati. Per fortuna la versione cartacea di Morty Smith e il nonno stanno aiutando a lenire l'assenza televisiva.
Nel fumetto numero 48 c'è stato un richiamo al film Avengers: Infinity War e al cattivo, Thanos. Nella scena presente all'interno del fumetto il finale viene considerato "anticlimatico" e "idiotico".
Tutti noi sappiamo quanto spesso lo show "ruba" da altre serie tv e film, dato che è la sua idea di base, ma non si è mai concentrato troppo sul cinema dei supereroi (preferendo opere più iconiche e classiche di fantascienza o fantasia).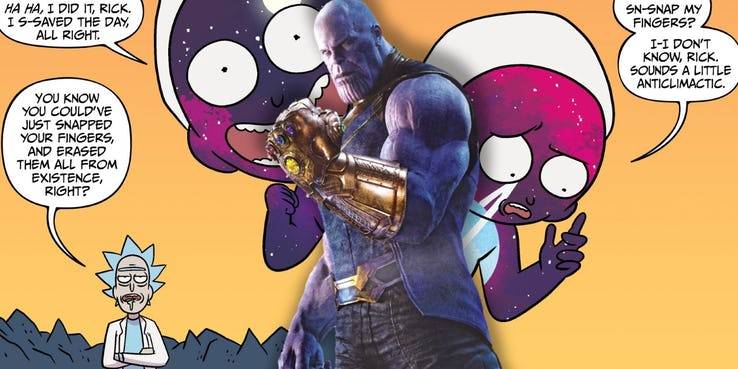 Hit Me, Space Baby, One More Time (di Kyle Starks, Marc Ellerby e Sarah Stern) inizia come molti episodi di Rick and Morty: quest'ultimo si trova presente in una terra di fantasia, apparentemente perfetta e completamente irriconoscibile. Suo padre è un uomo d'affari, sua madre una classica casalinga adorante e Jessica è la sua ragazza. Quando Morty si rende conto che Rick è costretto su una sedia a rotelle perché si è sacrificato per salvarlo, capisce che qualcosa non va. È allora che Rick fa svegliare di soprassalto Morty spiegandogli la verità: lui è diventato un dio cosmico.
Afferrando un fiore mistico che conferisce poteri cosmici, Morty si è evoluto in una forma di "bambino spaziale". Avvicinandosi rapidamente ai nemici, Morty può sconfiggere l'esercito trasformando uno dei suoi "Aw Gee" in lettere giganti, schiacciandoli nell'oblio. Quando Rick sottolinea che la padronanza della realtà di Morty significa che avrebbe potuto cancellarli dall'esistenza con un semplice schiocco delle dita, Morty sottolinea che in realtà sarebbe stato peggio: quanto sarebbe stato anticlimatico usare i suoi poteri, in modo così mondano? Thanos schiocca le dita, ma i fan del duo chiedono un po' di più.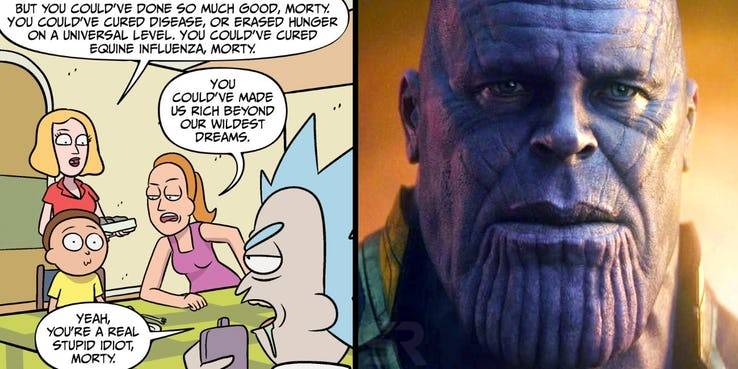 Quando tutto torna alla normalità, Morty decide di abbandonare i poteri una volta che la sua missione è finita. La sua famiglia però non può fare a meno di sottolineare tutte le opportunità mancate, come aiutare i bisognosi o curare delle malattie.
E voi? Cosa avreste fatto al posto del protagonista?