Dopo aver interpretato due ruoli televisivi di grande importanza – Robb Stark in Game of Thrones e Cosimo De' Medici ne I Medici – l'attore Richard Madden vola nello spazio con la sua nuova serie Oasis.
La Serie Tv Oasis vede come protagonista Peter Leigh, un prete che viene mandato nello spazio per aiutare una colonia in difficoltà. La sua permanenza nella colonia lo porterà a mettere in discussione la sua fede, e il senso stesso della vita.
Ambientata nell'anno 2032, la Serie racconta di una Terra in preda a uno stato di emergenza. Ci sono crisi umanitarie, i confini vengono chiusi, le famiglie vivono nello squallore sulle strade e sotto i ponti. Solo pochi hanno trovato la soluzione (o così credono): la colonia Oasis, tecnologicamente avanzata. Nonostante si opponga a tutto ciò che Oasis rappresenta, Peter parte per la colonia; scoprirà che lì tutto non è come sembra.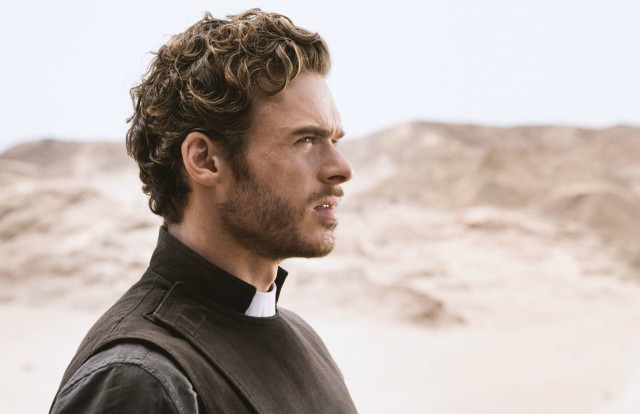 Come molte altre, questa Serie è basata su un romanzo,  The Book of Strange New Things (2014), scritto dall'autore Michel Faber. La Serie è scritta da Matt Charman (Il ponte delle spie), con Charman stesso, Andy Harries (The Crown) e Lila Rawlings della Left Bank Productions come produttori esecutivi. Kevin MacDonald (The Last King of Scotland) ha diretto l'episodio. Amazon Studios e Left Bank Productions hanno co-prodotto il pilot di un'ora.
Nel cast, oltre a Richard Madden, anche Anil Kapoor (24), Michael Shaw (Limitless) e Antje Traye (Man of Steel). Ci sono anche Mark Addy (Game of Thrones), Haley Joel Osment (Alpha House), Maureen Sebastian (American Gothic), Michael Shaffer (Coach Sinclair) e Zawe Ahston (Nocturnal Animals).
Ideata originalmente con il titolo Strange New Things, Oasis fa parte di una serie di nuovi pilot disponibili sulla piattaforma Amazon Prime Video dal 17 marzo 2017. Altri quattro pilot sono stati diffusi sulla piattaforma: The Legend of Master Legend parla di un supereroe a Las Vegas; la commedia Budding Prospect; la commedia per adulti The New VIPs; The Marvellous Mrs Maisel scritta da Amy Sherman-Palladino.
Questa decisione di Amazon deriva dalla volontà di raccogliere feedback dai fan; coi loro commenti Amazon sceglierà quale di queste nuove proposte produrre come Serie completa.