La serie TV DC's Legends of Tomorrow, che si focalizza su una squadra di eroi e di cattivi formata dal viaggiatore del tempo Rip Hunter, spin-off di Arrow e The Flash, perde una delle sue star, l'attrice Ciara Renée.
Ciara Renée, che in DC's Legends of Tomorrow interpreta Kendra Saunders/Hawkgirl, non tornerà come attrice principale del cast nella seconda stagione della serie targata The CW.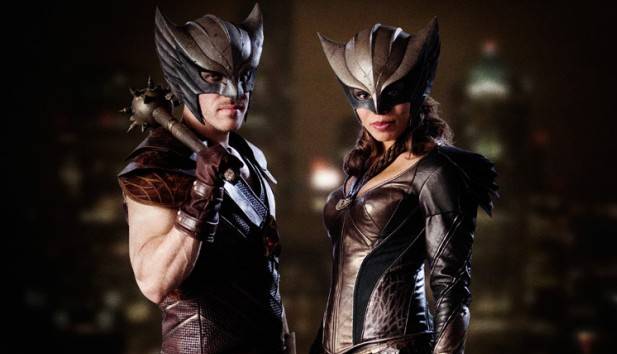 La storyline di Hawkgirl, legata a Carter Hall/Hawkman, è giunta a conclusione nel finale di stagione, andato in onda il 19 maggio 2016. Il co-creatore e produttore Marc Guggenheim ha detto che l'idea di concludere le trame di Kendra e Carter e di non includerle nella prossima stagione è emersa solo quando lui e gli altri scrittori hanno iniziato a fare progetti per la seconda stagione. "Ci siamo riuniti, abbiamo fatto una lista dei personaggi e iniziato a pensare alle loro rispettive storie. Quando siamo arrivati a Hawkman e Hawkgirl, ci siamo trovati in difficoltà. La loro storia nel finale si è conclusa in modo così saldo e netto, che tutto quello a cui abbiamo pensato risultava forzato. Ci siamo resi conto che necessitavano di essere messi un po' da parte. Portarli indietro nel team subito all'inizio della seconda stagione ci sembrava prematuro."
Per personaggi che se ne vanno, altri personaggi arriveranno. Infatti sono già in corso le audizioni per due nuovi membri del cast principale, un uomo e una donna. "La composizione del team cambierà, ci saranno nuove facce. Il finale ha introdotto nuovi punti d'inizio per quello che sarà lo show nella seconda stagione. Abbiamo sempre voluto che Legends of Tomorrow fosse distinta di stagione in stagione, non solo in termini della composizione del team, ma anche delle missioni" ha continuato Guggenheim.
Questo porterà all'introduzione della Justice Society of America e a un nuovo cattivo che, nelle intenzioni degli autori, sarà una minaccia più terribile rispetto al cattivo della prima stagione, Vandal Savage. "Le persone finiranno per pensare 'Vandal, chi?' quando il cattivo della seconda stagione sarà pienamente esplorato e rivelato." Dovremo aspettare l'autunno 2016 per scoprire le nuove avventure delle nostre Leggende.